Young Women's Color Trends F/W 2010-11 Design Options
Color Trend Report Young Women's, Contemporary: Four color themes are offered in this trend forecast for Fall/Winter 2010-11. Seasonal themes include: Belle du Jour, Nouveau Riche, Color Me Bright and Punkerella. The report highlights the moods of the season: wistful, extravagant, vibrant and rebellious. Presented on WeConnectFashion, courtesy of Design Options Inc, the color forecasting company who brings Southern California's unique aesthetic to the world.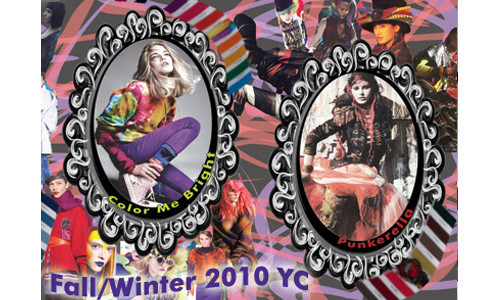 Belle du Jour
A wistful flower radiating in day light.. Belle du Jour. Slate grey and khaki tones of blissful fantasy and daytime beauty insinuate notions of prettiness on a backdrop of silk georgette. Pale violet and pink hues of gracious debutante and femme fatale delicately draw attention to Duchesse satin. Plum shades of stunning blossom exude a touch of innocence. Perennial exquisiteness.
Nouveau Riche
Wealth and richness combined with extravagant delight.. Nouveau Riche. Deep crimson and dark green shades of copious enterprise and plentiful recollection exemplify ambiguity on brocade and rich velvet textures. Fuchsia and purple hues of plush and posh indicate complexity on a canvas of charmeuse and silken satin. Touches of golden sequin trim intensify the overall appeal. A rich novelty.
Color Me Bright
Vibrant; energetic and radiating with exuberance.. Color me bright. Deep purple and magenta hues of irradiate and dazzle give velvet and stone washed denim a saturated finish. Orange and yellow shades of twinkling and incandescent articulately decorate cotton jersey with zest and youthful fearlessness. Colors that inspire and evoke intrigue.
Punkerella
Unrelenting rebellion at its finest… Punkerella. Deep green and earthy brown hues of social alienation and antagonistic protest exude unusual life on a passionate canvas of gauze and rayon tulle. Chartreuse and coral tones of defiance and rebellious outcast intensify wisps of organdy and two-toned chiffon. Khaki shades of disobedience add the perfect finish. Memoirs of a punk rock revolutionary.
Design Options Inc
Design Options Inc, has a golbal client base, filling the color needs of large retailers to small indie design firms. Contact Design Options, and tell them WeConnectionFashion sent you.
Related Topics