Young Men's Contemporary Market Color FW 2010-11
View six color themes for the young men's contemporary market. Themes include: Body Language, Tailor Made for the fashion forward cavalier, Work Daze a blur of gray, Alter Ego a display of fashionable flamboyance, Urban Mix and Prints Charming for prints with allure and vivacity.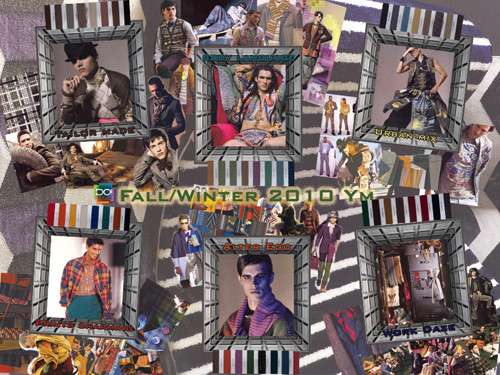 Body Language
An anatomical expression of communication. Body Language. Steel blue and light icy green hues of unambiguous expression and explicit gesture passionately resonate on quintessential batik fabric. Bluish-pink and tan shades of visual statement and body movement intermingle with botany wool and cotton jersey to create an atmosphere of apparent duality. Subtle, unspoken words.
Tailor Made
Custom designed for the fashion forward cavalier. Tailor Made. Deep chocolate and silvery brown shades of costumier and articulate configuration exude stylistic accents on a backdrop of herringbone and glen-checked wool. Olive green and khaki hues of perfectly fitted and made to order add fluidity to fine mohair. Ostentatious accessories add a modish flair to the mix. Custom built for the modern man.
Work Daze
A laborious endeavor 7 day a week. Work Daze. Grey and deep indigo shades of daily grind and afternoon exertion highlight subtle style lines and draw attention to gold metal trim. Brown and dark green tones of nine to five and over achiever add genius to twill suiting and sturdy leather. Crimson red tints of craftsman give herringbone and Petersham wool supplementary recognition. An obligatory calling.
Alter Ego
A perfect substitute of the second self. Alter Ego. Red orange and khaki tones of inseparable friend and constant companion draw attention to royal excellence on a milieu of lambs wool and soft mohair. Dark forest green and violet hues of dual personality and second self insinuate velvet images of crowned royalty. A swanky counterpart with a fashionable flamboyance.
Urban Mix
Synthesized forms of metropolitan grooves. Urban Mix. Slate grey and vibrant yellow tones of conjoined cosmopolitan and fused configuration exude fluid and definitive movement on flannelette cotton. Light brown and silver shades of blended element and civil medleys oscillate rhythmically between botany wool and tie-dye edging. A metropolis of stylish contradictions.
Prints Charming
Vibrant variations of charismatic compositions. Prints Charming. Bright red and orange-yellow tints of lasting impression and captivating appeal elucidate uncertainty on contrasting plaid and paisley patterns. Royal blue and sea green tones of amusing attraction and diversified poise give heather-mixed wool dynamic panache. Prints with allure and vivacity.
MORE REPORT DETAILS
Design Options, has a golbal client base, filling the color needs of large retailers to small indie design firms. Design Options Inc is dedicated to bringing Southern California's unique aesthetic to the world. Its singular, cutting edge perspective, coupled with a comprehensive knowledge of the current marketplace, fuels the company's imaginative products and high-end consulting services.