Womenswear Top 10 Colors, FW 2014-15
Fashion Snoops presents a look at the must have colors, our Top 10 for the women's market as confirmed by the recent runways. For Fall / Winter 2014-15 we've divided our women's colors into families by tones, including Soft, Bright, Neutral, Jewel and Metallic. Jewel Tones become the most influential by far, with highlights including several red options from cranberry to crimson, along with honey mustard and cooler shades of teal, orchid and cobalt.
Also influential are the Soft Tones, which rely primarily upon pastel shades like dusty rose, while neutrals like peachy nude are also present. The Brights, which have been so popular in recent seasons, are scaled back, while prerequisite pops of blood orange compliment cobalt. A wide range of Neutrals zero in on toffee as a favorite.
Jewel Tones Rule
CRIMSON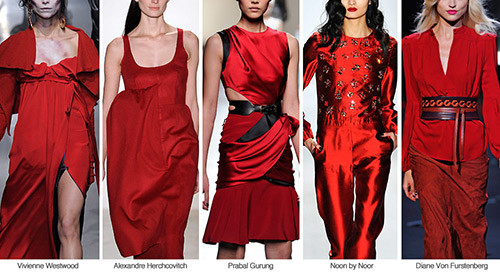 Crimson sets a darker mood for the season with deeper casts of red, offering the most dramatic take on red this season.
CRANBERRY
Cranberry presents a warm and bright cast of red, which serves as a lighter alternative to wine.
TEAL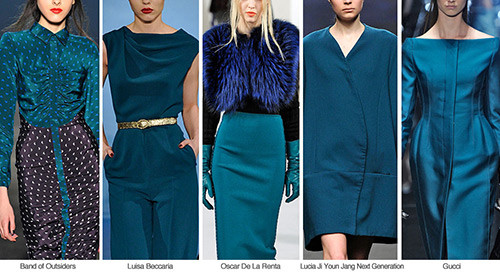 Set to blue-green undertones, teal adds diversity to a line-up of jewel colors.
ORCHID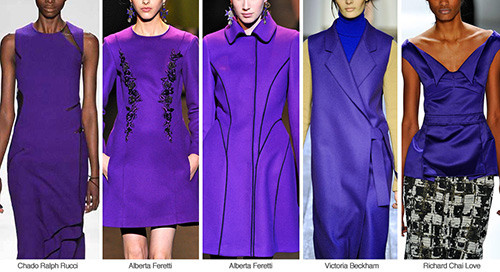 Set to either purple or blue undertones, vibrant casts of orchid become the purple hue of the season.
HONEY MUSTARD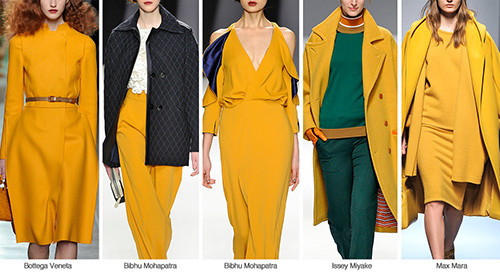 Honey mustard is the most season-appropriate yellow hue with golden casts.
BLOOD ORANGE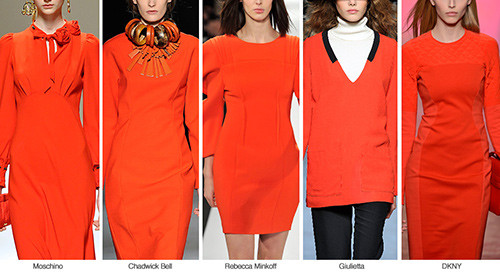 Although orange isn't quite as powerful as its been in recent seasons, the major expression this season becomes a bright, saturated blood orange with red undertones. Featured especially in New York and London collections, the hue remains a must on head-to-toe looks and is often leveraged with sport reference.
COBALT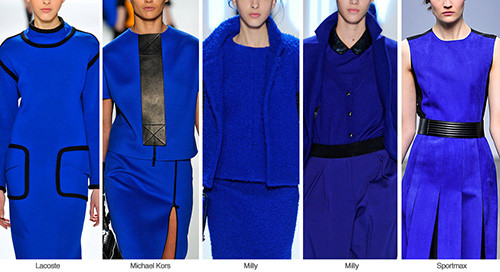 Cobalt pushes forward as a seasonal must-have across all major runway cities. The bright and sometimes electric jolt of color has proven to be a commercial hit that remains relevant.
TOFFEE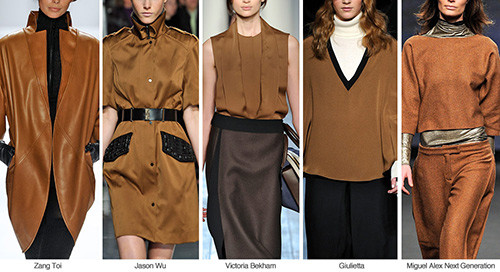 Although not a widespread base color, toffee offers variation from camel tones with golden brown undertones.
DUSTY ROSE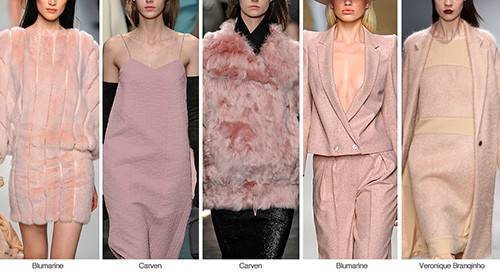 Dusty rose offers a more subdued alternative to pastel shades.
PEACHY NUDE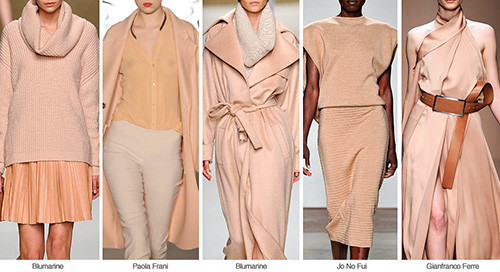 Warm casts of peachy nude move forward from last season, becoming an easy-to-wear soft neutral.
Purchase the Full Report
This FW 2014-15 Women's Color Seasonal Guide by Fashion Snoops is a visually comprehensive report breaking down the key women's colors & palettes for the season. The report includes a complete downloadable Color Map with over 50 Pantone references, an analysis of all key colors represented by an inspiration collage, an archive of color reference images from the latest runways and an analysis of key color immersion from previous seasons - each demonstrated through a color comparison collage with the current season and key color combinations in every category.