Womenswear Pre Fall 2017 Preview
This week, WeConnectFashion readers get an exclusive insight into three influential Pre Fall trend directions that will be key for Fall/Winter 2017-18. Navy Sateen is an essential edition to the core palette that lends a new sophistication to core classics. The revised placements of Cut Up Blockings illustrate the bold print looks coming through for Fall. For apparel, silhouettes borrow from the boys with man-tailored constructions and exaggerated proportions offering a relaxed gender-neutral Agender Silhouette alternative to classic womenswear.
Cut Up Blockings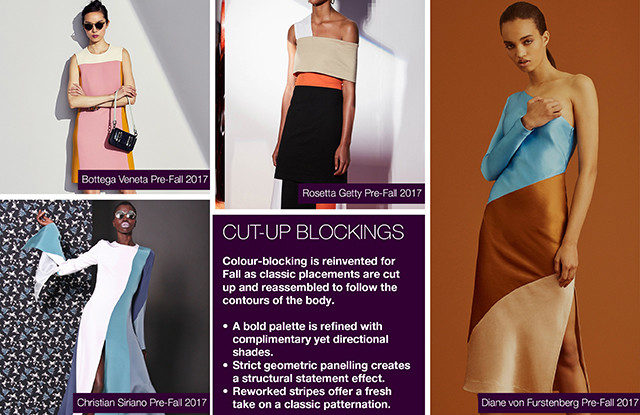 Colour-blocking is reinvented for Fall as classic placements are cut up and reassembled to follow the contours of the body.
A bold palette is refined with complimentary yet directional shades.
Strict geometric panelling creates a structural statement effect.
Reworked stripes offer a fresh take on a classic patternation.
Top image courtesy of Trendstop:Gloria Coelho Fall Winter 2017-18.

Navy Sateen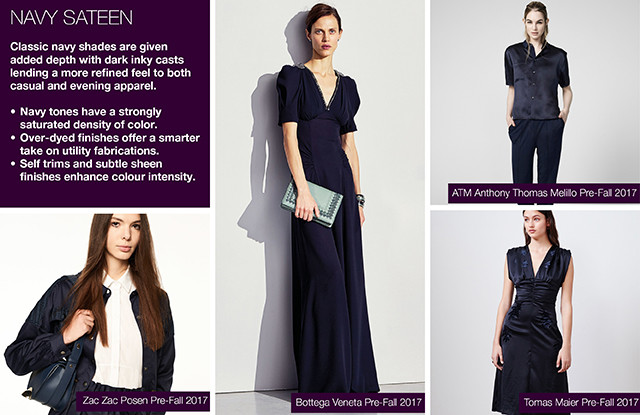 Classic navy shades are given added depth with dark inky casts lending a more refined feel to both casual and evening apparel.
Navy tones have a strongly saturated density of color.
Over-dyed finishes offer a smarter take on utility fabrications.
Self trims and subtle sheen finishes enhance colour intensity.

The Agender Silhouette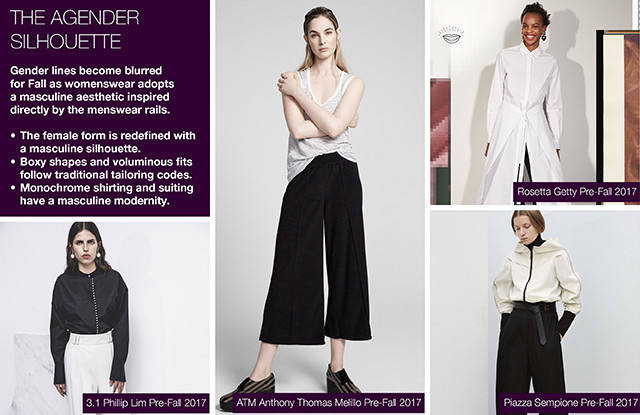 Gender lines become blurred for Fall as womenswear adopts a masculine aesthetic inspired directly by the menswear rails.
The female form is redefined with a masculine silhouette.
Boxy shapes and voluminous fits follow traditional tailoring codes.
Monochrome shirting and suiting have a masculine modernity.
All images courtesy of Trendstop.

Exclusive Offer
WeConnectFashion readers can get free access to Trendstop's Fall Winter 2016-17 Top Collections by City, an essential report featuring the season's essential surface patterns, inspirational print designs and downloadable imagery. To take advantage of this fantastic offer simply click here anto receive your complimentary report.


Trendstop.com, is the world's leading trend forecasting agency for fashion forward trend information that is validated through early consumers to give you confidence in your trend decision making. Clients include H&M, Primark, Forever21, Zalando, Geox, Evisu, Hugo Boss, L'Oreal and MTV.

RELATED REPORTS