Womenswear Macro Trend Themes F/W 2017-18
This week, WeConnectFashion readers get an exclusive insight into three key womenswear macro themes that will be informing F/W 17-18 print, material, accessory and apparel directions. The New Modernist elevates comfort dressing, introducing formality to loungewear silhouettes. Cargo Culture injects classic military looks with a youthful deconstructed chic. The gritty vibe continues in Sleek Fighter as feminine elegance is fused with a strong urban athleticism.
The New Modernist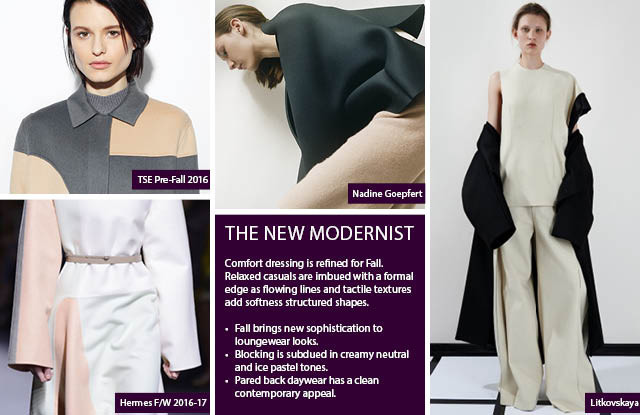 Comfort dressing is refined for Fall. Relaxed casuals are imbued with a formal edge as flowing lines and tactile textures add softness structured shapes.
Fall brings new sophistication to loungewear looks.
Blocking is subdued in creamy neutral and ice pastel tones.
Pared back daywear has a clean contemporary appeal.

Cargo Culture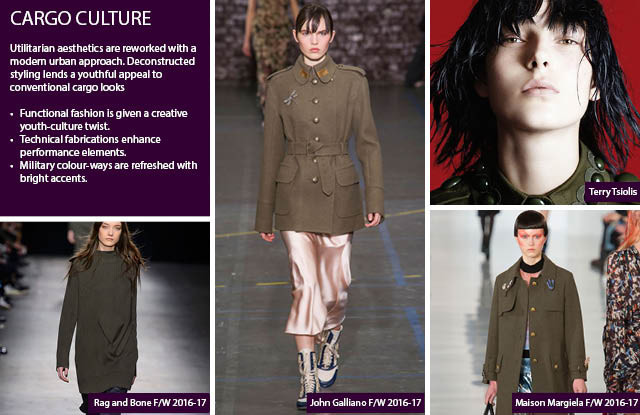 Utilitarian aesthetics are reworked with a modern urban approach. Deconstructed styling lends a youthful appeal to conventional cargo looks
Functional fashion is given a creative youth-culture twist.
Technical fabrications enhance performance elements.
Military colour-ways are refreshed with bright accents.

Sleek Fighter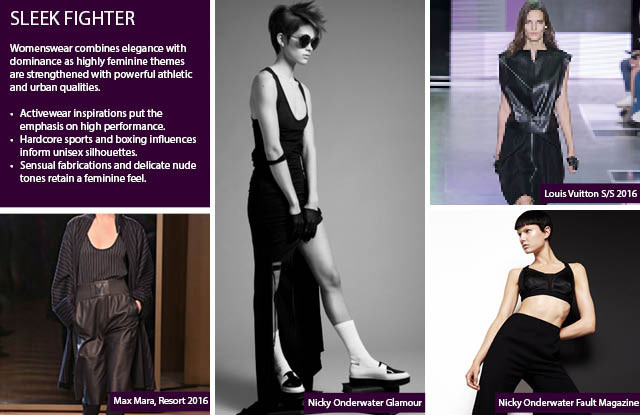 Womenswear combines elegance with dominance as highly feminine themes are strengthened with powerful athletic and urban qualities.
Activewear inspirations put the emphasis on high performance.
Hardcore sports and boxing influences inform unisex silhouettes.
Sensual fabrications and delicate nude tones retain a feminine feel.
All images courtesy of Trendstop.

Exclusive Offer
WeConnectFashion readers can get get a taste of Trendstop's expertly curated reports with FREE ACCESS to our Fall 2017 trend presentation, featuring live content and an exclusive look at the Trendstop site.


Trendstop.com, is the world's leading trend forecasting agency for fashion forward trend information that is validated through early consumers to give you confidence in your trend decision making. Clients include H&M, Primark, Forever21, Zalando, Geox, Evisu, Hugo Boss, L'Oreal and MTV.

RELATED REPORTS