Womenswear Key Print Trends Spring/Summer 2018
This week, WeConnectFashion readers get an exclusive insight into three of the most important seasonal print directions, as featured in our SS18 Contemporary and Junior Print Forecasts. Another Tribe illustrates the evolution of ethnic prints in a more sophisticated direction, lending a graphic elegance to womenswear. Classical Nautical Expressions and Water Bleed Florals are reinvigorated through vibrant colors, playful illustrations and unexpected surface treatments that engage with a youthful consumer.
Water Bleed Florals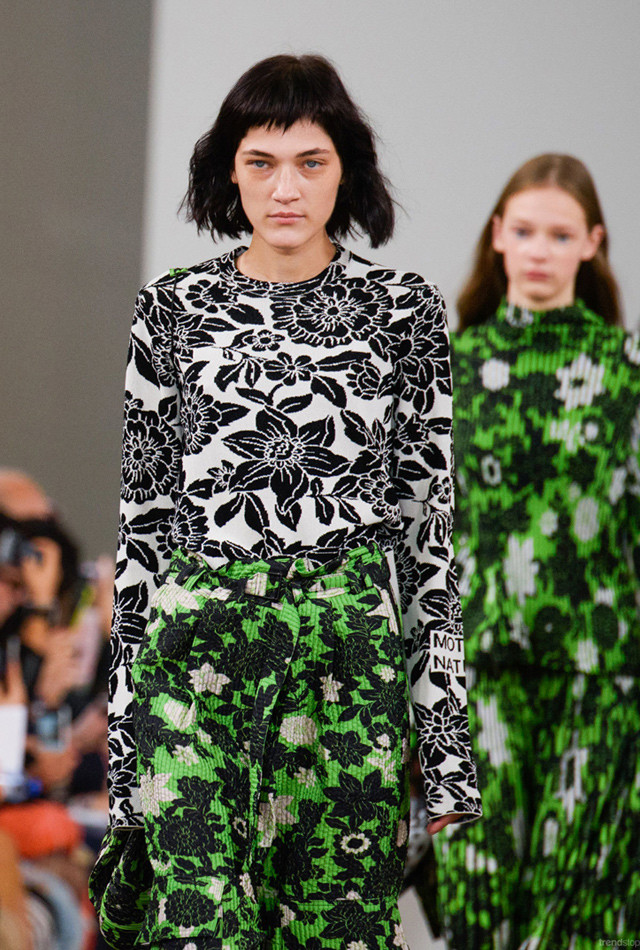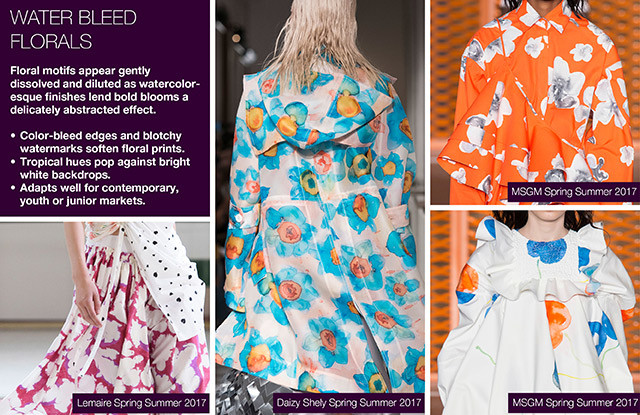 Floral motifs appear gently dissolved and diluted as watercolor-esque finishes lend bold blooms a delicately abstracted effect.
Color-bleed edges and blotchy watermarks soften floral prints.
Tropical hues pop against bright white backdrops.
Adapts well for contemporary, youth or junior markets.
Top image courtesy of Trendstop: Christian Wijnants Spring Summer 2017.

Another Tribe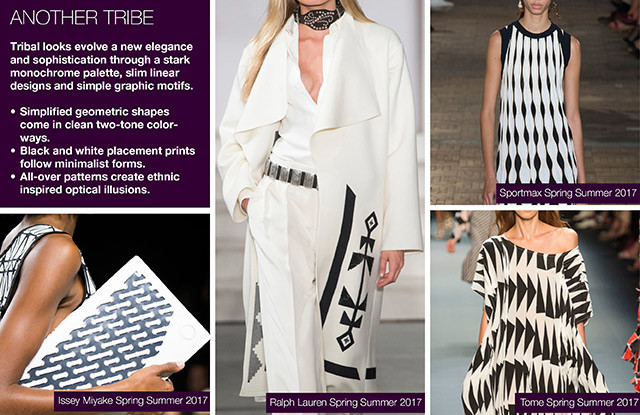 Tribal looks evolve a new elegance and sophistication through a stark monochrome palette, slim linear designs and simple graphic motifs.
Simplified geometric shapes come in clean two-tone color-ways.
Black and white placement prints follow minimalist forms.
All-over patterns create ethnic inspired optical illusions.

Nautical Expressions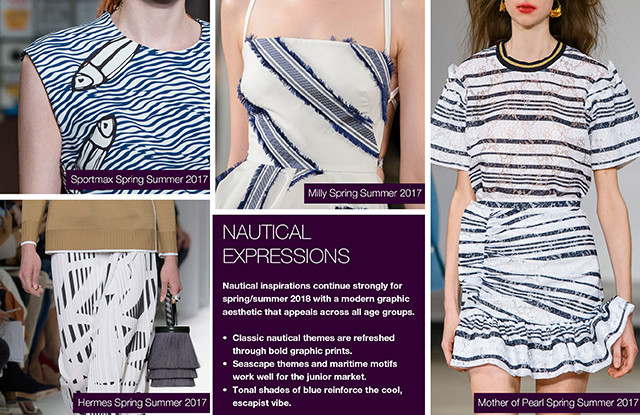 Nautical inspirations continue strongly for spring/summer 2018 with a modern graphic aesthetic that appeals across all age groups.
Classic nautical themes are refreshed through bold graphic prints.
Seascape themes and maritime motifs work well for the junior market.
Tonal shades of blue reinforce the cool, escapist vibe.
All images courtesy of Trendstop.

Exclusive Offer
WeConnectFashion readers can get free access to Trendstop's Spring Summer 2016 Complete Print Forecast, an essential report featuring the season's essential surface patterns, inspirational print designs and downloadable imagery. To take advantage of this fantastic offer simply click here and to receive your complimentary report.


Trendstop.com, is the world's leading trend forecasting agency for fashion forward trend information that is validated through early consumers to give you confidence in your trend decision making. Clients include H&M, Primark, Forever21, Zalando, Geox, Evisu, Hugo Boss, L'Oreal and MTV.

RELATED REPORTS