Womens Denim Trends F/W 2016-17, Editors' Picks
Fashion Snoops presents the Fall / Winter 2016-17 Women's Denim seasonal trend stories. Each forecast starts with a seasonal narrative and collage to set the mood, exploring who each woman is, and what inspires her most. You'll then navigate to collages that focus on the key washes and finishes, design details, key items, Trend Map, and Style Guide. We hope that you are inspired by these forecasts that are rich in cultural relevance and thought-provoking dimension! The full reports are available in the WeConnectFashion Trend Shop.
WOMENS DENIM – TOP PICK
As the sun rises on Sunday Morning, so does our weekender woman. The Nespresso machine is on, and as she peruses the weekend edition of The Times, she sips the froth off of her cappuccino from the warm mug. Out of the living room window, she looks to the joggers in Central Park and contemplates joining them, but swiftly reverts instead back into her cozy covers. Ultra feminine tailoring features in her look through particularly soft chambray denim, while her comfort-driven style compliments her relaxed sensibility with lace and denim mixes, lustrous finishes, and casually cuffed ankle jeans.
SUNDAY MORNING MOOD
WASHES AND FINISHES
Washes & Finishes, clockwise from top left:
Forest 
Lustrous shine 
Raw 
Indigo 
Black 
Mid-blue
DESIGN DETAILS
Design Details, clockwise from top left:
Elongated side pockets 
Lace and denim mix 
Tailored collar 
Tailored crease 
Skirt vent 
Cuffed ankle
KEY ITEMS


CONTEMPORARY YOUNG WOMENS – TOP TREND PICK
This tribal trailblazer is ready for her journey into the great unknown. Along the way, she meets a myriad of explorers, all of whom experience the beauty of natural terrain as they venture on their own personal expeditions. Her clothing is a reflection of her experiences – weathered finishes are reminiscent of distressed mountain surfaces and windswept belongings, while quilted details and utility pockets highlight her practical side. Before she beings each voyage, she gathers at the Base Camp to prepare for her adventure. Though she may not know in that moment what it will bring, she's ready and rearing to go. Ironically, she feels a sense of belonging through her nomadic lifestyle.
BASE CAMP MOOD
WASHES AND FINISHES
Washes & Finishes, clockwise from top left:
Printed patchwork 
Raw 
White 
Weathered brown 
Indigo 
Sage
DESIGN DETAILS
Design Details, clockwise from top left:
Faux fur accents 
Button tabs 
Self-belt tie 
Utility pockets 
Mixed fabrications 
Quilting
KEY ITEMS

Purchase The Full Report
These seasonal narratives for F/W 16/17 focus on a clear, concise product & lifestyle road map for the Women's denim customer, offering a guide of the most influential denim trends and themes of the season. Click the banners below to purchase your Women's Denim report or Contemporary Young Women's Denim report today.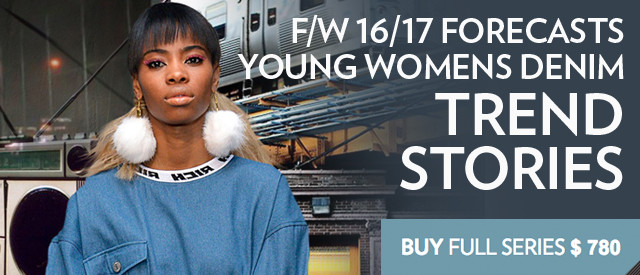 The full version of Fashion Snoops' Fall/Winter 2016-17 seasonal denim reports for men and young men are also available for purchase through the WeConnectFashion digital Trend Shop along with comprehensive reports across all markets and for incoming seasons.