Women's Tropical Cocktail SS 2015
With the new Spring/Summer 2015 season comes a celebration of hot, sunny days and exotic vacation destinations; a mood complemented by the emergence of two new tropical color trends. Papaya lends instant warmth and energy to apparel and accessories alike, while Paradise Peach adds a modern yet feminine intensity. The report takes a first look at two key fashion color trends for the women's apparel and accessories markets.
Key Color, Papaya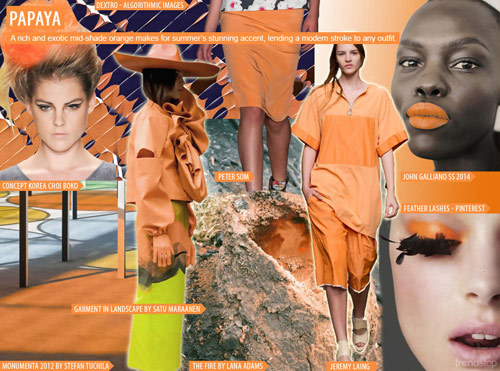 APPAREL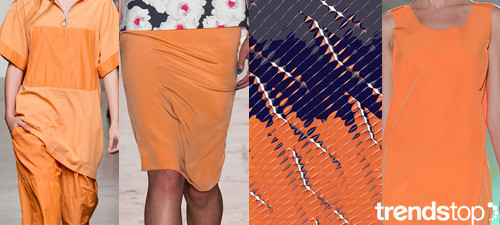 image courtesy Trendstop: Jeremy Laing, Peter Som, both Spring/Summer 2014, Dextro Algorithmic Images, MM6 Maison Martin Margiela Spring/Summer 2014.
Ideal for both the Junior and Contemporary markets, this rich, exotic mid-shade orange can be applied to a range of diverse apparel styles. Loose-fit sporty separates are coordinated with tonal panels at Jeremy Laing, while Peter Som and MM6 demonstrate how even the simplest shapes look chic with skirts and sleeveless dresses.
ACCESSORIES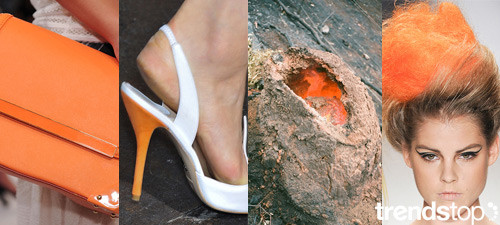 image courtesy Trendstop: Ostwald Helgason, Tanya Taylor, both Spring/Summer 2014, The Fire by Lana Adams, Concept Korea Choi Boko Spring/Summer 2014.
Papaya also works as a energetic accent on footwear and accessories, instantly adding a modern appeal. Shoulder bags incorporate tonal details at Ostwald Helgason, as tall woolen hairpieces stand out on up-do's at Choi Boko. Tanya Taylor incorporates a Papaya heel on a strappy white sandal for a statement pop.
Key Color, Paradise Peach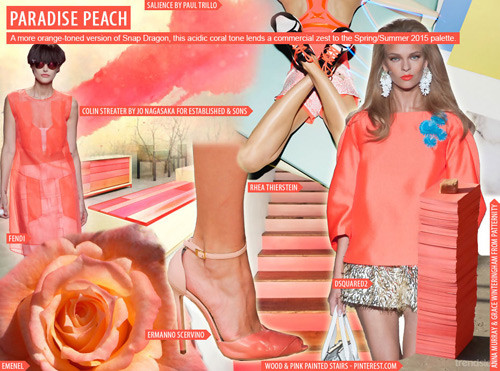 APPAREL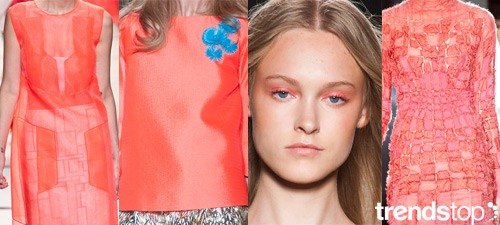 image courtesy Trendstop: Fendi, DSquared2, Angelo Marani, Tom Ford, all Spring/Summer 2014.
A more versatile alternative to Papaya, warm Paradise Peach is suitable for all market sectors, offering a more orange-tinted take on last Summer's Pink Peach. A play on texture is demonstrated with paneled sheers at Fendi and patchworked dresses at Tom Ford. Meanwhile, DSquared2 keeps it simple on a sculpted top with a glossy satin.
ACCESSORIES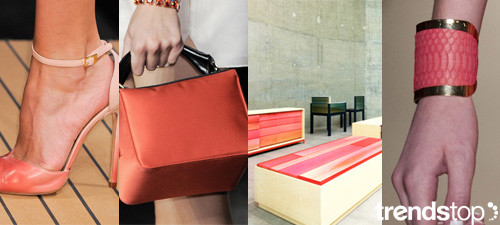 image courtesy Trendstop: Ermanno Scervino, Andrea Incontri, both Spring/Summer 2014, Established & Sons LDF 2013, Simonetta Ravizza Spring/Summer 2014.
This acidic coral hue lends a commercial zest to Spring/Summer 2015 accessories and footwear too. Delicate heels stand out with ombre effects at Ermanno Scervino, while boxy bags catch the eye with black leather straps at Andrea Incontri. Simonetta Ravizza opts for a luxe interpretation, tinting snakeskin on a gold-trimmed cuff.
Purchase the Full Report

Trendstop.com is one of the world's leading trend forecasting agencies for fashion and creative professionals, renowned for its insightful trend analysis and forecasts. Clients include Forever21, Ralph Lauren, H&M, Hugo Boss, and L'Oreal.