Women's Trend Direction SS 2011
Traditional styles blend with contemporary visions in a trend influenced by the rich and vibrant countries of India and the Middle East for spring/summer 2011. Presented is the seasonal trend theme, "Enlighten." The trend is split in to three individual directions. Direction 1 is for high-fashion & tailored ranges. Direction 2 covers leisurewear, while Direction 3 considers seasonal, casual looks.
Seasonal Inspiration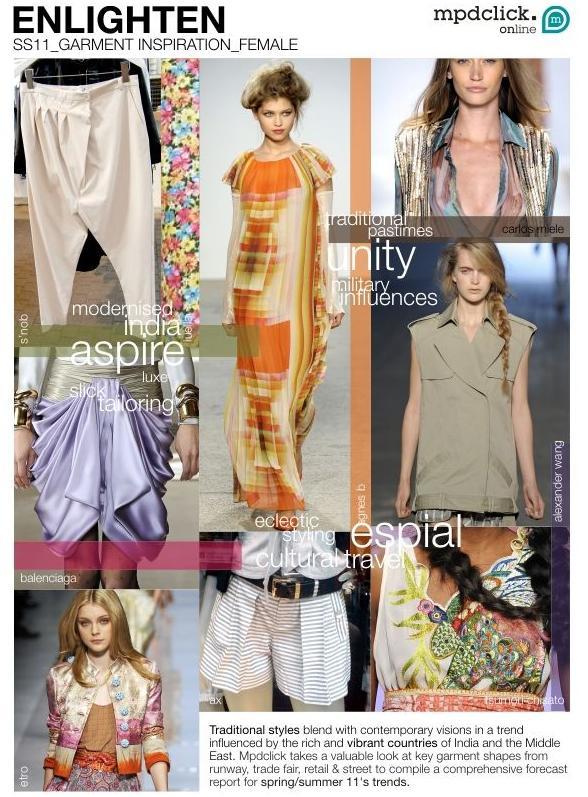 Aspire explores the relationship between contemporary and traditional culture in a flourishing economy. India is set to become the centre of modern, sustainable industry, with an evolving identity which combines modernism with a deeply ingrained sense of convention. This fashion and tailoring direction is inspired by the fusion of traditional Indian aesthetics with contemporary, international culture. Silhouettes mix time-honoured styles with sumptuous textiles and progressive design. Sleek shapes and classic detailing come in a cool and clean palette of steely blue, zesty lime and sharp coral pink. Stark neutrals are enlivened with flashes of decorative print to convey a sense of luxury.

Dresses: Key words: maxi dress; flowing chiffon; contemporary print elements; vibrant amber; luxe silk; draping; shapeless shift; ombre; slit neckline; cinched waist; modern tailoring; dove grey; prominent lapels.

Fashion tops: Key words: lightweight chiffon; sheer; blouses; decorative necklines; bleeding colour; embellished waistcoat; block fabric panelling; puff sleeves; textural focus; smock; tailored vest.

#### Bottoms:
Key words: high waisted; emerald green; cropped; tailored; harems; tapered leg; pin tuck detail; pleated shorts; turn up detail; printed flared skirt; extreme harems; waist tie.

#### Outerwear:
Key words: longline collarless jacket; 3/4 length sleeves; sheen blazers; tailoring; modern working women; block fabric panelling; luxe suede; flick shoulders; cinched waists; on-tone texture.

Unity is inspired by the devotion to the game of cricket and its ability to transcend class, religion and gender in India. A sense of Victorian formality is combined with traditional toile de jouy prints and a faded colour palette of sepia tones and pastel shades. Inspiring an aged sense of custom, reminiscent of the time of the British Raj. Unity will combine the opulence of the Indian military and formal sportswear with vivid colours that contrast with bleached out fabrics and vintage Victorian postcards and stamps. Long, drawn out days in the sun inspire distressed and weathered finishes, contrasted with highly decorative chintz.

#### Dresses:
Key words: military influence; epaulettes; slick panelling; asymmetric neckline; cargo pockets; chinzy florals; shirt dress; tea party; relaxed funnel neck; casual silk mix; drop waist.


#### Bottoms:
Key words: tapered drop crotch trousers; tonal plaid; military inspired colour palette; tailored slacks; button detailed denim harems; tailored flared shorts; cargo pockets.

#### Outerwear:
Key words: luxe silk; multiple patch pockets; decorative epaulettes; shapeless coats; sleeveless; khaki; contemporary mandarin collar; indigo denim jacket; sculpted floral buttons.

Espial embraces the future of travel and tourism. The era of the package holiday is subsiding, giving way to consumers who demand an experience off the beaten track; an experience that submerges them with local and unique cultures. Bustling market places and hidden alley ways inspire haphazard layering, ecletic mixes of textiles and prints and a sense of adventure. Leather accessories and natural fabrics give texture to the look, while clashing colours liven up an earthy base palette with traditional prints and layered graphics. Travel memorabilia, unique treasures and an authentic experience inspire a rustic and intriguing aesthetic. Graphics and prints take on travel inspiration with sun-faded train tickets, street art and a sense of narrative. Traditional cultural patterns layer over opulent woven and embellished textiles.

#### Dresses & playsuits:
Key words: maxi dress; vibrant floral prints; cut out shoulder detail; excessive embellishment; flowing chiffon; plunge neckline harem playsuits; cinched waist; paint splatter print; silk jumpsuit.

#### Fashion tops:
Key words: layering; basic vest tops; heavy embellishment; embroidery; neckline focus; silk paisley blouse; simple printed t-shirt; rustic colours; v-neck smock; colour bleed harlequin.

#### Bottoms:
Key words: billowing maxi skirt; high waisted wrap; striped cropped trousers; micro denim shorts; pocket embellishment; exotic printed flared silk skirt; statement coloured denim.

#### Outerwear:
Key words: collarless jackets; vibrant stripes; statement buttons; metallic accents; contrasting jewel tones; open crochet long line waistcoat; fringed jacket; racer back; textural detail; blue denim jacket.
Swimwear:
Key words: bejewelled neckline; plunge neckline; coin adorned waistband; paisley prints; rich red tones; chain jewellery accessory; bright stripes; metallic accents; ethnic tribal print.