Women's Top Denim Themes, F/W 2015-16
Take a look at the F/W 15/16 top denim themes for women as forecasted by the editors at Fashion Snoops. We take a leap back in time to a 70s-esque era in our Almost Famous theme, and revisit all the novelty trends of the past decade with 90s Mashup. A supernatural feel is present in our Salem theme for Women, and the cozy vibes associated with winter culminate in our Ski Lodge theme for Young Women.
SEASONAL MOODS
SALEM
A supernatural feel makes itself known in our Salem theme as witching elements and coven-inspired aesthetics take center stage. With the cultural influence of American Horror Story, Witches of East End and True Blood being so relevant, it's no surprise that designers felt this pull towards a gothic-esque theme complete with a charmed sensibility. Sister by Sibling best encapsulated the feel of Salem with sequined embellishments combined with crochet and denim mixes, while metallic gunmetal, snakeskin finishes, cobweb prints, and smoky brushstrokes further epitomized the theme. The eerie ambiance is best felt through the styling, with Tibi and Sister by Sibling adorning models with wide brim topper hats, and Rebecca Minkoff showcasing embellished lettering.
ALMOST FAMOUS
There's a 70s-esque feel to Almost Famous as bell-bottom flares, paper bag waists, and vintage hued denim characterize the theme. The music and flair of Janis Joplin, Joni Mitchell, and the Beatles influence the 70s aesthetic, and the Woodstock festival gives the theme its carefree and Bohemian feel. Amapo, Michael Kors, and Marques Almeida best capture the essence as high-waisted silhouettes, wrap around robes, and A-line skirts combine with faux-fur textures, painted florals, and metallic inserts. For Fall 15/16, the Almost Famous woman is not only with the band, she's the lead singer.
YOUNG WOMEN'S CONTEMPORARY DENIM
90s MASHUP
Butterfly clips and Gameboys, jelly shoes and crimped hair, overalls and tattoo chokers, novelty badges and sequins: welcome, to 90s Mashup! A youth-centric theme for young women's denim, this trend epitomizes the fun feel of the 90s complete with allover embellishment, shredding and chain details, exaggerated proportions, and quilted surfaces. Leopard print finishes and sponge painted denim combine with a classic 90s stone wash and a bubblegum blue hue, and there's an overriding sense of innocence evident in the theme as our 90s rainbow girl plays with prints at 3.1 Phillip Lim, embellishes herself in loud pearl lettering at Ashish, and adorns herself in chunky jewelry at Moschino.
SKI LODGE
Cozying up next to the fireplace, our Ski Lodge theme for F/W 15/16 effortlessly combines a cabin and woodsy feel with snow layered mountaintops and vast open spaces. Faux fur accents are mixed into heavy jacketing and denim outerwear, while tribal printed details, utility pockets, contrast washes and industrial closures give the theme a rustic appeal. Snow white, cool grey, and raw denim are key washes, while oversized jacketing as seen at Ellus, Sacai, and Tommy Hilfiger further encapsulate the wintery feel. Nicholas K introduced soft, draped denim pieces to further the cozy aesthetic, and Tess Giberson incorporated oversized knits and coats with skinny denim bottoms for a play in proportion.
MORE REPORT DETAILS
These concise product roadmaps are here to guide you through the most influential denim trends and themes of the season.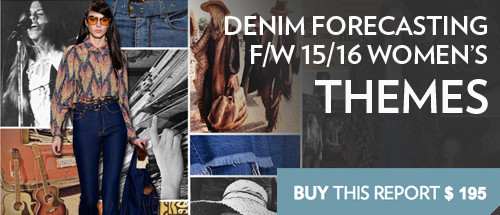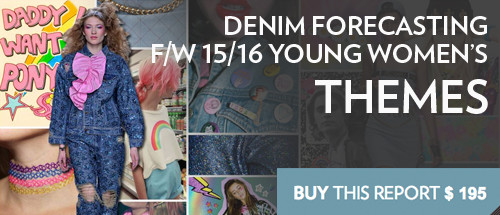 The full versions of Fashion Snoops Fall/Winter 15/16 seasonal denim reports for women and young women are available in the WeConnectFashion Trend Shop. Each report includes an overview of the themes, an original global inspiration collage with designers, runway reference images, coverage of details and washes, a photo gallery of additional high-resolution supporting runway images, and a written analysis of each theme.