Women's Top 5 Trend Directions, FW 14-15
On view, an exciting report that presents the Top 5 seasonal trend themes for the Fall / Winter 2014-15 women's contemporary market. The most prevalent, featured across all major runway cities, is Tomboy, which presents a continuation of androgynous looks with an emphasis on menswear patterns and materials. Retro remains an influential conversation. Plus more. See for yourself.
Young Contemporary Market Themes
A concise assortment of themes are presented in womenswear for FW 14/15. The most prevalent is Tomboy - a continuation of androgynous looks. Retro remains influential, with Film Noir heroines in 50s. Collections continue to feature an abundance of sportswear, but this season Cubist influence brings in linear graphic motifs. With Baroque inspiration still fresh in mind, an opulent Regal theme filled with luxe materials and jewel tones is popular. Folk nods to the free-spirited Bohemia, while Sleepwalkers promotes pajama dressing.
50s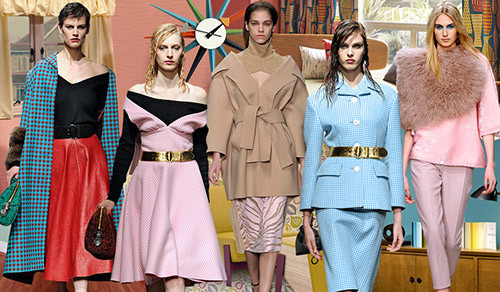 The 50s remains an influential decade, recognizable by ladylike fit and flare silhouettes. Prada is a key reference, as well as Rochas, Unique, Antonio Marras and Ports 1961. While full skirts, skirt suits and boxy jackets are common, British labels Jonathan Saunders and Roksanda Illincic add newness to the trend by applying futuristic applications of PVC, making the retro reference more modern and slightly futuristic. Pastel hues also lighten the mood. Menswear material favorites like tweed and wool felt are utilized, and belted silhouettes are a common accent.
CUBIST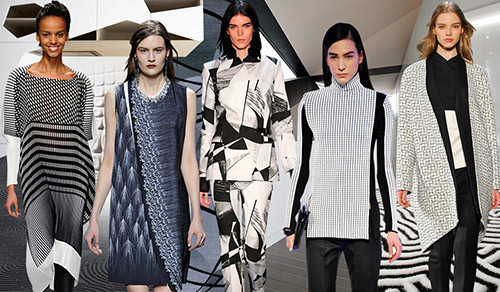 Cubist follows Fashion Snoops' Ultramodern trend from last season and also confirms our Formula = Solution Visionary forecast. Key designers include Helmut Lang, Narciso Rodriguez, Issey Miyake and David Koma. The theme combines two primary elements, minimalist sportswear with a futurist edge. A monochromatic color palette carries forward and stripes and lines are a key pattern focus, including fractured geometrics and optical illusions.
SLEEPWALKERS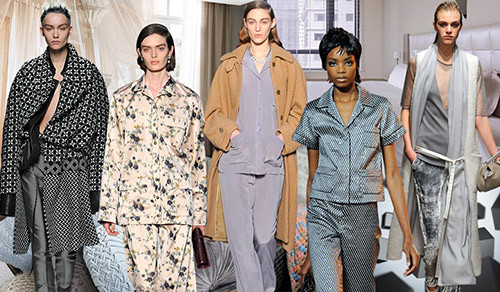 One of the newest ideas to emerge for Fall / Winter 14/15 is the notion of pajama influence. Marc Jacobs first featured the theme, which was replicated on the runways of Missoni, Rochas and Max Mara. Pajama pants, tops and robes are essential pieces, set to fluid satin and silk charmeuse. Whimsical patterns like ditsy florals add to the boudoir sentiment.
80s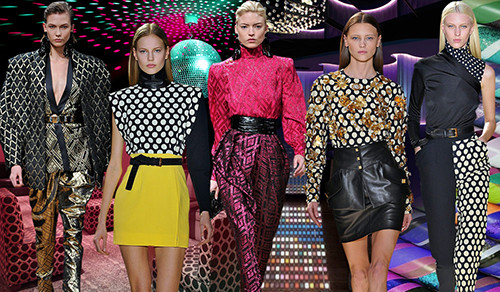 Parisian labels like Balmain and Emanuel Ungaro dip back into the opulent 80s for Fall / Winter 14/15. Broad statement shoulders signal the most defiant silhouette direction, while high waist carrot shapes make a comeback on pants. Metallics and embellishment speak to the decade's excess and dots and optical geometrics drive the pattern conversation.
FOLK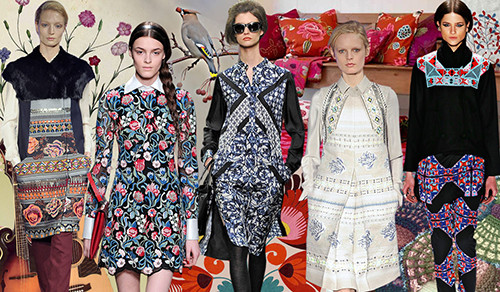 Folk provides a younger approach to Bohemia in womenswear. The influence is most celebrated at Matthew Williamson, Mara Hoffman, Suno and Valentino. A rich assortment of print and pattern options includes tapestry and patchwork motifs. While silhouettes can be ultimately modern, items like the dirndl skirt have a prairie feel.
Purchase the Full Report
Complete women's trend theme reports for Fall/Winter 2014-15 are available now. These concise product roadmaps guide you through the most influential trends and themes of the season. Each report includes an overview and analysis of the themes and an index summarizing all of the top trends. Also included: an inspiration collage, specific color trend direction (with Pantone referenced color Palettes), key materials, prints & patterns and a gallery of high-resolution photos supporting runway images.