Women's Tactile Surfaces, S/S 2016 Materials
On view, two key material trends for S/S 2016, this season woven materials trade in established constructions for intriguingly fresh variations that appeal with a creative tactility, say the trend analysts at Trendstop. We see two versatile key styles emerge in the form of sophisticated Couture Craft Weave and layered 3D Self Texture.translation.
Couture Craft Weave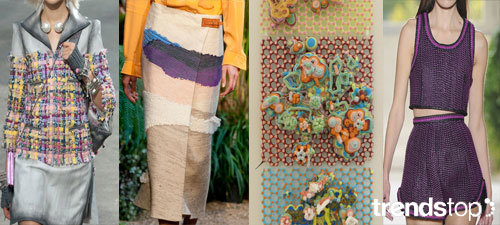 image courtesy Trendstop: Chanel, Hermes, both Spring/Summer 2014, Y Gallery Year 2013, Balenciaga Spring/Summer 2014.
APPAREL
Crafty weave is transformed with elegant material mixes, multicolor and patterns while retaining its signature homespun finish. Chanel demonstrates this with a statement update on their iconic jacket, as tactile stripes look artistic on a Hermes skirt. Balenciaga opt for a sporty two-piece with purple-tinted weave.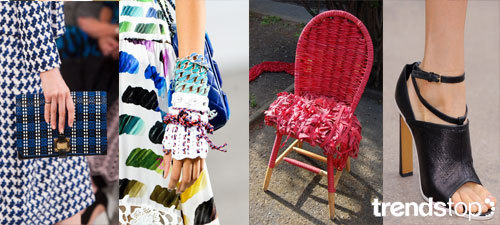 image courtesy Trendstop: Chanel Spring/Summer 2014, Village of Huts, Derek Lam Spring/Summer 2014.
ACCESSORIES
Suitable for all Market types, weave's new couture-inspired texture lends itself well to standout accessory styles. Chanel's patterned clutch looks ladylike, while their fingerless glove looks chic with a multicolored tie running through. Derek's peep-toe sandal offers a homespun twist on classic leather textures.
3D Self Texture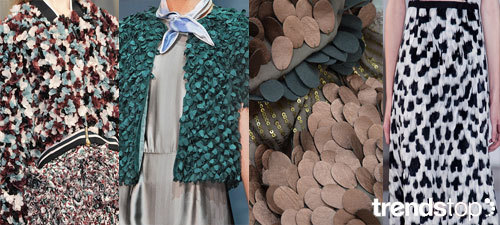 image courtesy Trendstop: Marni, Emporio Armani both Spring/Summer 2014, Veekay International at Texworld, Jil Sander Spring/Summer 2014.
APPAREL
Ultra-textural Spring/Summer styles appeal to the touch with laser-cut materials that take on multiple layered, almost petal-like shapes. Sporty bombers blossom with floral inspirations at Marni, as Emporio Armani jackets resemble leaf-covered surfaces. Jil Sander opts for a feathery covering on a skirt, rendered in stark black and white.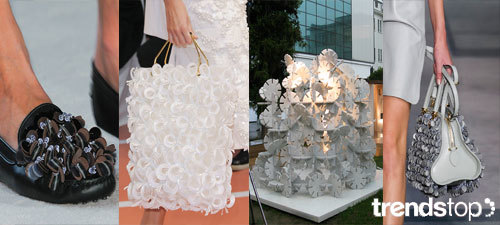 image courtesy Trendstop: Tod's, Marni both Spring/Summer 2014, Milan Furniture Fair 2012, Tod's Spring/Summer 2014.
ACCESSORIES
Another durable trend for all Market levels, 3D Self Texture accessories burst with 3D surfaces that remain lightweight in the wearing. Circular beads festoon slip-on shoes and leather handbags at Tod's, while Marni go quirky-minimal with a white looped
More Report Details

A full range of trend reports are available at Trendstop.com, one of the world's leading trend forecasting agencies for fashion and creative professionals. The agency is renowned for its insightful trend analysis and forecasts. Clients include Forever21, Ralph Lauren, H&M, Hugo Boss, and L'Oreal.