Women's Space Age Prints SS 2014
Early indicator alert, Space Age Prints. Visions of the future inspire a wealth of luxe sci-fi-inspired designs, as Cosmic Sky and Space Amoeba emerge as key multi-application prints for Spring/Summer 2014. Updating apparel and accessories with a 31st century sophistication, both these trends offer a forward-thinking approach to extraterrestrial seasonal styling.
Early Indicator Print Trend
COSMIC SKY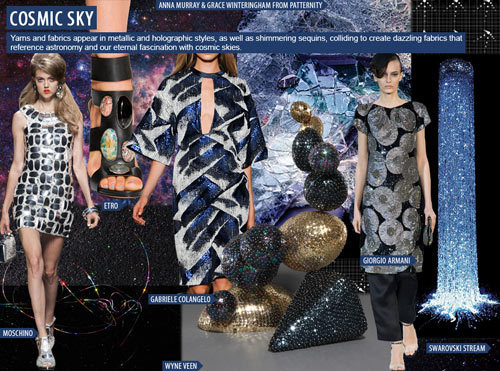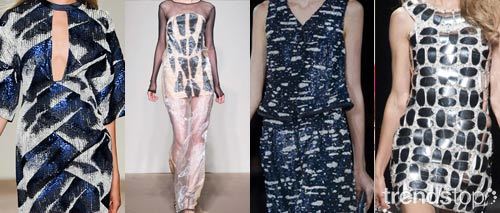 image courtesy Trendstop: Gabriele Colangelo, Cristiano Burani, Giorgio Armani, Moschino, all Spring/Summer 2013.
Designers look to infinity and beyond to recreate celestial skyscapes in dazzling fabrics, drawing on metallic and holographic surfaces, as well as glittering sequin embellishment. Gabriele Colangelo interrupts an abstracted dress with blue Lurex paneling, while Cristiano Burani layers shimmering organza for a Milky Way effect. Giorgio Armani's two-piece resembles a star-strewn sky, and Moschino's silver and crystal applique brings to mind notions of moons and stars.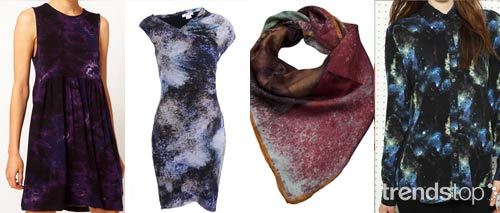 image courtesy Trendstop: ASOS, Helmut Lang, Vivienne Westwood, Urban Outfitters, all Spring/Summer 2013.
A selection of directional retailers is already adapting Cosmic Sky into product ranges. Dresses at ASOS and Helmut Lang are printed with inky cosmic clouds and atmospheric formations, as Vivienne Westwood opts for a red silk scarf. A blue and black print refreshes Urban Outfitter's button-up shirt staple with a futuristic appeal.
SPACE AMOEBA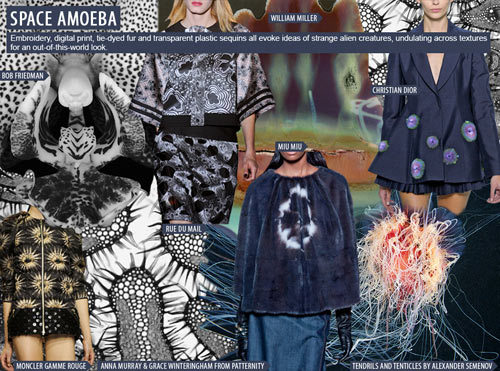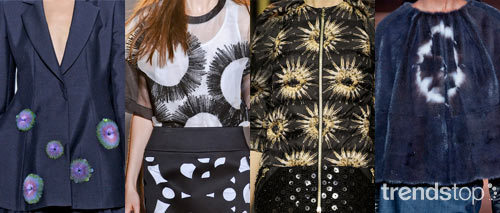 image courtesy Trendstop: Christian Dior, Rue de Mail, Moncler Gamme Rouge, Miu Miu, all Spring/Summer 2013.
Strange alien creatures undulate across designs for a surreal, organic twist on Spring/Summer styling, taking form in bold digital prints and Space Age embellishment. Christian Dior's blazer features multicolored rings of sequins, as blown-up spiny cells surface on Rue de Mail's monochrome top. Moncler Gamme Rouge's optical print resembles life forms shown under a microscope, while Miu Miu's abstract placement makes a statement in fur.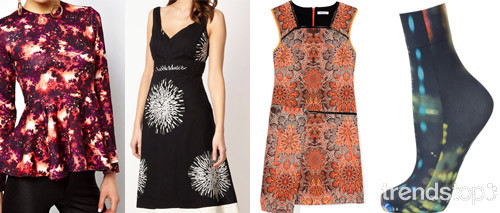 image courtesy Trendstop: ASOS, Rocha. John Rocha, Helmut Lang, Topshop, all Spring/Summer 2013.
Early indicator examples of the Space Amoeba trend have already emerged in directional retail collections. ASOS patterns a peplum top with a vibrant digital print in red and purple, as Rocha. John Rocha offers a chic summery piece in white bead embellishment on black. Helmut Lang opts for a vintage-futurist twist with a retro palette, while Topshop's socks feature surreal primary splotches.
MORE TREND FORECAST DETAILS
A variety of trend reports are available at Trendstop.com, one of the world's leading trend forecasting agencies for fashion and creative professionals. The agency is renowned for its insightful trend analysis and forecasts. Clients include Forever21, Ralph Lauren, H&M, Hugo Boss, and L'Oreal.