Women's Safari, Apparel & Accessories SS 2015
Seasonal Direction Women's: Take a first look at two key commercial themes for Spring/Summer 2015, backed up by directional and early mainstream retail examples. From the African savannah to the city streets, the contemporary adventuress comes clad in exotic safari style. The Safari Slick trend is all about revamping classic styles with a new sophistication, while Playdate Safari takes a bolder, more playful turn with vibrant animal designs.
Safari Slick.
APPAREL Chic, modern separates evocative of sand dunes direct this trend away from the tired safari cliche, on show with both softened utility styles and sharp silhouettes that fall in clean lines. Lightweight jackets experiment with tonal material mixes or glittery detailing at D-Due and Guen, while LEEY and Daniella Kallmeyer keep things simply sophisticated with loose-fit tops and tailored pants in neutral hues.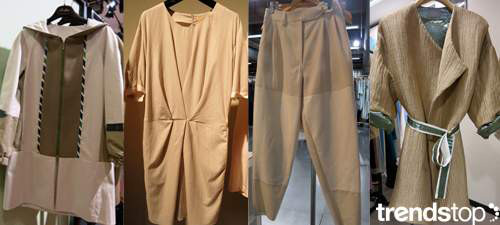 image courtesy Trendstop: D-Due, LEEY, Daniella Kallmeyer, Guen, all Spring/Summer 2014.
ACCESSORIES We see Safari Slick mood emerge across elegant accessories that interpret exotic materials with a refined finish. Striped snakeskin panels inform Proenza Schouler clutches, as wedge sandals appear in chocolate toned leather at Zara or gold-studded espadrille trim at Miss Selfridge. Meanwhile, & Other stories dress up a leather pouch bag with a glittery gold sheen.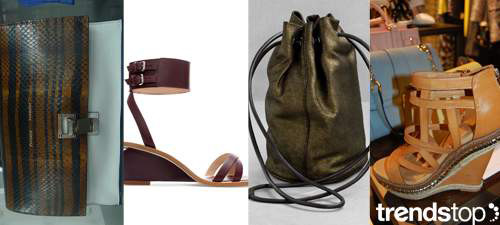 image courtesy Trendstop: Proenza Schouler Spring/Summer 2014, Zara, & Other Stories, both Fall/Winter 2013-14, Miss Selfridge Spring/Summer 2014.
Playdate Safari.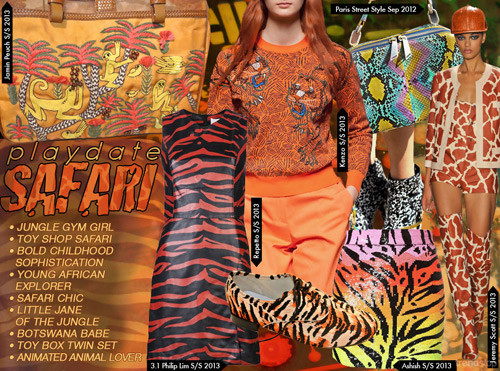 APPAREL This childhood take on safari styling is all about enlivening simple shapes with toy box colors and wild animal graphics, making for a look of playful panache. Leopard spots are interpreted in blue and yellow on statement cropped Topshop pants, as warm orange hues saturate giraffe splotch tees at That's it Folks and illustrated repeat skirts at Orla Kierly. Elsewhere, Tigersushi Furs add interest to a simple white dress with scarlet tiger stripes.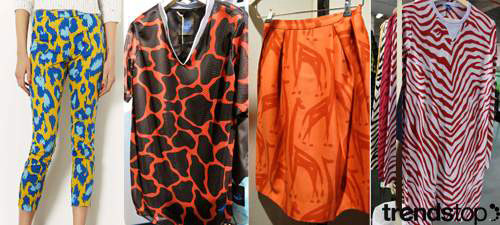 image courtesy Trendstop: Topshop Fall/Winter 2013-14, That's it Folks, Orla Kierly, Tigersushi Furs, all Spring/Summer 2014.
ACCESSORIES Likewise, Playdate Safari accessories make a youthful statement for Spring/Summer 2015, as seen across a number of directional retail collections. Topshop sandals and Pepe Jeans snapbacks jazz up animal prints with vibrant new colorways, with pointed Linda Farrow sunnies underlining a feline feel with tiger stripes. ASOS' material mix ankle boots incorporate a printed pop in yellow on black.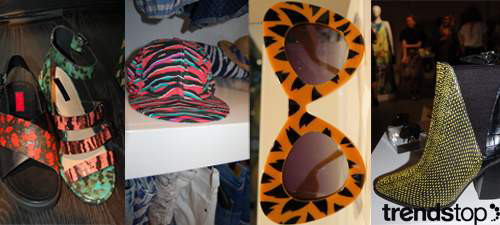 image courtesy Trendstop: Topshop, Pepe Jeans London, Linda Farrow, ASOS, all Spring/Summer 2014.
THE FULL REPORT IS AVAILABLE NOW

Trendstop.com is one of the world's leading trend forecasting agencies for fashion and creative professionals, renowned for its insightful trend analysis and forecasts. Clients include Forever21, Ralph Lauren, H&M, Hugo Boss, and L'Oreal.