Women's S/S 2012 Color Trends Premium Textile Japan JFW
Textile & Color Report Women's: From the trends presented at the JFW Premium Textile Japan trade show, May 12, 2011, a report that begs a refreshed "Back To The Origin" perspective for true growth. "The time has come to launch an adventure, proclaiming the arrival of our new era." Four themes along with trend color boards offer an etherial jumping off point that is ripe for interpretation. Presented on WeConnectFashion, courtesy of JFW Japan Fashion Week Organization, producers of the Premium Textile Japan trade show.
Back To The Origin, S/S 2012 JFW Textile View
Amid the current evolving society with dramatic changes encircling us, and evolutionary mind-sets and value systems abounding; government, economy, and even individual human relations, now is the moment to reconsider returning to the origin, with our feet firmly on the ground, liberating our five senses, easing stiffened brains and bodies, to live through our era with a flexible and refreshed perspective for true growth. Constantly sustaining awareness of the starting point. The time has come to launch an adventure, proclaiming the arrival of our new era.
COLOURS
An innovative palette delivering an inspiring sense of value, awash with refreshed sensibility and boundless curiosity. Be free to compose your personal tones… married to refined pure, glamorous, yet nostalgic keynotes!… This season brings us "Colours of Feelings," rhythmically in resonance with original and swinging beats.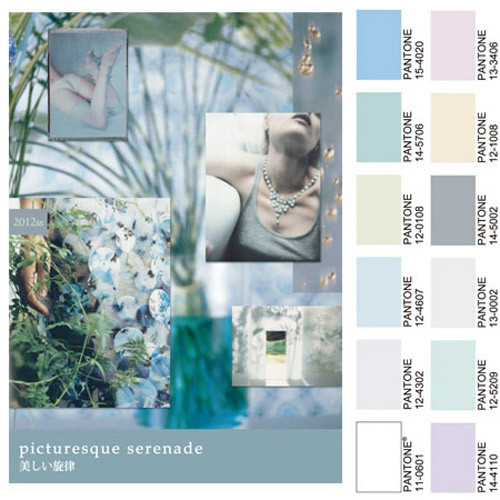 Picturesque Serenade
A summery scented breeze passes through the treetops, while sunshine filtering through foliage whispers nonchalantly, veiled in calm. Far off little streams play faint tunes, composing soothing melodies like artistic pictures. Be fused in nature and listen for…
Colour
A palette of crystallised pellucidity, mirroring sensitive, expressive colour tones. Retro-tinged sorbet blue and shadowy grey to emphasize the airy, subdued ambience.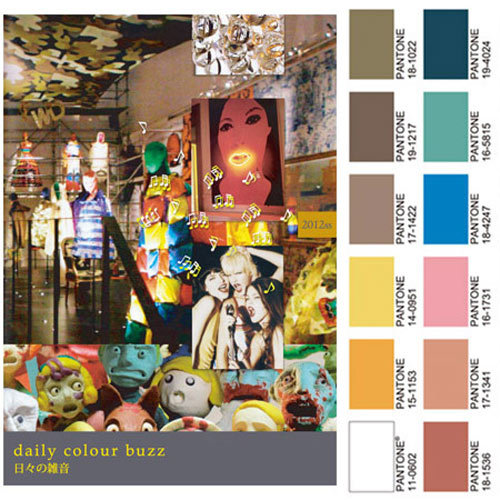 Daily Colour Buzz
The depths of our consciuosness… condensed with curiosity, proliferate throughout our daily lives. Multicoloured echoes of "noisy" or "healing" sounds… people are immersed in spools of information, entangled with vibrate emotions. As if leaving traces amid transient relief and percussion.
Colour
A tactful rhythmic interplay and an unexpected combination of crushing hues, for a pleasant surprise. A vibrant display of creativity and individuality, tickling a playful mind, yet sensible of an ensemble for balanced harmony.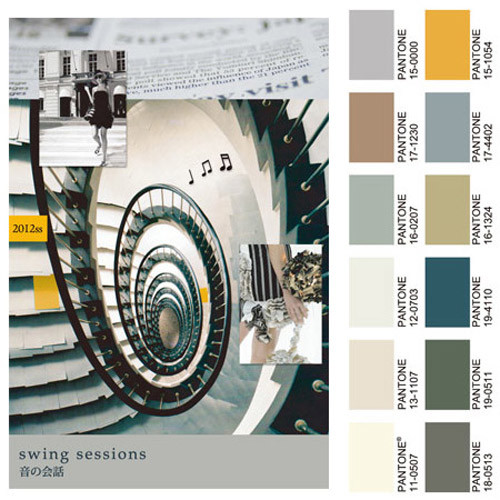 Swing Sessions
Free jazzy sessions of art inspired by spontaneous imagination, where shounds dance like sleek flowing graphic lines. As swinging art hued with personal rhythm fuses into a crushing and improvised sonic performance, the movement contours an enchanting spiral of zeal.
Colour
A sleek art inspired range of activation with silver and gold touched. A tonality reflecting the five senses, respectful of individual tomes, sophisticated, released and supple, yet neutrally nuanced.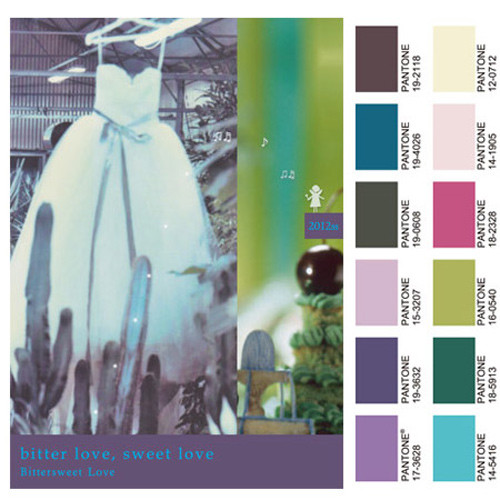 Bittersweet Love
A love song interwoven with bittersweet feelings. An unpredictable ardent drama with mellow dulcet. Sensuality and intelligence. A ballad of a soul being adrift with every emotion craved in life in passing time… The eternal love, intensely versed, and now illuminated with dazzling lustre.
Colour
Thrilling, enthusiastic shades, evoking both saccharine and acid tastes. A matured blend of cool-faced solidity and sweet tenderness, veiled in lyrical, cinematic yet nostolgic tunes
To see the Back To The Origin report in its entirey, visit JFW Textile View.
RELATED TOPICS
See the Premium Textile Japan event listing for future trade show dates and show description. View all Textile reports in our trend archive. View all Color reports in our trend archive. Start A Fashion Business Industry Guides