Women's S/S 2008 Seasonal Trends
Spring / Summer 2008 - The Style Council does it again for Spring / Summer 2008, with trend forecasts for the Women's apparel market. Four themes offer an excellent overview. Pictured: "Balmy Days," an exotic trend that blends understated lux, functionality and the tropics. The other women's trend themes include: Chromatic Contrast, Avant Garde, and Coast.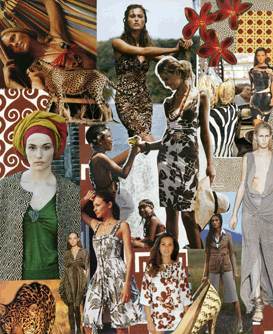 BALMY DAYS
Animal Prints

Earth Tones

Textures

Ethnic Motifs

Caftans

Shorts

Beads and Stones
Travelling in style to exotic climates and sultry tropical destinations. Understated luxury and functionality are a perfect match. Cool smocks and caftans, sumptuous ethnic motifs adorned with semi-precious stones and beads. Loose, billowing dresses in large animal and python prints, paired with shirt dresses, vests and shorts. Plant life and landscape give inspiration to fabric surfaces, petal thin cottons, wonderful slub silks and unusual woven leather/suede. Casual, easy dressing for a free spirit.
Colors: Pomegranate, celadon, coconut, orchid, Cyprus and teak.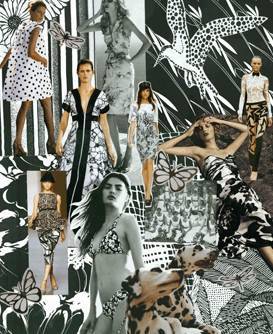 CHROMATIC CONTRAST
Monochromatic

Painterly

Optical

Silhouettes

Linear Florals

Dramatic Oversized Compositions

Stripes

Geometrics
The timeless classic, black and white contrast creates a modern dramatic style. Silhouettes are simple with striking negative/positive combinations. Daring abstracts with fresh painterly techniques. Optical and geometric pairings create a stark, modern, pop mood. A softer feminine flavor comes from nature, where florals are sketched in an endless parade of delicate drawings.
Colors: Ebony and alabaster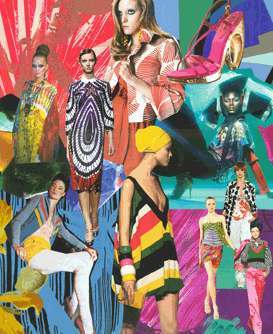 AVANT GARDE
Abstract

Intense Color

Pop Art

Juxtaposed Pattern
-Oversized Black and White
Bold and futuristic prints are saturated in clear, bright color. Pop art, abstract painting, oversized stripes and brush strokes. A seemingly random juxtaposition of pattern. To counterbalance the intense hues small flashes of black and white opticals. Simple silhouettes give full exposure to the dynamic compositions. Clever and confident with no limitations, complete freedom of expression through color, shape and texture.
Colors: A palette of clear intense pigments: hyacinth, lacquer red, amethyst, jade, cadmium, acrylic black, iris and cyan.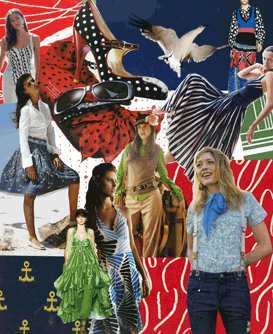 COAST
Traditional Stripes and Polka Dots

Nostalgic European Coastal Towns

Stylish Cool

Classic Ingredients

Effortless Chic

Vintage Florals

Denim and Chambray
A fresh take on nautical finds inspiration in the nostalgia of European coastal towns. Stylish simplicity with classic polka dots and stripes as a starting point. Tone down frivolity with traditional elements for a graceful polished look. Chambray and denim lend a relaxed, functional feel. Use overprint or fresh white embroidery, pair with pretty vintage florals and retro-abstract print. Perk up the expected red, white and blue with a splash of yellow or delicious apple green.
Colors: French navy, aqua and marine blue take a hit of signal red, sunshine and fresh apple green.