Women's Runway Silhouettes SS 2011
Analyzing images and key collections from the Spring/Summer catwalks this trend forecast provides an early prediction of key pieces and details that will influence wardrobes come Spring 2011 and beyond. From extreme footwear - as seen at Prada and Charles Anastase - to novelty biker jackets designers celebrate a refreshing optimism, tempered with the prevailing move towards smart minimalism, in evidence at Chloe and Salvatore Ferragamo.
Key Items and Details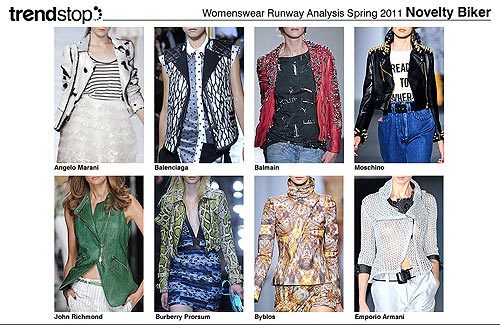 Novelty Biker
The classic biker style comes in numerous guises for Summer, as the boundaries of wardrobe staples are explored. Whilst Moschino and Balmain opt for conventional leather styles, albeit worn, grubby and zippered, or heavily encrusted with studs and safety pins, John Richmond's forest green offing comes minus sleeves, and Burberry Prorsum's is executed in stylized statement snakeskin, a bold choice for the season. Soft knits, lace and all-over sequin options represent a decidedly feminine twist on tradition.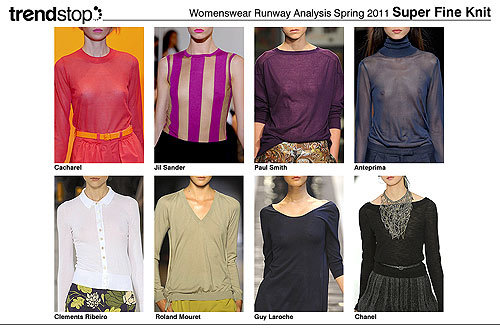 Super Fine Knit
Subvert prim-and-proper connotations with super fine knits that introduce an unexpected sensuality to lightweight and practical cover-ups. Offering a seasonal transition for the common Winter fabrication semi-transparent finishes are juxtaposed with long sleeves and round or roll necks, or nod to button-through, preppy styles, as seen at Clements Ribeiro. Jil Sander juxtaposes sheer and knit, creating vertical floating stripes that simultaneously conceal and reveal.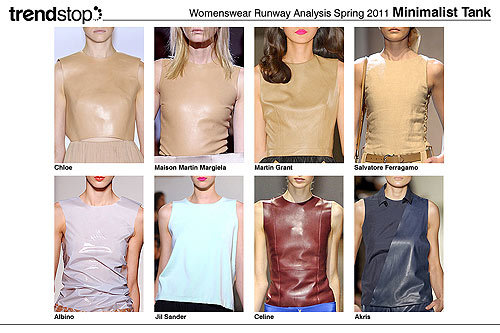 Minimalist Tank
Winter's dalliance with modern minimalism evolves into a summer embrace as designers explore the potential of clean lines and fluid silhouettes. For the coming season form-skimming tanks are rendered in super-soft leathers dominated by elegant neutrals and warm buttery shades. Absence of unnecessary adornment concealed stitching and simple necklines communicate an easy-wear, contemporary dialogue.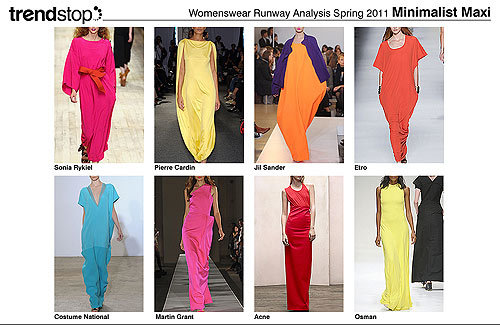 Minimalist Maxi
Reconciling Phoebe Philo's minimalist slant with the maxi dress culminates in easy-wear voluminous dresses that taper at the ankle. Devoid of embellishment and rendered with deep v or oversized crew necks, silhouettes communicate an effective simplicity, suitable for both day and eveningwear. Jil Sander and Sonia Rykiel lead by example, with clashing brights - a red tie-belt or purple jacket; CNC Costume National push the boundaries of androgyny with a voluminous shirt dress.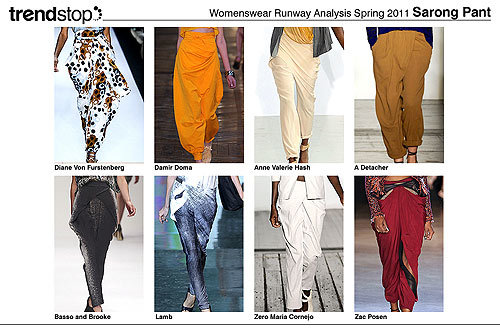 Sarong Pant
A smart alternative to the ubiquitous harem, sarong pants update trousers for the coming season. Wrap-over waistbands mimic the effect of a sarong, the detail offset with tapered or cuffed leg shapes. Oversized waist ties reiterate tribal conceits and add dynamic movement. Effective in colorful ethnic-inspired prints, strong statement hues, or minimal derived palettes – as seen at Zero Maria Corneja – pair with clashing or coordinating tops, to promote a new take on the jumpsuit.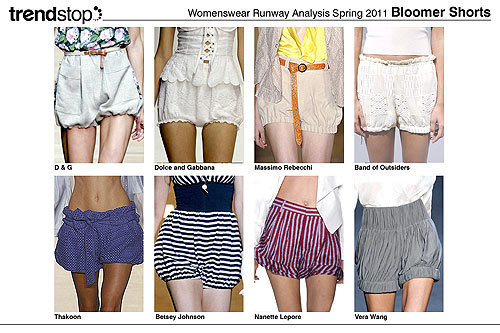 Bloomer Shorts
With the city short established as a Winter wardrobe staple, bloomers represent a new silhouette for Summer. Brimming with a youthful insouciance, in black and white gingham or two-tone stripes, the shape is the natural conclusion for cotton jumpsuits with tied drop waists. White crochet and lace details add surface interest; heighten the contrast with sheer shirting – as seen at Thakoon – or linen look blazers.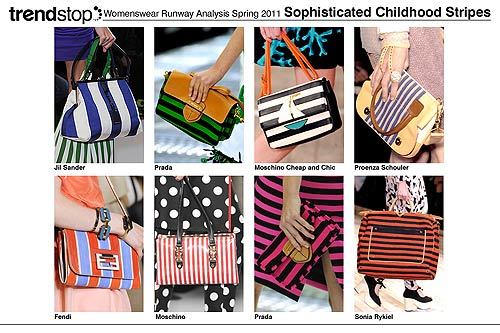 Sophisticated Childhood Stripes
Ringing with an unbridled optimism, wide stripes are cheerfully emblazoned across oversized accessories and coordinating clutches, culminating in standout, statement pieces. Evoking clichéd deckchair visuals, kitsch enamel nautical motifs – as seen at Moschino Cheap and Chic – exacerbate the prevailing mood of sailor chic, yet styles are updated with green and black or red and white combinations. Clash or match stripes, or for a more grown-up conceit render in luxe leathers in muted seaside shades.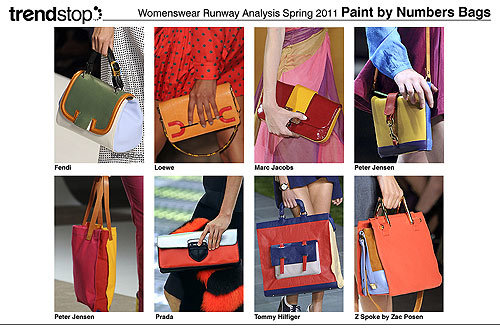 Paint by Numbers Bags
Unexpected color block brights look fresh when applied to clutch bags and oversized shopper totes. Clashing crayola hues – orange with red or metallic silver, coral with lilac and tan – imbue accessories with a youthful vibrancy, perfect for Summer in the city. Swarovski sparkle fastenings and polished gold handles, as seen at Marc Jacobs and Z Spoke, add a grown-up sophistication that follows on from Fall's prim femininity.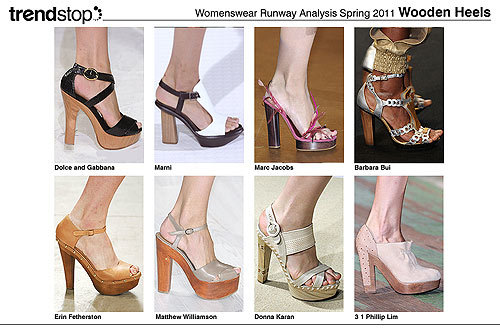 Wooden Heels
Kaiser Karl's Winter clog continues to inspire, as the Seventies come under the spotlight for the coming season. Chunky wooden heels and solid platforms are offset with neutral leather uppers or quirky ostrich leather placements, exemplified by Phillip Lim. Pair with contrasting woven or natural canvas uppers, as seen at Emporio Armani and Donna Karan, for an easy update on breezy summer style.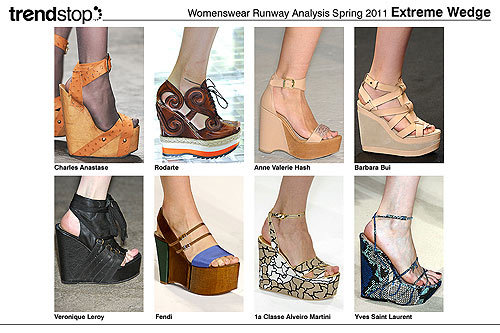 Extreme Wedge
The staple Winter boot, popularized by Acne and Jeffrey Campbell inspires Summer sandals with extreme wedge heels. Wooden clog-derived soles are offset with nude leather fastenings, Fendi nod to the Seventies with wood veneer and satin combinations, in a contemporary update of glam-rock influenced silhouettes. Exotic skins – from snake to ostrich – reconcile convention with flamboyance, similarly Prada's mix-and-match option, which pairs Baroque curlicues with athletic go-faster stripes and classic espadrille detailing.
Trendstop.com is a leading trend agency whose clients include leading brands, luxury brands, retailers, etailers, stylists and celebrities. Trendstop.com specializes in the commercial translation of conceptual trend looks to help you create best-selling on-trend styles. With access to vast image galleries, focused key trend reports, emerging trends and major themes updates, trendstop subscribers are always ahead of the trend.