Women's Runway NYC vs Europe, Fall 2011
Trend Tales From Two Cities. Here's a glimpse into next season's leading designer looks with New York pitted against Paris and London in three rounds of directional color, material and print trend comparison. From the Womenswear Fall/Winter 2011-12 TrendsTop 300 Catwalk Trend Edit for the iPad.
F/W 2011-12 Color: NYC vs Paris
These two shades selected from our Top 40 color overviews demonstrate how the same trend colors correlate across more than one city. This example shows how **Bottle Green and Morello Cherry Red **are emerging in both New York and Paris.
Morello Cherry NYC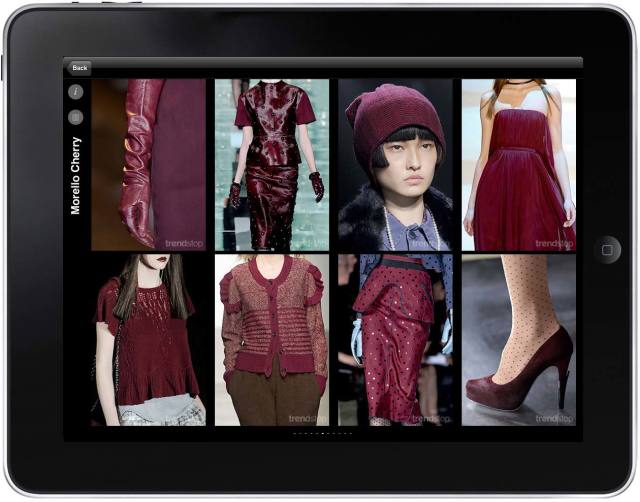 Dark and deeply desirable, this shade has a vintage femme fatale appeal and lends 'heritage' to anything it touches. The rich tone of Morello Cherry is an essential this season especially in accessories from soft leather gloves and patent bags and boots through to sheer micro-dotted hosiery.
Morello Cherry Paris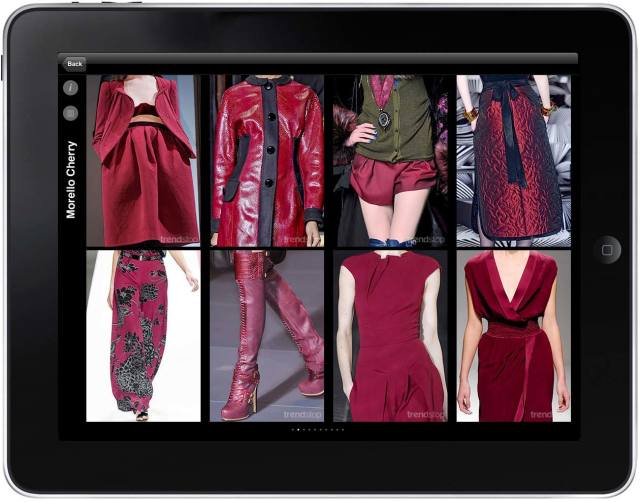 Appetizingly sweet, alluringly sensual, Paris' version of the cherry red is a richer more maraschino red with the power to seduce. Seen across a range of fabrics from python, lustrous silk and crocodile to textured calfskin, the seductive quality of this dark cherry is most apparent in draped gowns and crepe de chine kimono wrap dresses.
Parisian Bottle Green NYC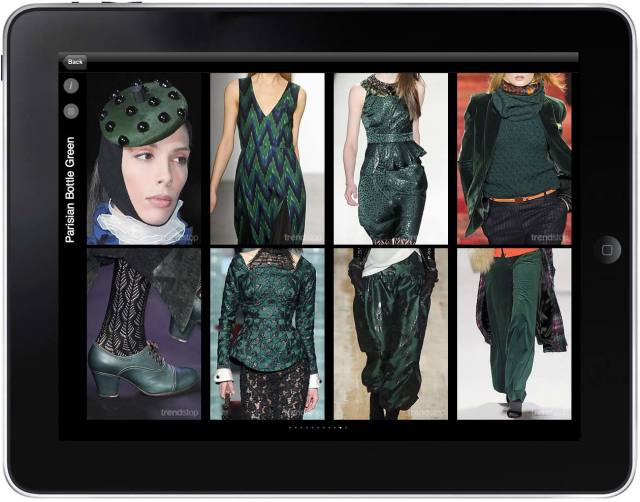 Reminiscent of antique French hand-blown wine bottles, this beautifully deep shade has an innate decadent quality that recalls the Belle Epoque. Velvet has the ideal depth required for this color whilst glossy silks become intoxicatingly rich. Vintage leather accessories add just the right amount of romanticism.
Parisian Bottle Green Paris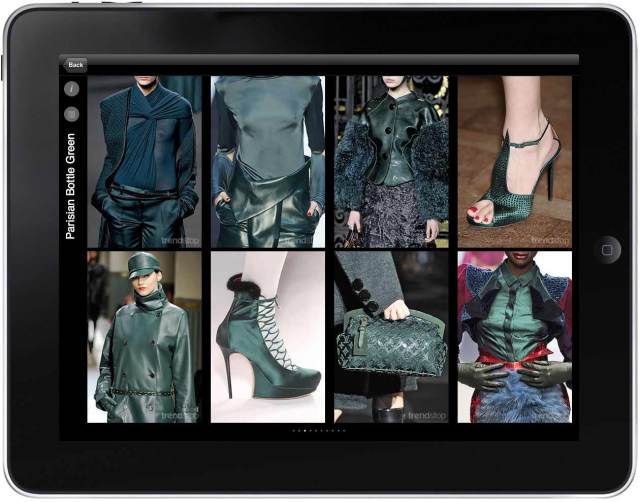 Paris' take on the chic bottle green is more seductive and sensuous compared to New York. Dark night reveals shadowy shades of mysterious faux blacks and emerald inky bottle greens. Draped effects lend softness whilst high shine interpretations give depth. Satin accessories are an ideal application, whilst silk dupion displays the color's rich beetle-like iridescence.
Materials: Holes vs Dots
Our materials preview demonstrates how the same holes vs dots trend can be translated from more directional to commercial looks between London and New York for the Women's Market, F/W 2011-12.
Directional Trend: Hole Punched (London)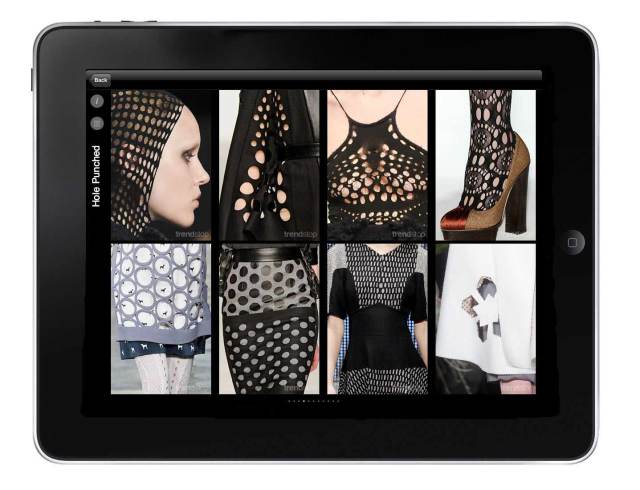 Hole Punched is London's Material alternative to New York's Polka Dot Surface Design trend (below). Dotted cutout patterns look back to the prints and shapes of the 60s inspired by Paco Rabanne, Pierre Cardin, and the Op Art movement. Collared tunic dresses with an enlarged circle mesh exoskeleton cheekily channel Mary Quant's thigh-skimming silhouettes, while knit balaclavas with circular cutouts look straight out of 2001: A Space Odyssey. Mixing retro-future with shabby chic, the hole punched trend, like the 60s, is flirtatious but there's also sophistication. Cutout facings are used to create texture and panels of polka dot cutouts create a contrast to dot appliqués.
Commerical Trend: Polka Dot Innovation (NYC)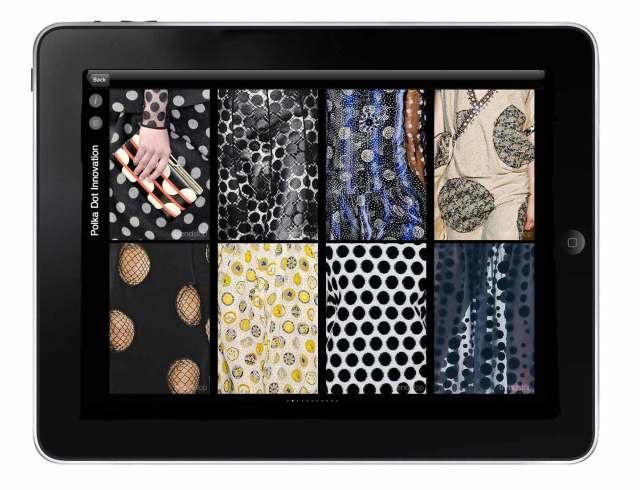 New York shows how the directional hole designs can be used in more commercial ways as flat patterns. Polka dots pop up in a whole range of different guises for Fall 2011-12, graphic, structural, filled with symbols; there seems to be no limit as to how this round pattern can be altered and shaped into new, previously unseen forms. It looks classic in black and white on feminine pieces whilst subtle background effects and embossed fabrics add volume to lean shapes. More experimental versions enlarge the dot and fill it with pattern. On translucent devoré differently sized polka dots can produce a bubbly effect, a very lively surface that will add to every look a gentle energy, daring youth, and subtle playfulness.
F/W 2011-12 Print: Florals vs Optics
The final section of this trend preview presents romantic New Liberty Prints from London pitted against the no-nonsense stark optics from N.Y.C.
London Romance: New Liberty Print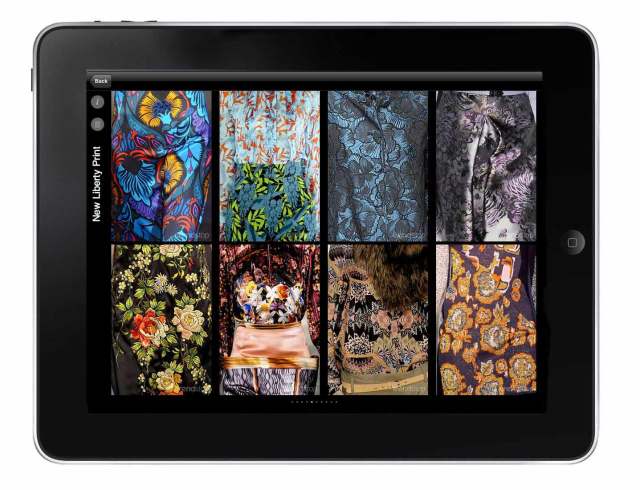 The classic liberty print, a floral on light cotton fabric is getting a reinterpretation for Fall Winter 2011-12. The flowers grow into a rose dominated embroidered dress or morph into a mixed bouquet of spring flowers, a digital print on silk that takes the aesthetic of a Jan Brueghel still life into the 21st century. Heavy brocades get the flower treatment as well as Lurex-fibred knits whilst silky fabrics are the material of choice for all over prints. Clashing color combinations also work their way into leafy prints. The digital revolution becomes apparent in scattered patterns, fracturing florals into repetitive lines of ornament.
New York Realism: Multi-Pattern Optics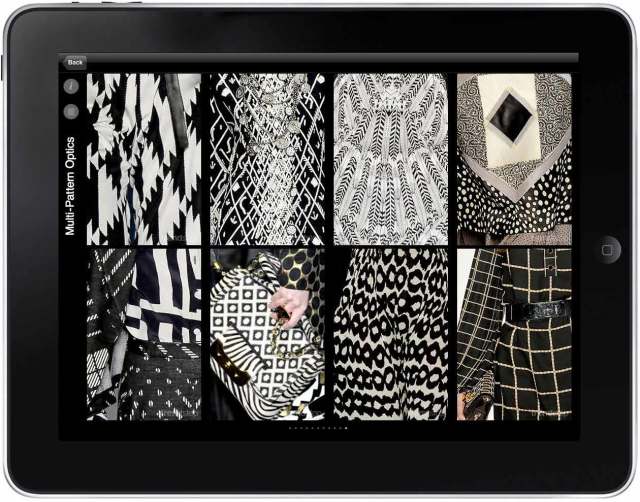 Pattern clashes occur mostly in stark black and white contrasts in Fall 2011-12. Negative/positive effects can be seen in sharp saw-tooth triangles or graphic feather patterns, laid out in a scheme that follows the basic coordinates of the human body. A graphic grid with a subtle internal structure can be slightly altered in size and proportion going from torso to sleeve. Cutouts reveal a secondary pattern in a lower layer. Black and white, as a monochromatic field in the middle or a splotchy pattern all over a long skirt dominates, but it is the occasional gold chain or an amber ring that can add another twist to the look.
Find the earliest, emerging and breaking trend forecasts alongside essential commercially relevant major seasonal trend analysis at Trendstop.com.