Women's Runway Key Items, Spring 2011
A Spring/Summer 2011 global round-up of emerging color, surface and material trends from across the four key cities where runway collections were shown. Analyzing decisive looks from major designers, next seasons trends are deciphered - from Jil Sander's juicebox brights to Miu Miu's heady metallic accents and feminine broderie anglaise- as we determine what you will be wearing next summer.
Emerging Trends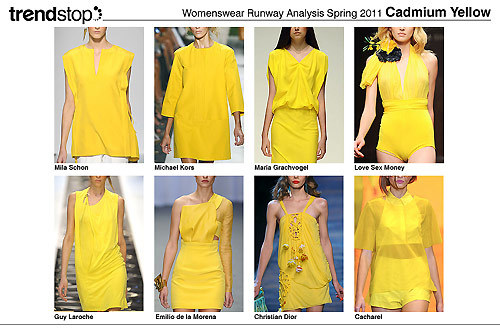 Cadmium Yellow
Fresh, crisp and certainly not for the faint-hearted, Cadmium Yellow celebrates the heady exuberance of summer. Apply to floor-sweeping maxi-dresses, or geometric mini-dresses, as seen at Emilio de la Morena, for immediate visual impact; the shade works equally well on sheer tunics and high-waisted vintage-look swimwear - detailed with a coordinating yellow corsage.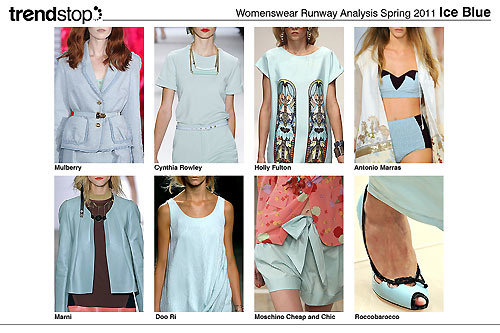 Ice Blue
The antithesis of cadmium yellow, muted ice blue evokes a lady-like elegance; both flattering and wearable. Mulberry cinch a smart two-piece suit with a coordinating belt, whilst Doo Ri renders the color appropriate for evening with a subtle tone-on-tone print. And don't overlook accessories - a patent peep-toe court with black edging is the perfect replacement for summer white.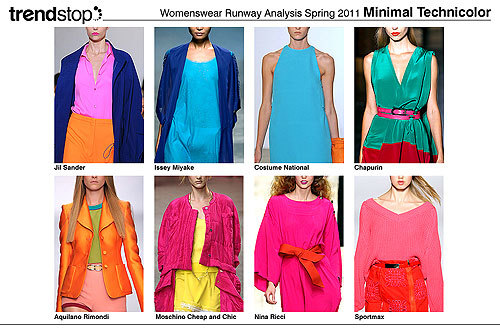 Minimal Technicolor
A resounding rebuttal to Fall Winter's neutral dominated palette, designers embrace a surprising optimism and experiment with heady color combinations. Jil Sander paired highlighter pink and safety orange with a deep indigo parka, Aquilano Rimondi clashed orange with lime, aqua, peach and coral; confidently pushing the boundaries of minimalism. Simple, pared down silhouettes provide the ultimate canvas for sophisticated hues, and ensure the color creates an immediate visual impact.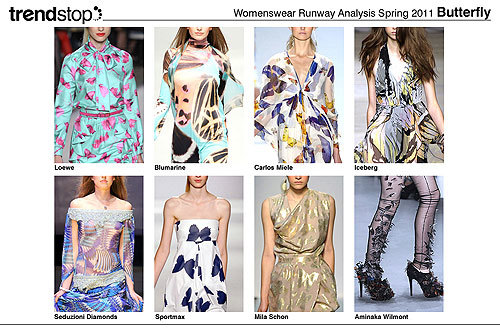 Butterfly
The fleeting delicacy of the butterfly informs surface and print design for Summer. Whilst three-dimensional details cluster on shoes and across sheer leggings at Aminaka Wilmont, threatening to consume and engulf the wearer, Loewe's traditional illustrations jostle with Mila Schon's stylized representations and Carlos Miele's riotous color prints. Blumarine's top-to-toe, oversized abstract print reiterates an emerging Seventies conceit, the aesthetic prevailing in Seduzioni Diamonds floor-sweeping sheer.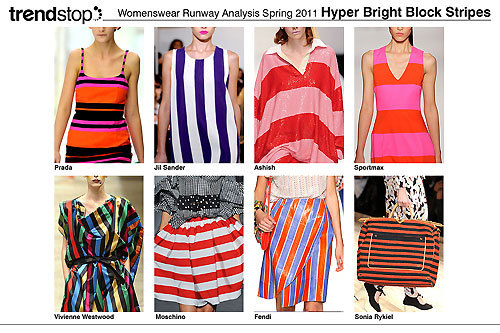 Hyper Bright Block Stripe
Eschewing the Breton tradition in favor of block stripes, designers create an immediate visual impact with discordant colorations. Vertical and horizontal stripes jostle for attention across Prada's flapper dress, Ashish's oversized sequin rugby shirt and Fendi's curved hem wrap-over skirt. Jil Sander's pink and white candy stripe and Sonia Rykiel's oversized tote are easily incorporated into summer wardrobes, imbuing the everyday with a charming whimsy.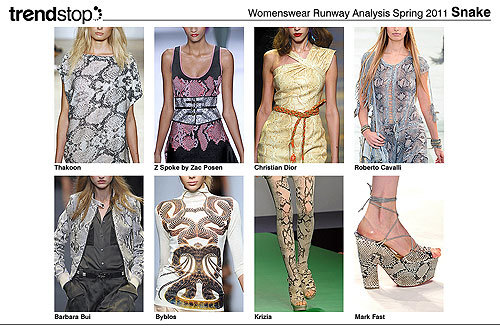 Snake
Dominating statement footwear -at Mark Fast, Etro and paired with coordinating hosiery at Krizia, incorporated into print and outerwear at Barbara Bui and Byblos, snake usurps the ubiquitous leopard print and reigns supreme as the animal skin of choice. Vibrant pink versions - applied to slinky satin at Just Cavalli and a simple knit dress at Z Spoke - ring with confident femininity - applied sparingly the print avoids the expected stereotype.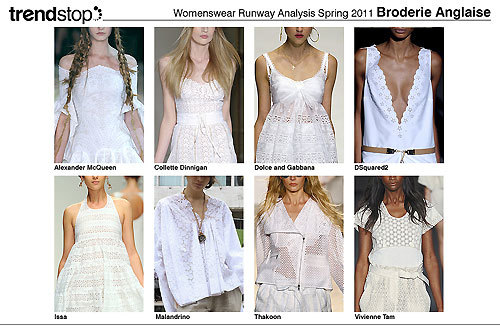 Broderie Anglaise
A summer classic, broderie anglaise in reinterpreted across classic and unexpected garments - from Collette Dinnigan's simple dress with a scalloped zigzag hem to Issa's glamorous trapeze dress and Thakoon's biker. Working best across all-white looks, the fabrication references the pastoral sensibilities of prairie living - easy, uncomplicated and fuss-free. For a contemporary take, follow DSquared2's example and apply to plunging hems.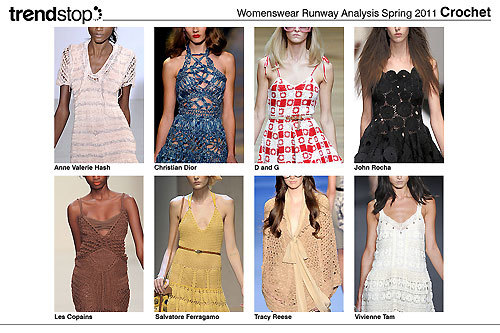 Crochet
As knit celebrates an unrivalled Renaissance, crochet presents a viable Summer alternative. Subtle detailing on sleeves and hemlines lends a disheveled dishabille to Anne Valerie Hash's simple dresses, or a playful conceit to red and white sun-dresses, as seen at D and G. Short and flirty lengths keep the look youthful, yet the detail also works for below the knee dresses, rendered in light pastel shades.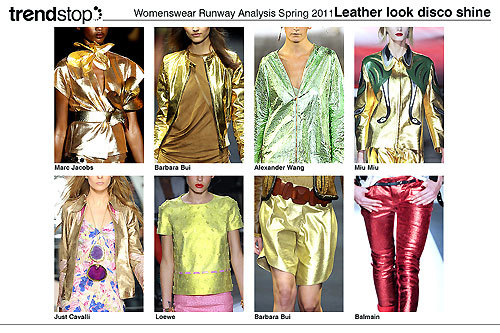 Leather Look Disco Shine
A timely celebration of the hedonistic Seventies, the excess of the decade informs shiny metallic leather look finishes. Nodding to the glam rock tradition, Marc Jacobs concludes a short-sleeve wrap-over jacket with an oversized corsage belt, whilst Balmain's skinny-fit metallic red jeans are cropped above the ankle. A statement alternative to summer denim, opt for brash, oversized silhouettes that celebrate the excess of the fabrication.
More Report Details
Trendstop.com is a leading trend agency whose clients include leading brands, luxury brands, retailers, etailers, stylists and celebrities. Trendstop.com specializes in the commercial translation of conceptual trend looks to help you create best-selling on-trend styles. With access to vast image galleries, focused key trend reports, emerging trends and major themes updates, trendstop subscribers are always ahead of the trend.