Women's Runway Edit FW 2012-13
This exclusive report is a snapshot from Trendstop.com's Catwalk Trend Edit for F/W 2012-13, their picks of directional trends most likely to progress into F/W 2013-14. The trends presented here show surface decoration, prints and key colors, included: Chinese Empress, seductive in rich color & intricate patterns… Wine Red, a top 10 color to watch… Parisian Paisley, rejuvenated, classic orientalist pattern… Camellia Pink, effortlessly feminine and uplifting.
Trends Most Likely to Progress
Chinese Empress
Transported through time like a heroine from Wong Kar-Wai's 2046, the panoplies of print are romantically seductive in rich colors and intricate pattern for cocktail dresses, tops, bottoms and boxy or soft jackets. Black is a strong background for delicate allovers, highlighted with contrast panels or binding. Blues and purples are majestic while gold acts as royal highlights to peacocks, medallions or floating petals. Look for placements like dragons or stylized floral.
Wine Red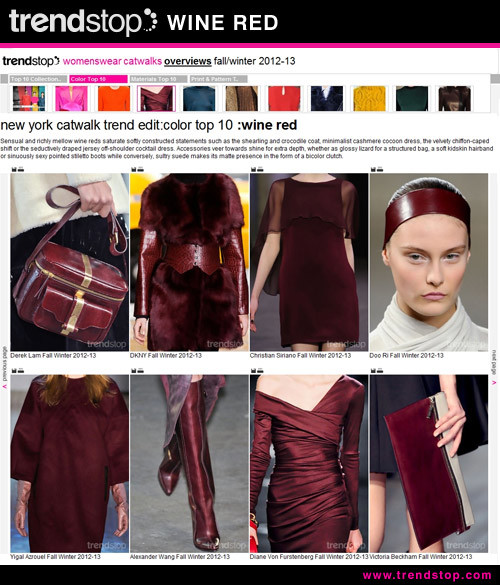 Sensual and richly mellow wine reds saturate softly constructed statements such as the shearling and crocodile coat, minimalist cashmere cocoon dress, the velvety chiffon-caped shift or the seductively draped jersey off-shoulder cocktail dress. Accessories veer towards shine for extra depth, whether as glossy lizard for a structured bag, a soft kidskin hairband or sinuously sexy pointed stiletto boots while conversely, sultry suede makes its matte presence in the form of a bicolor clutch.
Parisian Paisley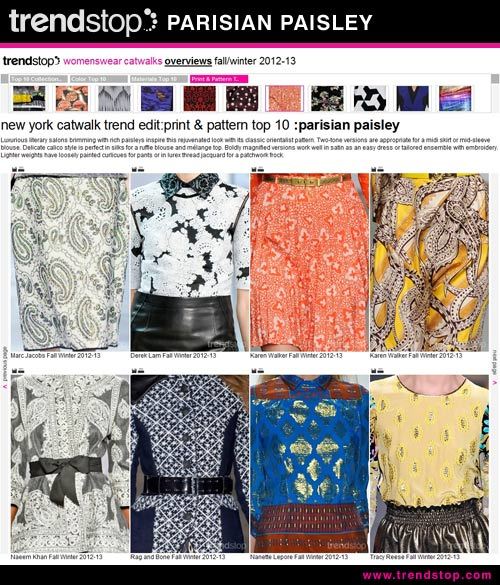 Luxurious literary salons brimming with rich paisleys inspire this rejuvenated look with its classic orientalist pattern. Two-tone versions are appropriate for a midi skirt or mid-sleeve blouse. Delicate calico style is perfect in silks for a ruffle blouse and mélange top. Boldly magnified versions work well in satin as an easy dress or tailored ensemble with embroidery. Lighter weights have loosely painted curlicues for pants or in lurex thread jacquard for a patchwork frock.
Camellia Pink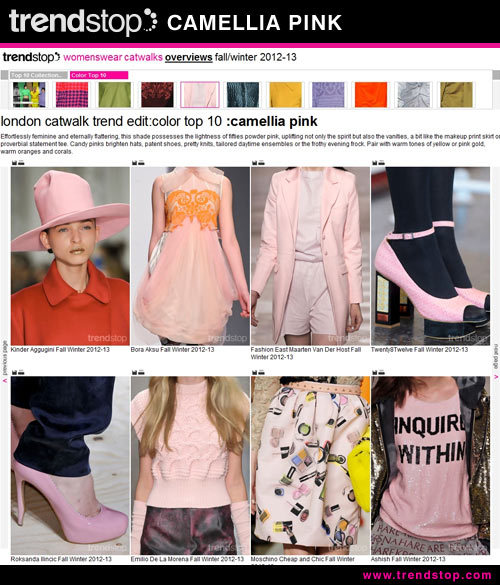 Effortlessly feminine and eternally flattering, this shade possesses the lightness of fifties powder pink, uplifting not only the spirit but also the vanities, a bit like the makeup print skirt or proverbial statement tee. Candy pinks brighten hats, patent shoes, pretty knits, tailored daytime ensembles or the frothy evening frock. Pair with warm tones of yellow or pink gold, warm oranges and corals.
MORE TREND FORECAST DETAILS
A variety of trend reports are available at Trendstop.com, one of the world's leading trend forecasting agencies for fashion and creative professionals. The agency is renowned for its insightful trend analysis and forecasts. Clients include Forever21, Ralph Lauren, H&M, Hugo Boss, and L'Oreal.