Women's Reclaim Trend Mood, FW 2010-2011
Reclaim. What is old is new again for Fall/Winter 2010-11, much of the new product in the market place has an old or used feel to it, whether it is truly remade, or just made to appear that way. The story that informs the garment is becoming part of what makes it desirable. One of four seasonal trends.
RECLAIM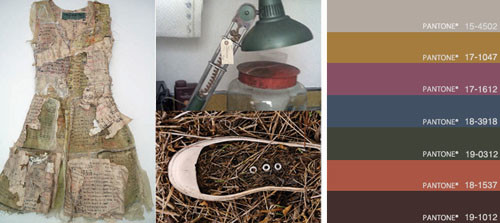 COLOR
A range of metal rusted gold and amber tones with oil slick blues set on a base of saturated ink tones. If color could age this is the personification of the process. The inspiration comes from rusted metals and oil spills where in destruction creates beauty that can only happen naturally with age. Gray casted neutrals against rusty gold and copper spilling into a warm mauve and oily jade. Even the olive and the brown deepen with age.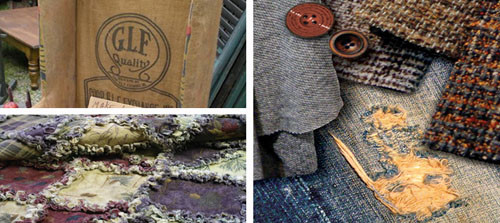 MATERIALS
Distressed twills and canvas, reworked and patchworked, cracked leather, frayed and tinted denim and cobweb and snagged knits. The fabrics are traditional fabrics and materials like tweeds and wools that reclaim the beauty of old and worn out. Distressed twills and canvas add to the work feel. Repatched, reworked and recreated are key to a worn feel.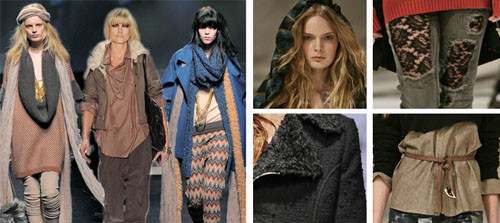 EXPRESSION
A return to heritage comes in the form of a BOHO nomad. Nomadic layered comfort knits and weathered twills are paired with wrinkled and dirty finishes. All are stressed and aged for a disheveled melange that features rips and raw hems. It is a look that belies the age of the garment, and proves we are frugal. We reuse something old that is a piece of history and has a story attached. Our favorite tee from high school, our grandfathers jacket re-cut into a new style, garments that remind us of bygone times in our lives and wrap us in their stories.
Report Details
An in-depth analysis of design themes for Ladies, Men, and Children is available at the WCF Trend Shop. Reports on other trend areas like color, design themes, key items, details, materials, accessories, etc are also available.