Women's Print Trends S/S 2015 Art Attack!
The arrival of the Spring/Summer 2015 season triggers a creative transformation in fashion, as bold, colorful prints feel inspired, say the trend analysts at Trendstop. Strong Brush Strokes lend a vibrant energy to statement designs, while Art Movement Mix fuses references from iconic styles across time. The report takes a first look at two key print and pattern trends for the women's apparel and accessories markets.
Brush Strokes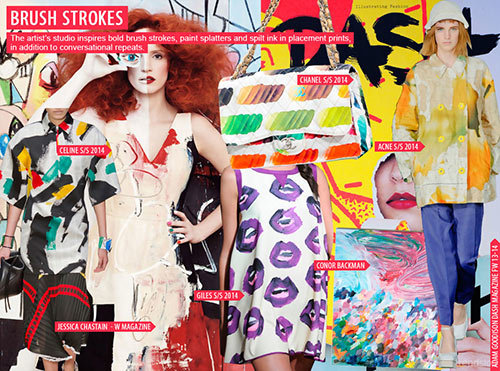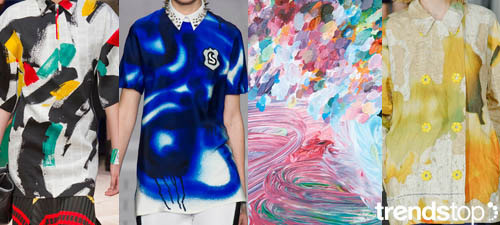 image courtesy Trendstop: Celine, Viktor & Rolf, both Spring/Summer 2014, Conor Backman, Acne Studios Spring/Summer 2014.
APPAREL
Taken directly from the artist's studio, bold brush strokes, paint splatters and ink spills appear in either placement or all-over applications. Loose-fit Celine dresses create the look of walking works of art, as Viktor & Rolf adopt a more urban vibe with spray paint scrawls and Acne jackets come saturated in watercolor splotches.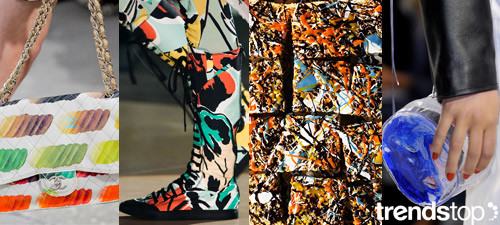 image courtesy Trendstop: Chanel, Vivienne Westwood, both Spring/Summer 2014, Sarah Anne Wards Dessert Artwork Series, Claire Barrow Spring/Summer 2014.
ACCESSORIES
Over in accessories and footwear, white grounds provide a canvas-like base to set off colorful designs. Chanel's iconic quilted bag resembles a paint palette, while Vivienne Westwood hi-tops express a favela street art flavor. Claire Barrow works with a DIY feel, as seen in a surreal illustrated face that peeks out from a blue paint panel.
Art Movement Mix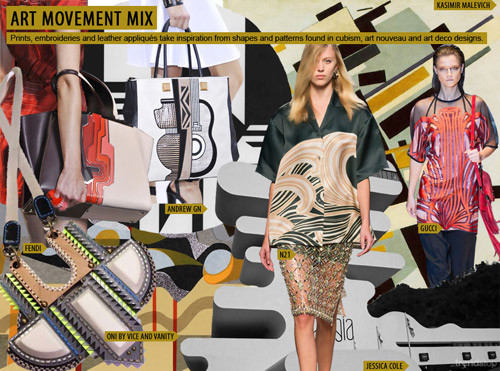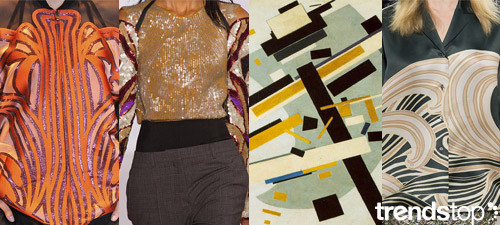 image courtesy Trendstop: Gucci, Maison Martin Margiela, both Spring/Summer 2014, Kasmir Malevich, N21 Spring/Summer 2014.
APPAREL
This inspired multi-application trend fuses aesthetic elements from key art movements like Cubism, Art Noveau and Art Deco, as seen in print, embroidery and applique. Metallic-defined lines express a '20s feel on Gucci shirts, while colored sleeve panels glitter on sequined Maison Martin Margiela designs. Swirling pattern placements stand out on black at N21.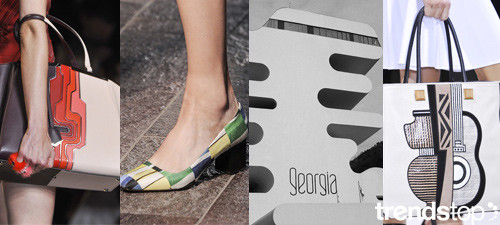 image courtesy Trendstop: Fendi, Paul Smith, both Spring/Summer 2014, Jessica Cole, Andrew GN Spring/Summer 2014.
ACCESSORIES
Similar artistic shapes and patterns are combined in Spring/Summer 2015 accessories and footwear. Fendi bags incorporate tonal linear panels, as multicolored geos on white make Paul Smith shoes resemble chic canvases. Andrew GN totes fuse a variety of graphics for a stark statement in monochrome.
Purchase the Full Report
Source: Trendstop The Print & Embellishment Book Spring/Summer 2015 – purchase the full report at Trendstop.com Download the free Trendstop TrendTracker smartphone app or sign up to our new free TrendStream feature for more daily trends.

Trendstop.com is one of the world's leading trend forecasting agencies for fashion and creative professionals, renowned for its insightful trend analysis and forecasts. Clients include Forever21, Ralph Lauren, H&M, Hugo Boss, and L'Oreal.