Women's Primal Trend Theme FW 2011-12
"Primal:" an admiration of the allure of raw materials and the intricate patterns, rich colours and inspiring textures of our natural environment translates into a trend for the women's wear market that sees beauty in the flawed and the primitive. The "Primal," trend forecast presents many opportunities to inspire and to be directed into seasonal phases as seen in this report.
Seasonal Inspiration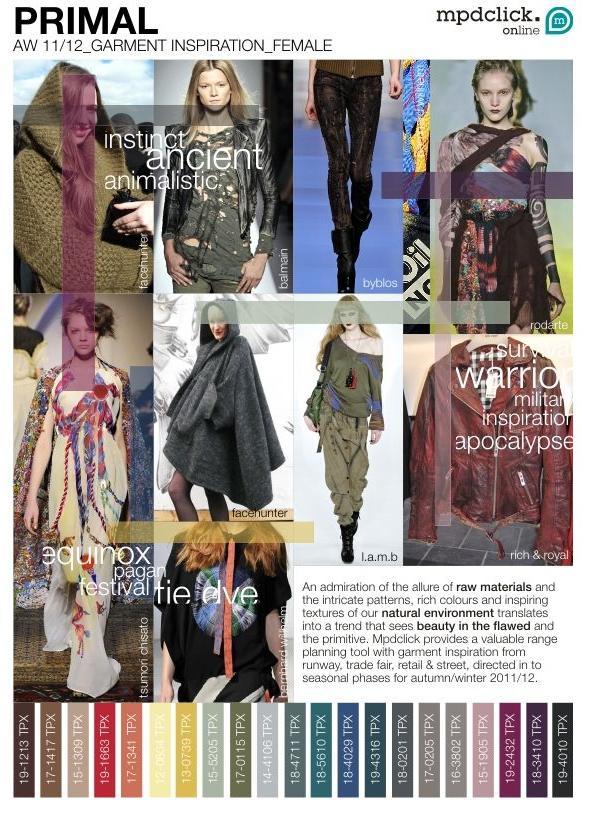 Phase One: Equinox
The reappearance of open source religions and a sense of collectivism culminate in a renewed interest in spirituality. Aesthetically, we look to the traditional shapes synonymous with the Pagan faith. The trend can appear androgynous, with a loose, draped, mysterious outline; loose cloak-like hooded shapes are essential to the silhouette.
For womenswear, full length skirts and bell and pendant sleeves are key. Traditional Celtic knots adorn garment edges and accessories, while rope-like knotted leather provides belts and jewellery with a natural edge. Further celebrating nature, textures and finishes are inspired by rural life; decorative imperfections and uneven seams further emphasise the look, adding an aged, worn appearance.
Denim collections take influence from the bright colours of the trend; worn patches, stitching and vibrant washes provide a positive, optimistic undertone. As a late summer, early autumn collection, Equinox favours layered styling, juxtaposing lengths and proportions, while lightweight transparencies combine with sumptuous finishes like velvet.

key words: pagan styling; celebratory; maxi length dresses; flowing, volumous shapes; bright colour palette; vivid optimistic prints; loose, light weight fabrics; gathered drapes; wide sleeves; twisted celtic inspired knits & braids; tie-dyed fabrics; radial cut outs; hoods.

key words: comfortable slouchy styling; bell & pendant sleeves; radial & enigmatic motifs; light weight loose tops ideal for layering; asymmetrical hemlines; solar & cosmic inspired prints; the sacred triangle;unfinished edges; handcrafted touches.

key words: flowing floor length skirts; vivid tie-dye fabrics; subtle bohemian influence; natural warm seasonal colours; light, washed out denim; soft drawstring waist skirts; distressed print effects; imperfect.

key words: mesmerising nature prints; light weight cloak shapes; heavy hooded coats; bell sleeves; natural fabrics; soft tailoring; asymmetrical hemlines; elements inspired; volume; dark pagan themes.
Phase 2: Instinct
Looking back to ancestry cultures and civilisations, we are inspired by primitive practices. An animalistic, earthen aesthetic results in a look of mismatched textures, layers and imperfect finishes. Continuing from Equinox, Instinct favours a loose, draping, cloak-like silhouette.
An authentic look at prehistory places emphasis on natural materials; furs and suede are worn together in a contemporary take on the wearing of hides, while rough, worn, imperfect leathers add a hand-crafted appeal. Moth-eaten jersey with unfinished seams and loose lightweight, often laddered knits are favoured for layers. Meandering cables can envelope the body in new ways; spider-web-like forms, slashing and gaps in unexpected places continue the nature inspired aesthetic.
Denim incorporates pleats and brushed rivets, echoing a labour of the land idea, whilst extreme abrasions and tears reflect a harsh outdoors lifestyle. For accessories, charms and chains feature fossil-like pendants. Using stone, wood, tarnished metals and frayed leather further compliments the theme.

key words: above & below the knee style dresses; illustrative animal graphics; ferral styling; earthen aesthetics; fur patches; aged & weathered; laddered fabrics; delicate flowing materials; all over prints; natural shades; skeletal cut outs; raw embellishment.

key words: natural stone colours; chunky laddered knits; distressed & torn materials; minimalistic graphics; elaborate monochrome designs; clipped in animal prints; volumous cape shapes; heavy tie-dye effects; raw textures; outsized t shirts; moth-eaten jersey.

key words: weathered & eroded effects; imperfect finishes; long pile fur fabrics; loose silhouettes; layered textures; rough finishing; extreme abrasions; worked-in denim; gathered & crumpled tapered jeans.

key words: warm winter coats; heavy natural materials; faux furs; weathered leather panelling; neutral stone colours; animalistic & primitive designs; loose fitting knits; heavy suede; customised & handcrafted effects; coatigans; outsized hoods; shearlings.
Phase 3: Survival
As we prepare to think the unthinkable, an unforeseen emphasis on survival is marked by a nomadic warrior-like silhouette. Although not aggressive, steely human determination is translated by harsh dark textures and tones with bold assertive graphics and a military edge. Garments and layers are mismatched; styling has a 'thrown together' appearance reinforcing a roaming, extreme existence.
As a high-winter trend, layers become chunkier and fabrics more durable while thick leathers, oversized knits and hard-wearing denim provide warmth and protection. Masculine silhouettes attribute to the theme; studded, hardware embellishment and feature shoulders form a kind of contemporary armour. Oversized, slightly space-age hoods, which zip off and leather trousers with stitched detail and harness-like straps give a futuristic side, evoking a feeling of endurance.
Utility details find their way on to denim – straps, buckles and buttoned pockets emphasise the need for function and practicality, while motorcycling padding and panelling adds interest.

key words: urban warrior styling; salvaged materials; extreme handicraft; dishelleved layering; distressed shredded leather; cut outs create an armoured effect; asymmetric hemlines; subtle military influence; layering.

key words: bold stamped effect slogans; defiant styling; contrasting sheer & heavy fabrics; durable; layering options for warmth; buckles & reinforced shoulders; utility; military influence; exposed zip detail; chunky protective knits; harnesses.

key words: tight fitting utility pants; salvaged rope fastenings; graffiti style customisation; androdgynous styling; mismatched fabrics; hardwearing denim & leather; rebellious denim panelling; distressed laddered tights; durable leather armour; motorcycle panelling.

key words: tough leather gilets; warm chunky knits; contrasting denim & leather mixes; exposed zip detail; worn, distressed materials; buckles & studded utility embellishments; unfinished seams; laser cut shredded leather; menacing hoods.