Women's Pastels S/S 2016
Trendstop takes a first look at two key fashion color trends for Spring/Summer 2016. Spring/Summer's signature pastel tones see a contemporary revamp with new updates on conventional shades, say the trend analysts at Trendstop.com. In the womenswear wardrobe, two key fashion colors are manifested in the form of fresh Luminous Mint and glossy Cosmic Lavender.
Key Color, Luminous Mint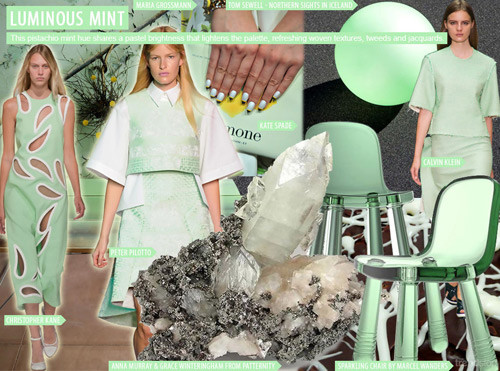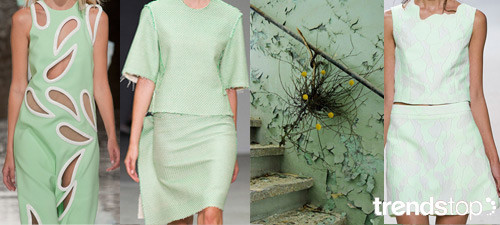 image courtesy Trendstop: Christopher Kane, Calvin Klein Collection, both Spring/Summer 2014, Maria Grossman, 3.1 Phillip Lim Spring/Summer 2014.
APPAREL
This fresh pistachio mint hue is infused with a pastel brightness that enlivens the palette, refreshing woven fabrics, tweeds and jacquards. Simple shapes work best to allow the shade to speak for itself - look to Calvin Klein's rustic coordination or 3.1 Phillip Lim's tonal patterned pairing. Christopher Kane adds a statement with white-edged cut-outs.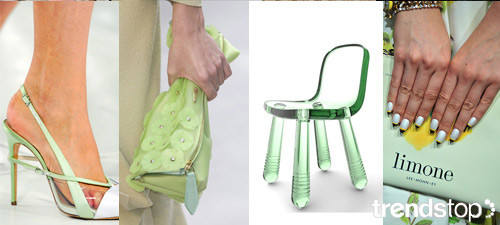 image courtesy Trendstop: Prabal Gurung, Burberry Prorsum, both Spring/Summer 2014, Sparkling Chair by Marcel Wanders, Kate Spade Spring/Summer 2014.
ACCESSORIES
Suitable for Junior and Contemporary Market sectors, Luminous Mint's modern coolness also works well on this season's accessories. Prabal Gurung's skinny strap heel inspires organic connotations, as slouchy leather Burberry clutches blossom with 3D floral applique. Additionally, the shade makes for a youthful beauty look, as seen with Kate Spade's matte nails.
Key Color, Cosmic Lavendar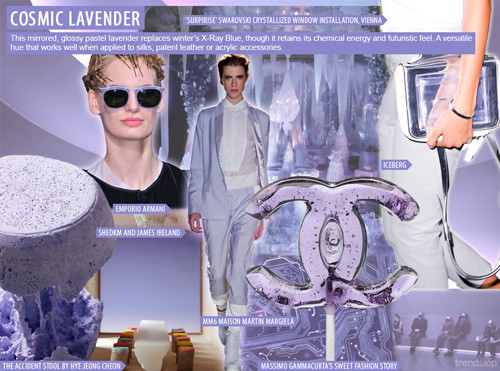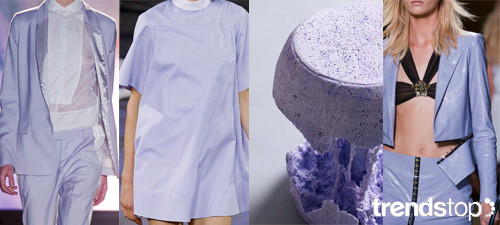 image courtesy Trendstop: MM6 Maison Martin Margiela, Alexander Wang, both Spring/Summer 2014, The Accident Stool by Hye Jeong Cheon, Versace Spring/Summer 2014.
APPAREL
Powdery lavender is upgraded with a mirrored finish, lending apparel a chemical, subtly futuristic feel. Tailored suiting feels ultra-feminine at MM6, as loose-fit T-dresses take on a newfound elegance at Alexander Wang. Elsewhere, Versace's embossed leather ensemble exudes a modern luxe for evening.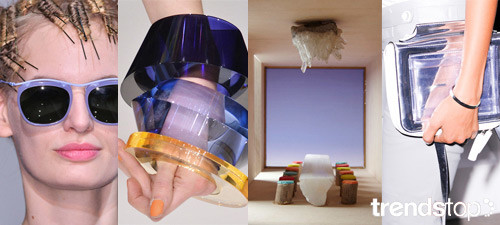 image courtesy Trendstop: Emporio Armani, Just Cavalli, both Spring/Summer 2014, Shedkm & James Ireland, Iceberg Spring/Summer 2014.
ACCESSORIES
Another shade ideal for Junior and Contemporary Markets, Cosmic Lavender's polished tone proves versatile when applied to sophisticated accessories. Sunnies stand out at Emporio Armani with ultra-fine frames. Additionally, Perspex bangles look striking when stacked at Just Cavalli and glossy patent clutches catch the light at Iceberg.
THE FULL REPORT IS AVAILABLE NOW

Trendstop.com is one of the world's leading trend forecasting agencies for fashion and creative professionals, renowned for its insightful trend analysis and forecasts. Clients include Forever21, Ralph Lauren, H&M, Hugo Boss, and L'Oreal.