Women's Must-Have Items, FW 2014-2015
Get an exclusive look at the must have trends for F/W 14/15 as forecasted by the editors at Fashion Snoops. Confirmed by the runways, this Women's ready-to-wear report guides you through all the most essential and influential trends to know. Key items range from updated biker jackets, to cropped pants, elongated silhouettes to voluminous oversized coats.
The Best of The Season
1. SWEATSHIRT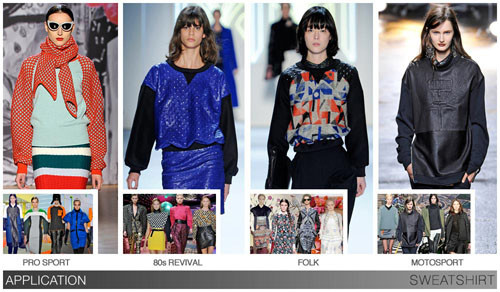 The Sweatshirt becomes a major must-have this season in both knits and wovens thanks to an athletic push from Pro Sport and Motosport themes. A wide variety of design updates are on hand, ranging from commercial color blocking, screens or contrast sleeves to more technical advancements like quilting or neoprene materials. The moto end of the trend is keen on leather applications and embroidered emblems.
2. BIKER JACKET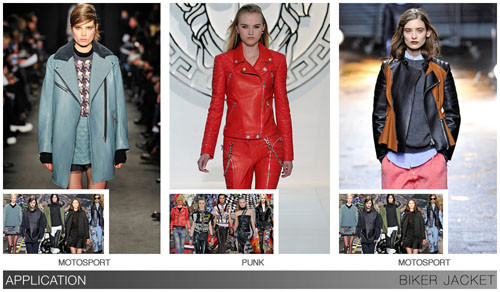 Although Biker Jackets have a lasting relevance, tough themes like Punk and Motosport bring new updates to the item, from classic to elongated and moto jacket styles. This season we see the biker take on other popular trends in outerwear, such as elongated or cropped shapes, and even new coat hybrid styles. Mixed media constructions encourage the use of non-leather materials like fur, while contrast trim is also popular. Additional zippers are also common.
3. CROPPED PANTS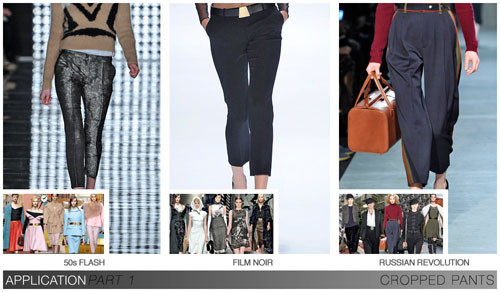 Cropped silhouettes move forward as a favorite in the pants classification, taking on a wide array of shapes from slim to wide leg, menswear inspired and crease-front styles. A significant portion of design applications - mainly in slim shapes - relate to retro themes, including 50s Flash, Film Noir and 60s Swing. Cropped pants in wider shapes speak to Russian Revolution while menswear fits factor in for Tomboy. Slim and ultra slim fits often feature crease front details or jacquard materials, while wide leg shapes may be accompanied by men's pleat front details or cuffed hems.
4. MINI SKIRT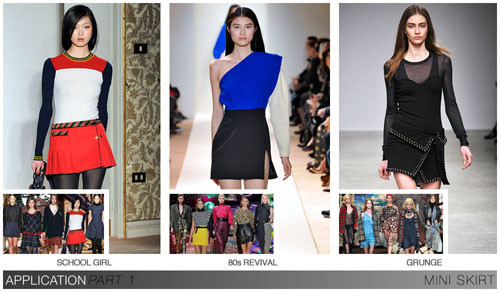 The Mini Skirt has lasting relevance in the young contemporary market, which is evident in a wide range of themes. School Girl triumphs the mini skirt suit, while tougher looks like the studded wrap skirt in Grunge and utility mini in Motosport are also found. 80s Revival also features noteworthy details from slit minis to draped styles. Although knit pleated styles speak to girlish influence, most design updates achieve a tough aesthetic with leather, embellished, biker inspired or quilted updates. Slits are optional, while wrap styling is a favorite from Isabel Marant which is sure to translate at retail.
5. OVERSIZED COAT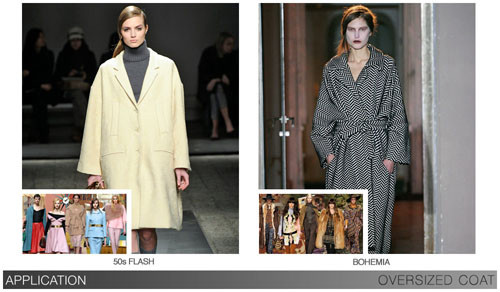 The Oversized Coat takes over where last season's mod coat left off, set primarily to the retro 50s Flash theme. Blanket coat styles also extend into the Bohemia trend. The new voluminous cocoon styles draw attention to silhouette and detail. Sloped shoulders, wide sleeves and double breasted styling is noted. Select details like large collars or lapels are an easy add-on, while low-slung self belts are also found. Additional highlights include contrast trim and fur collars.
Purchase the Full Report
The F/W 2014-15 Women's Seasonal Must Haves provide a comprehensive review and analysis of the top trends for the Fall/Winter 2014/15 season. Each key trend includes an index summarizing all the top callouts, an overview and analysis, downloadable sketches, trend application, design details and a gallery with additional photos confirming the trend from the most recent runways. High-resolution, full-body, and close-up image downloads of all top trends are available. Additional features include a dynamic zoom function into all images, and the ability to save, print and email individual images directly online.