Women's Maxed-Out Embellishment S/S 2016
The Spring/Summer 2016 season gives rise to a selection of Over The Top yet stylish materials characterized by Maxed-Out Embellishment for statement finishes, say the trend analysts at Trendstop. In Wovens, we see Beaded Patterns making a statement in all women's markets, as Supersized Socialite textures emerge in Lace & Delicates for contemporary and the Juniors market. Early Indicator Trend Alert: a first look at two key materials trends for Spring/Summer 2016.
Beaded Pattern Statements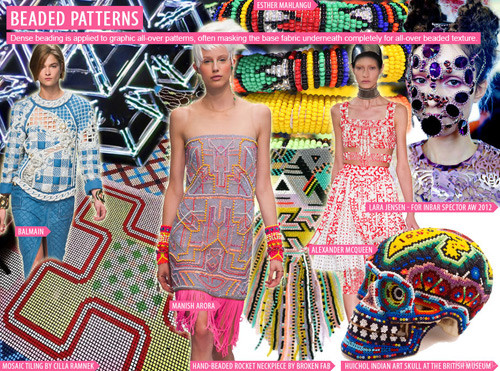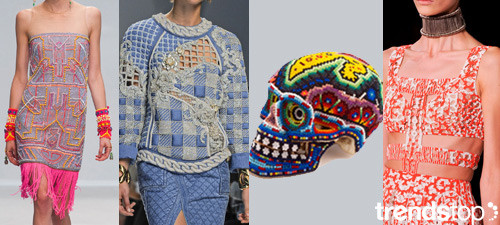 image courtesy Trendstop: Manish Arora, Balmain, both Spring/Summer 2014, Huichol Indian Art Skull, Alexander McQueen Spring/Summer 2014.
APPAREL
Suitable for all Market demographics, dense beading is applied to graphic all-over patterns, often masking the base fabric beneath. Colorful beading creates an ethnic mood when combined with pink fringe on Manish Arora dresses, as sweaters take on a luxurious sparkle at Balmain and laser-cut detail lends further tactile interest at Alexander McQueen.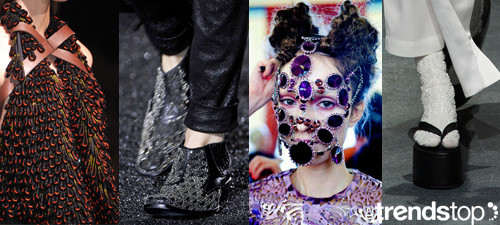 image courtesy Trendstop: Givenchy, Haider Ackermann, both Spring/Summer 2014, Lara Jensen for Inbar Spector, Peachoo Krejberg Spring/Summer 2014.
ACCESSORIES
Spring/Summer 2016 accessories also take on all-over beaded textures. Scarves fall from the neck in feather-like layers at Givenchy, while masculine footwear is appropriated for the women's wardrobe with glittering geometric patterns at Haider Ackermann. Peachoo Krejberg offers an innovative interpretation with tonal beaded socks.
Supersized Socialite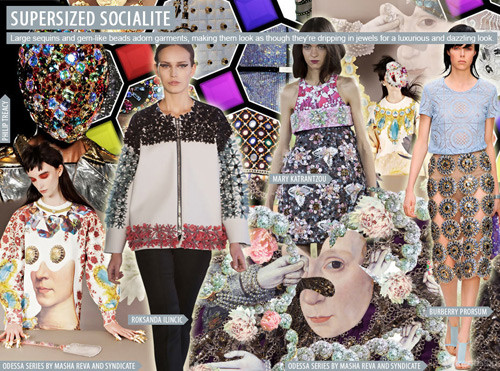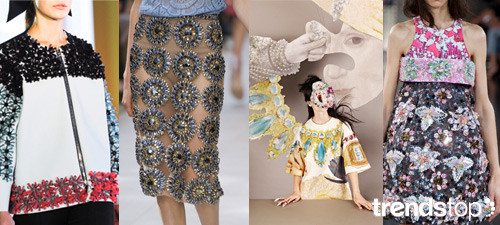 image courtesy Trendstop: Roksanda Ilincic, Burberry Prorsum, both Spring/Summer 2014, Odessa Series by Masha Reva and Syndicate, Mary Katrantzou Spring/Summer 2014.
APPAREL
Ideal for Junior and Contemporary Market sectors, the Supersized Socialite trend impacts with large sequins and gem-like beads for a blinged-up statement. Minimal jackets stand out with 3D florals at Roksanda Ilincic, as oversized jewels feel decadent on sheer Burberry skirts. Meanwhile, Mary Katrantzou goes all-out with an encrusted mash-up of sparkling embellishment in different colors and sizes.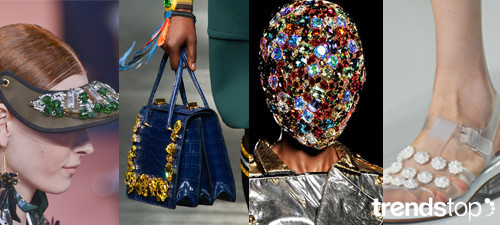 image courtesy Trendstop: Marni, Prada, both Spring/Summer 2014, Philip Treacy, Simone Rocha Spring/Summer 2014.
ACCESSORIES
Accessories too are transformed with the illusion of dripping in jewels, catching the light with luxurious and dazzling looks. Sporty visors shine with white and green embellishment at Marni, as classic handbags are dressed up with yellow gems at Prada. Simone Rocha offers a younger option with pearly florals on jelly shoes.
More Report Details

A full range of trend reports are available at Trendstop.com, one of the world's leading trend forecasting agencies for fashion and creative professionals. The agency is renowned for its insightful trend analysis and forecasts. Clients include Forever21, Ralph Lauren, H&M, Hugo Boss, and L'Oreal.