Women's Key Footwear Items FW 2014-15
There is a global momentum behind footwear, making it the largest growing product category among accessories. Fall / Winter 2014-15 proves that there is no slowing down when it comes to the consumers' appetite for this sector. On view, a women's footwear trend report showcasing key items.
"Seasonless" Uptrend in Footwear
For the Fall / Winter 2014-15 women's market, boots are heavily represented on the runway, majority in high heel form, from a shorter ankle style to a sexy over-the-knee silhouette. Despite the ever-present assortment of boots, we begin to see a shift towards more open, sandal-like styles leading us to believe that the shift to a seasonless assortment is also in full effect. Open-toe ankle booties, mules, strappy sandals and various open shank silhouettes reemphasize the seasonless movement in accessories.
LOW ANKLE BOOT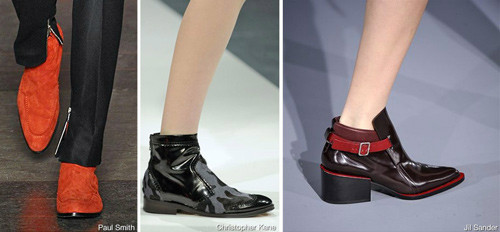 Boots are making such a strong statement for the Fall/Winter 14/15 season with varying heel and shank heights. This low cut flat boot is practical and sleek, making it perfect for everyday wear in the coming season.
MARY JANE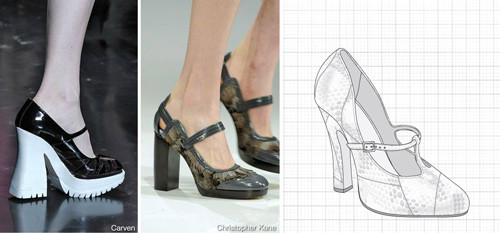 Although the traditional mary jane silhouette was seen all over the runways, the t-strap mary jane was the most interesting update to this style for Fall/Winter 14/15.
OPEN TOE BOOTIE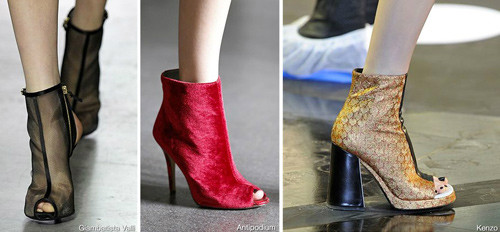 The open toe bootie is one of the most important silhouettes for the Fall/Winter 14/15 season. The simple structure of the style makes it the perfect combination of practical and trendy.
OVER-THE-KNEE BOOT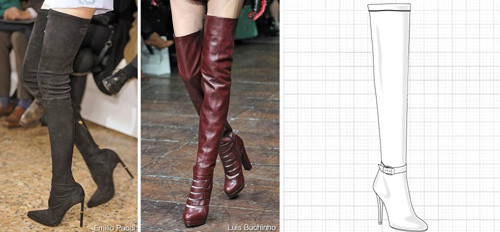 Sexy and sleek, the over-the-knee boot is explosive for the Fall/Winter 14/15 season. Whether done in a stretch suede or a luxe leather, this style is a must have.
LACE UP SANDAL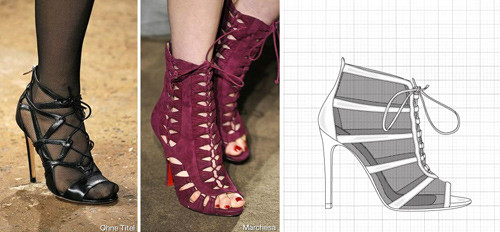 Open cut outs and lots of foot exposure are no longer strictly for the summer months, as seen on the most recent runways. These lace front sandals are sexy and can be paired with tights for the colder season.
Purchase the Full Report
F/W 2014-15 Key items, styles & sketches for women and men's accessories are now available for purchase. These concise reports are here to guide you through the most important accessories trends of the season for jewelry, eyewear, neckwear, legwear, gloves, belts, headwear, handbags & footwea. Each key item report includes an overview, written analysis, an index summarizing top styles, the top trends selected for each item, along with runway reference images. Also included with each key item, is an archive of downloadable sketches, representing all the top trend callouts from the most recent New York, Paris, London & Milan runways.