Women's Key Fashion Color S/S 2016, A Must-Have
Here, a first look at a must-have fashion color trend for Spring/Summer 2016. The Trendstop trend experts present WeConnectFashion readers with an in-depth sneak peek at the Spring Papaya Fashion Color. This soft, fruity and spicy tone is ideal for the Contemporary and Missy Markets. Be inspired with moodboard and gallery of apparel and accessories done up in this key fashion color.
Spring Papaya
Mood Board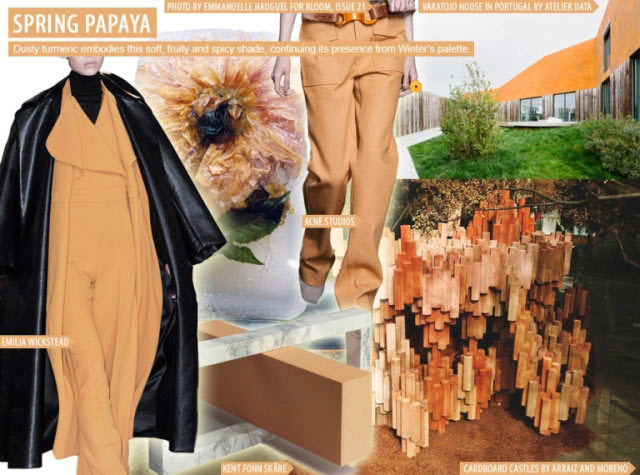 image courtesy Trendstop
Last season's Winter Papaya has now evolved into Spring Papaya, on show in a mellow shade of orange with a dusty turmeric tint.
Women's Daywear & Accessories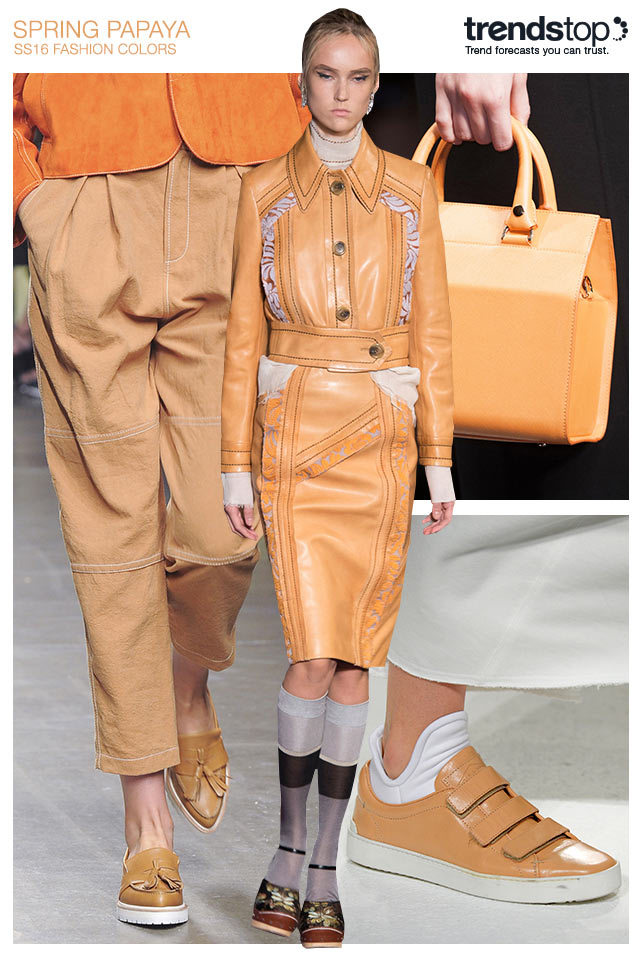 image courtesy Trendstop: Prada, Karen Walker, Anteprima and Rag & Bone, all Spring/Summer 2015.
A key shade for S/S 2016, Spring Papaya lends an easygoing chic to women's daywear. Lightweight wovens texture casual loose-fit pants at Karen Walker, while leather works well in shaping boxy Anteprima bags and Rag & Bone sneakers. Prada goes one step further with a coordinated leather ensemble for a modern summer statement. Across both apparel and accessories, white accents can be used for a clean contrast look.
Contemporary Renditions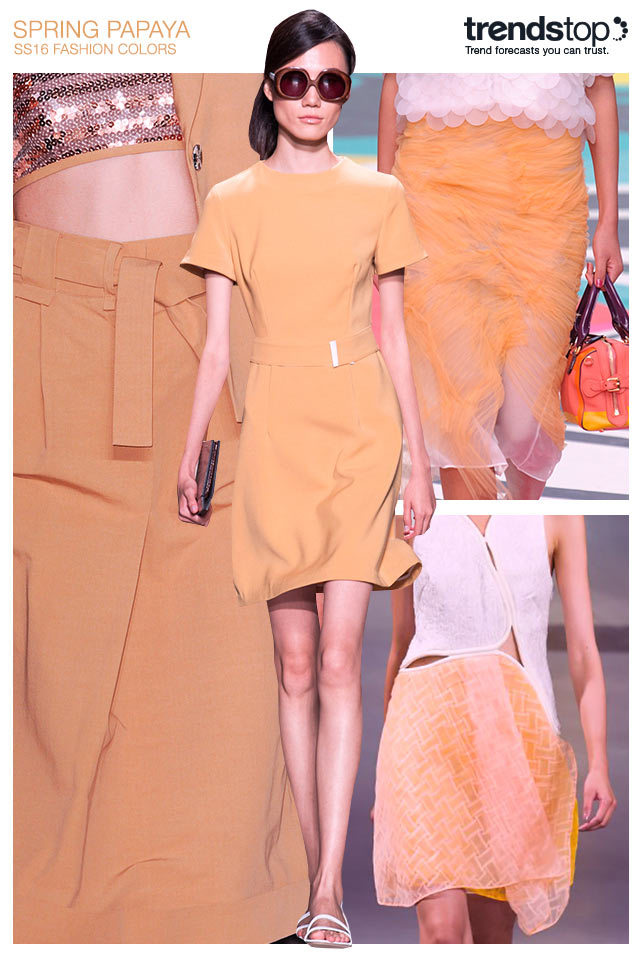 image courtesy Trendstop: Chicca Lualdi, 3.1 Phillip Lim, Creatures of the Wind, Burberry Prorsum, all Spring/Summer 2015.
Elsewhere, we see how Spring Papaya adds a contemporary appeal to elegantly feminine apparel, from relaxed utility chic suiting at Creatures of the Wind to simple belted dresses at Chicca Lualdi. Sheer fabrications create sophistication across 3.1 Phillip Lim and Burberry Prorsum skirts, whether it's in the form of tactile patterned forms or more delicate layering.
More Report Details

A full range of trend reports are available at Trendstop.com, one of the world's leading trend forecasting agencies for fashion and creative professionals. The agency is renowned for its insightful trend analysis and forecasts. Clients include Forever21, Ralph Lauren, H&M, Hugo Boss, and L'Oreal.