Women's Key Colors, Almost Black Darks F/W 2016-17
Immerse yourself in a spectrum of color, as the Trendstop team reveals all the essential new shades coming through for the upcoming winter season. This week, WCF readers can discover a key Color Group for Fall/Winter 2016-17, called In the Darkened Shadow. Updating apparel and accessories alike, intense almost-black darks are infused with new color casts, creating sophisticated shades that bring depth to products.
Darkened Shadow. Intense almost-black sophistication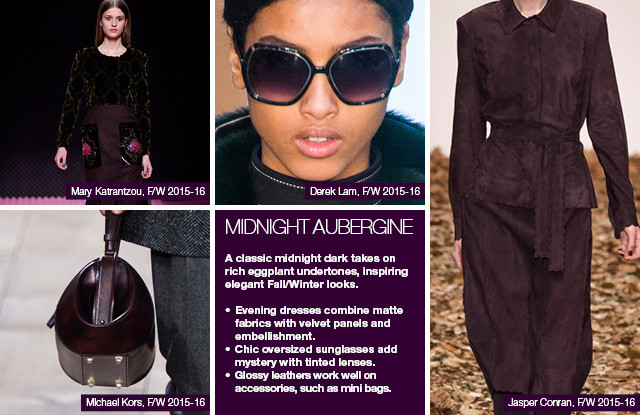 Midnight Aubergine
A classic midnight dark takes on rich eggplant undertones, inspiring elegant Fall/Winter looks.
Evening dresses combine matte fabrics with velvet panels and embellishment.
Chic oversized sunglasses add mystery with tinted lenses.
Glossy leathers work well on accessories, such as miniature bags.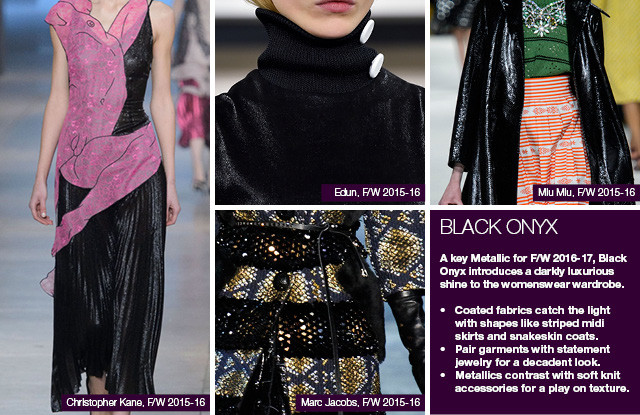 Metallic Black Onyx
A key Metallic for Fall/Winter 2016-17, Black Onyx introduces a darkly luxurious shine to the womenswear wardrobe.
Coated fabrics catch the light with shapes like striped midi skirts and snakeskin coats.
Pair garments with statement jewelry for a decadent look. layering.
Metallics contrast with soft knit accessories for a play on texture.


Very Dark Navy
Navy tones are refreshed with enhanced depth, creating shades of the darkest ink that stop only a shade away from black.
Simple dresses express a formal new appeal.
Supple unlined leathers are juxtaposed with suede on footwear.
Beauty products look dramatic, applied here in bold strokes around the eye.


More Report Details


Trendstop.com, is the world's leading trend forecasting agency for forward fashion forward trend information that is validated through early consumers to give you confidence in your trend decision making. Clients include Forever21, PVH, Ralph Lauren, H&M, Hugo Boss and L'Oreal.