Women's & Juniors Winter Luxe Shine, FW 2014-2015
Dressing up dark Fall/Winter 2014-15 ensembles with a luxe shine, Colored Silver and Luminous Mauve emerge as two key metallic color trends this season, say the trend analysts at Trendstop.com. Infusing apparel and accessories alike with a rich, sophisticated shine, both shades are ideal for Junior and Contemporary market designs.
Silver Colored Metallics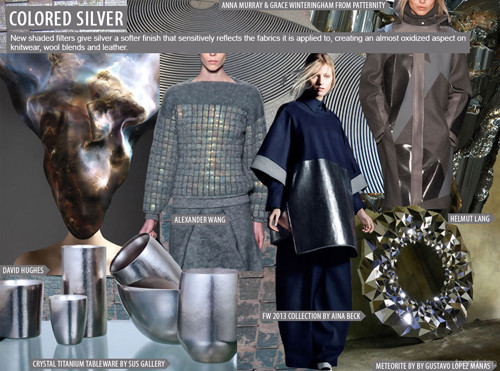 APPAREL
New shaded filters bestow silver with a softer finish, sensitively reflecting the fabrics it is applied to for an almost oxidized effect. Aina Beck upgrades an Oriental-inspired tunic with a bold metallic block, while Alexander Wang's cozy wool sweater incorporates iridescent geos. Helmut Lang goes for a futuristic outerwear look, mixing matte and shine panels on a longline coat.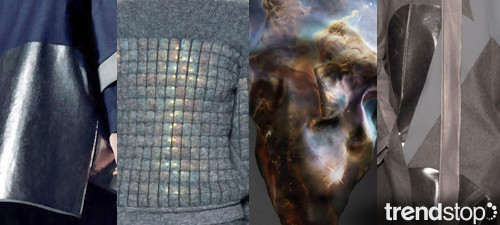 Aina Beck, Alexander Wang, both F all/Winter 2013-14, David Hughes, Helmut Lang Fall/Winter 2013-14.
ACCESSORIES
Colored Silver hues add an instant elegance to Fall/Winter accessory styles. Rebecca Minkoff's bag glints with hints of gold and green, with mesh straps highlighting the burnished shine on Project Runway's heels. Another play on futuristic themes, Milly by Michelle Smith opt for holographic textures on a zipped bag.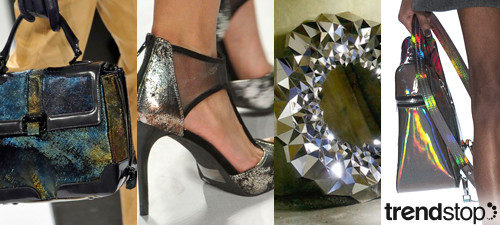 image courtesy Trendstop: Rebecca Minkoff, Project Runway, both Fall/Winter 2013-14, Meteorite by Gustavo Lopez Manas, Milly by Michelle Smith Fall/Winter 2013-14.
Luminous Mauve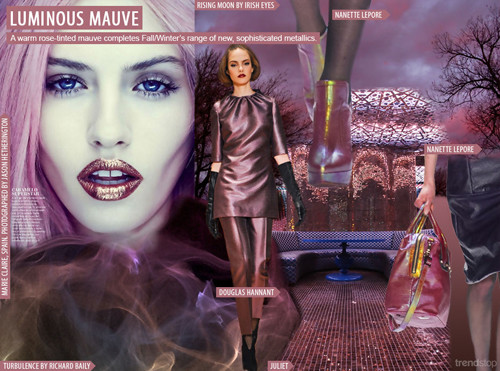 APPAREL
This warm, rose-tinted mauve tone creates a sophisticated metallic to add to the Fall/Winter 2013-14 color palette. Douglas Hannant works with simple shapes to keep focus on the sheen, as sequins condense on Marc Jacob's statement button-up shirtdress. Zac Posen offers an elegant eveningwear gown with a mix of silk and chiffon.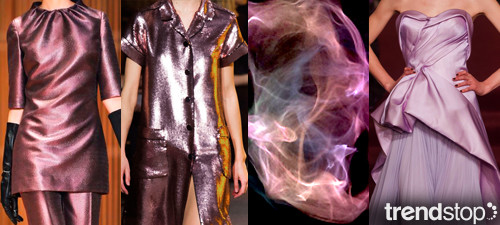 image courtesy Trendstop: Douglas Hannant, Marc Jacobs, both Fall/Winter 2013/14, Turbulence by Richard Baily, Zac Posen F all/Winter 2013-14.
ACCESSORIES
Accessories capture Luminous Mauve with luxurious materials for a refined shine. The shade was a key inspiration in Nanette Lepore's latest Fall/Winter collection, as seen in textured leather bags complete with gold trim and snakeskin wedge shoes. Elsewhere, Monique Lhuillier captures the color in the stone of an elegant gold ring.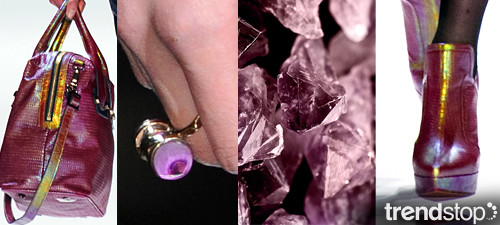 image courtesy Trendstop: Nanette Lepore, Monique Lhuillier, both Fall/Winter 2013-14, Megvnmeow Purple Stone, Nanette Lepore Fall/Winter 2013-14.
Purchase the Full Report
Source: Trendstop Color Trend Book Fall/Winter 2014-15 - purchase the full report at Trendstop.com.

Trendstop.com is one of the world's leading trend forecasting agencies for fashion and creative professionals, renowned for its insightful trend analysis and forecasts. Clients include Forever21, Ralph Lauren, H&M, Hugo Boss, and L'Oreal.