Women's Intimates Trend Inspiration S/S 2016
Color Solutions International presents their Spring / Summer 2016 Pre-Season and Intimates Inspirations. On view, the important key colors and color combinations for the season. The palettes span from vibrant color in "Saunter," to a range of mid-tones focused on pistachio that play off coco neutrals in "Prelude," to "Colbalt Skies" and jeweled "Resonance."
Color and Mood
SAUNTER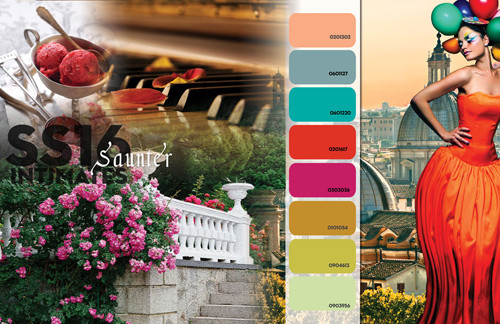 A little bit of dainty elegance, a dash of glamorous appeal, a drop of playful charm – she is a princess in her fairy kingdom. Life is about beauty and kindness she believes. The summer's splendor is a feast, feeding her senses, with the sweet smell of rose gardens, with the warm touch of the sun on her skin, with the delicate taste of fruity gelato and the gentle piano sounds. The dream-like vibrancy of color in the warm summer days makes her happy and ecstatic.
PRELUDE
She likes her life of independence and peace. Her everyday soaked into an immense flow of inspiration and self-exploration. She is natural and somewhat romantic. She likes to prepare things in her own quiet and elegant way. Mornings are her favorite time of the day, no need to hurry, no need to overindulge with extreme everyday interactions. Every word that she says she tastes carefully on the tip of her tongue to make sure she gave it just the right dose of meaning and love. She knows life is string of beginnings and every day is a prelude to something new.
COLBALT SKIES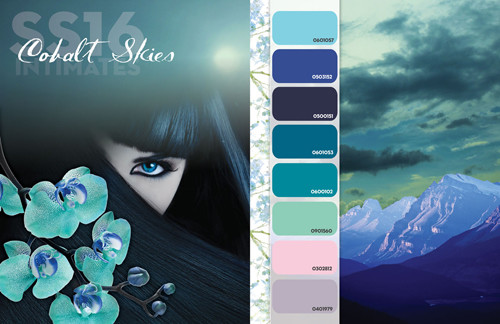 She is a true believer that mystical powers are moving and directing us in mysterious ways. She feels that all nature's creations are sacred. She approaches her everyday endeavors as rituals that need to be performed with great poise and affection. She craves eternal youth and believes that beauty is reflection of the soul. She loves the mountains not as a destination to conquer, but as a place to worship nature and a place to reflect on her inner peace, a place where she can reach for harmony and solitude. She adores the fragile beauty of exotic flowers but she is equally attracted to the dark power of the stormy cobalt skies.
RESONANCE
Her life is about balance and exploration. She wants to know about the world and travels not for leisure but to connect with different cultures and people on deeper more spiritual level. She is a multilingual citizen of the world, her mind is bright and colorful. She takes her body on the quest for self-discovery trough yoga and meditation. She is pure by heart and strong by will. She is a gatherer of experiences and fascinating stories which resonate deep into her soul. She is a creator and storyteller of the new urban folklore.
More Report Details
Color Solutions International, CSI, a division of DyStar LP, is the leading provider of color standards and color communication tools for the entire style industry supply chain.