Women's FW 17/18 Top Jewelry Trend Theme - Intellect
Fashion Snoops presents their Fall/Winter 17/18 top seasonal jewelry trend story. Here they feature their editors' pick for the top trend theme in the women's jewelry market - Intellect. The report features mood boards, influences, materials, color and key items for earrings, cuffs, necklaces and more. Great Report
This is a special jewelry report for WCF members. The full version is available in the WeConnectFashion Trend Shop.
INTELLECT defines a smart and sophisticated woman who borrows her style from architectural movements like Beaux Arts and Bauhaus. She's objective when it comes to abstract and academic matters. Victoria Beckham's shift into the Intellect direction signifies less polished perfection and more awkwardness. Juxtaposition of spheres and irregular shapes add a hint of quirk within the sleekness. Classic items such as chain link necklaces and gold hoops are oversized for an update. Her look is driven by bold abstract pieces such as statement earrings, chokers, and cuffs. Mixing of metals and materials creates texture and interesting layering.

STYLEGUIDE

MOOD

WORD BANK

INFLUENCES
Anni Albers is known to be the best textile artist of the 20th century. In addition to textiles, she also worked with print making and weaving. Anni studied at the Bauhaus school in Germany, where she embraced modernism and experimented with new materials for weaving and became a bold abstract artist. She often worked with straight lines and solid colors in her works. Anni was married to artist and art educator Josef Albers. 

Filmmaker Wes Anderson designed Bar Luce in Milan. While the intention was to create an old-world Milanese coffee shop, Anderson's recognizable symmetry and retro influences are easily identified. The materials that make up the space – formica and wood veneer – are reminiscent of the 50s and 60s. 

Artist Josef Albers cultivated some of the most influential art education programs of the 20th century. He was a student of the Bauhaus school in Germany, and the first student who joined the faculty as a master. He made photographs and photo collages that documented life at the Bauhaus, and married fellow artist Annie Albers. Josef excelled academically as chair of the Department of Design at Yale University, and continued painting and printing throughout his career. 

Consuelo Castiglioni is the creative director behind Italian label Marni. Her forward designs are well respected in the design community and collections are known for their modern take on prints. Castiglioni has also become a master of proportion. Her Fall 16 collection featured pieced heels, mixed media tall boots, and oversized layered eyewear pieces for a bold statement.

COLOR USAGE

MATERIALS
Gold 
Wood 
Brass 
Glass 
Ceramic 
Silver 
Natural Stone

DETAILS

NECKLACES

EARRINGS

Purchase the Full Report
The complete series of forecasts for Fall/Winter 17/18 and previous seasons are available now for purchase through the WeConnectFashion Trend Shop. Additional comprehensive reports are also available across all markets.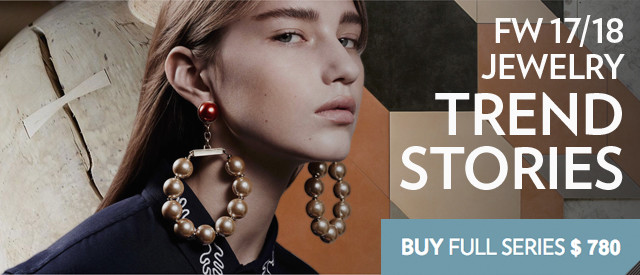 These seasonal narratives for FW 17/18 focus on a clear, concise product and lifestyle road map for the Women's Jewelry customer.