Women's FW 17/18 Top Accessories Theme - Indie Folk
Fashion Snoops presents their Fall/Winter 17/18 top seasonal accessories trend story. Here they feature their editors' pick for the top trend theme in the women's market - Indie Folk. The report features mood boards, influences, and key items for footwear,jewelry,eyewear, handbags and more. Great Report
This is a special accessories report for WCF members. The full version is available in the WeConnectFashion Trend Shop.
INDIE FOLK. The new bohemian woman emerges with Indie Folk, she is far more sophisticated but still has an alluring gypsy spirit. She effortlessly pairs tailored classics with more fluid and relaxed styles creating her signature look. Black and white is her favored palette, mixing in just a hint of color when needed. She prefers to let the antique Indian textiles she is so inspired by speak for themselves. From paisley to ditsy florals, prints become a focus, especially when mixed and matched. Her love of scarves can be found from her belt to her bag as simple add-ons, softening up structured silhouettes. Her home has a little-bit-of-this, little-bit-of-that feel to it, items have been collected from everywhere, but it always remains immaculately curated layering in rich and tactile pieces, just like her style.

MOOD

WORD BANK

COLOR USAGE

DETAILS
Scarf Add-On 
Layered Fringe 
Contrast Whip Stitching 
Metallic Trim 
Multi-Colored Tassels 
Cap Toe 
Black on Black Applique 
Frayed Edge

PATTERN + GRAPHICS
One of our strong floral stories for Fall is solemn, as we take a stroll through a gloomy garden. Floral are heavily shadowed and painted with thick oils, all of which are in a moody palette, and create great dimension.

FOOTWEAR

HANDBAGS

EYEWEAR

STYLE GUIDE

Purchase the Full Report
The complete series of forecasts for Fall/Winter 17/18 and previous seasons are available now for purchase through the WeConnectFashion Trend Shop. Additional comprehensive reports are also available across all markets.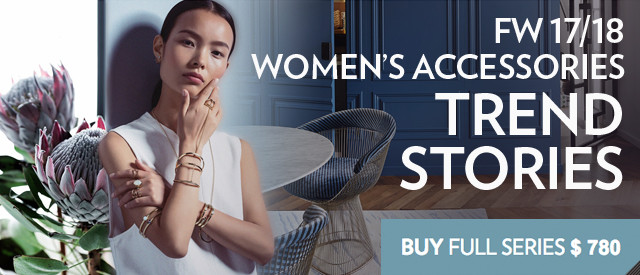 These seasonal narratives for FW 17/18 focus on a clear, concise product and lifestyle road map for the Women's Accessories customer.