Women's Futuristic Femme, Trend Theme SS 2015
Spring/Summer 2015 sees a futuristic mood elevate womenswear fashions with a 22nd century sophistication,, say the trend analysts at Trendstop. '60s Future Boudoir sees retro femininity updated with sci-fi-inspired materials, while Intergalactic Adventure takes a more forward-thinking approach for an out-of-this-world finish. The Futuristic Femme report features two key commericial themes backed up by directionals and early mainstream retail examples.
'60s Future Boudoir. Women's Key ThemeS/S 2015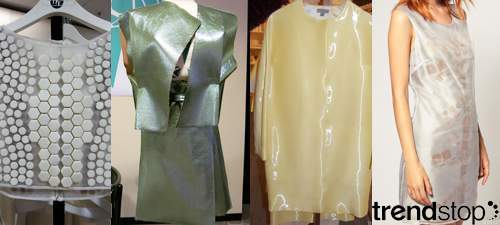 image courtesy Trendstop: Jamie Wei Huang, Guen, COS, all Spring/Summer 2014, ASOS Fall/Winter 2013-14.
'60s FURUTE BOUDOIR, APPAREL The boudoir of the future is translated with a luxe shine this season, fusing '60s-esque curves with geometric angles and hard textures. Sheer fabrics are realized in Space Age white on sleeveless ASOS dresses and Jamie Wei Huang crop tops, with tonal geo embellishment adding an edge with the latter. Chic separates are updated with asymmetric shapes and coated materials at Guen, as COS keep it simple with a glossy organza dress.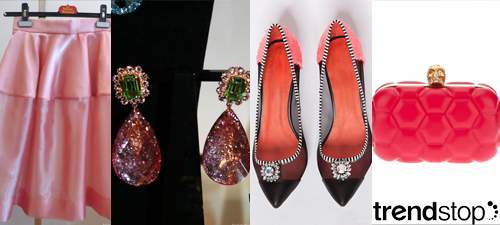 image courtesy Trendstop: Vivienne Westwood Red Label Fall/Winter 2013-14, Maw Spring/Summer 2014, Pixie Market, Alexander McQueen, both Fall/Winter 2013-14.
'60s FURUTE BOUDOIR, ACCESSORIES More dressed-up interpretations offer a range of feminine styles that work day or evening, on show in a ladylike palette of pink and purple. Vivienne Westwood applies a sheer panel to a classic midi skirt, as sparkling stones make a statement on Mawi earrings and material mix Pixie Market pumps. Alexander McQueen up-spec a skull-topped clutch with a 3D geometric surface.
Intergalactic Adventure. Women's Key Theme S/S 2015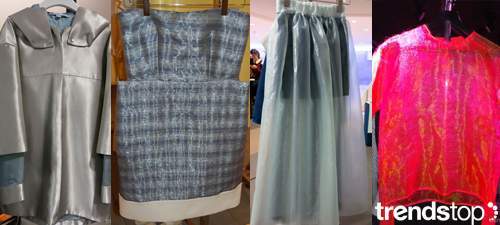 image courtesy Trendstop: Jamie Wei Huang, COS, W by Wenjun, AQ AQ, all Spring/Summer 2014.
INTERGALACTIC ADVENTURE, APPAREL Inspired by the interplanetary spacescapes that humanity will be confronted with in the not-too-distant future, Spring/Summer apparel takes on a mysterious sheen. Sportive outerwear is transformed in silver layers at Jamie Wei Huang, as shiny organza makes plaid tops and maxi skirts look new at COS and W by Wenjun Spring. AQ AQ offers a bolder statement with a hot pink tee.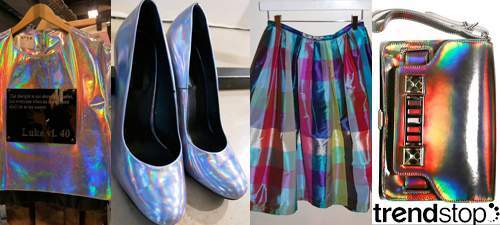 image courtesy Trendstop: S-YZ, Won Hundred, Topshop, Proenza Schouler, all Spring/Summer 2014.
INTERGALACTIC ADVENTURE, ACCESSORIES Other interpretations emphasize the futuristic mood with iridescent textures. Silver S-YZ tops catch the light with a spectrum of hues, while simple pumps and satchels are contemporized at Won Hundred and Proenza Schouler. Topshop adds new relevance to a casual check skirt in multicolor.
Purchase the Full Report
Source: Trendstop The Commercial Theme Book Spring/Summer 2015 purchase the full package at Trendstop.com. Download the free Trendstop TrendTracker smartphone app or sign up to our new free TrendStream feature for more daily trends.
Trendstop.com is one of the world's leading trend forecasting agencies for fashion and creative professionals, renowned for its insightful trend analysis and forecasts. Clients include Forever21, Ralph Lauren, H&M, Hugo Boss, and L'Oreal.