Women's Footwear & Accessories Trends FW 2010-11
Boots continue to dominate the Fall/Winter 2010-11 season with styles ranging from distressed leather lace ups and futuristic molded wedges to equestrian, cowboy and biker boots. Smart flats, wedged courts and thigh-high boots provide options for eveningwear while heeled clogs, hiking boots are also abundant. Presented on !!! INFWM0002176 !!!.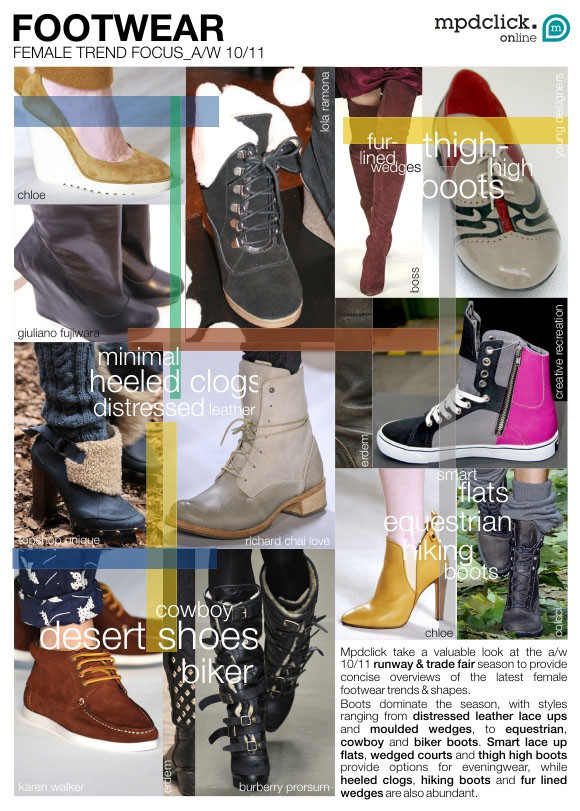 **Biker boots: biker inspired; **jet black; buckles; statement footwear; leather; wool lined; multi strap; ankle, mid calf and knee high styles; popper detail; platforms; tab detail; high heels; square stud detail; zip up; sturdy.

Contrasting textured hi-tops:contrasting textures; suede and leather; colour flash; lace up; coloured laces; fabric and leather;  zip up; oversized tongue; neon pink; panelling; poppy red; quilted; brogue style perforation; patent leather; strap fastening; metallic; true blue; jazz shoe inspired; casual.

**Cowboy boots: contemporary cowboy style; **brogue inspired detail; visible stitching; chunky low heel; panelling; diamond stud detail; contrasting materials; suede and leather; buckle; short, mid calf and knee high styles; tones of brown; jet black.

**Desert shoes: **flats; suede; lace up; visible stitching; practical; minimal; coloured laces; beet red; smart and casual styles; textured leather; distressed; faded; frayed edges; worn; comfortable; leather; subtle colour palette.

**Distressed leather lace ups: **worn; boots; string laces; wooden heel; faded; contrasting materials; fabric and leather; toe caps; panelling; magenta purple; worker boot inspired; hard wearing; moroccan blue.

**Equestrian inspired shoe boots: **ankle boots; leather; equestrian style; elastic inserts; wooden high heels; cornsilk yellow; suede; visible stitching; royal blue; paneling; buckle; plum purple; ankle strap; front seam.

**Fur lined lace up wedges: **stacked platform; casual; piping detail; beet red; suede; hiking boot inspired; panelling; practical.

**Heeled clogs: **backless; chunky high heels; wool panel; buckle; stud detail; ankle strap; wood inspired print; visible stitching; wooden soles; paneling; leather; fur lined; hiking boot inspired; cut outs; lace up; scandinavian style.

**Heeled hiking boots: **hiking boot inspired; chunky high heels; contrasting fabrics; leather and suede; ankle and short boot styles; lace up; practical; stacked wooden heels; subtle colour palette; purple laces; checked fabric panel.

**Minimal & moulded wedge boots: **wedges; minimal; moulded; plain; jet black; leather; smart; high heels; suede; shine finish; ankle boots; contrasting wooden wedge; futuristic.

**Smart lace ups: **flats; smart; lace up; red; metallic; leather; high shine finish; panelling; gold toe detail; diamond and round stud detail; matte fabric; round toe; patent leather; brogue style perforation.

**Thigh high boots: **over the knee styles; smart; suede; burnt russet red; leather; high heels; straps; shine finish; lace up; moulded; minimal; statement footwear; metallic; pointed styles; stiletto heel; platform; eveningwear.

**Wedged courts: **high wedges; courts; suede; camel; pointed toe; leather; platform; floral print; ankle straps; metallic; neutral colour palette; minimal; moulded; fringe detail.