Women's Essential Color F/W 2016-17, Vibrant Fruity Tones
This week, the Trendstop cartwalk team invites WeConnect Fashion readers to be inspired by essential shades emerging in Fall 2016 womenswear, as we reveal three influential new trends taken from this season's color palette.
Spanning both Fashion Colours and Accents, these vibrant, fruity tones add a fashion-forward feel to products, offering a bold alternative to more conventional winter darks. While they are coming through strongly in directional F/W 16-17 collections, these colors would also work well for more mainstream ranges going into Fall 2017.
Fresh From The Runways
Images courtesy of Trendstop.com: Cedric Charlier

Citron Fizz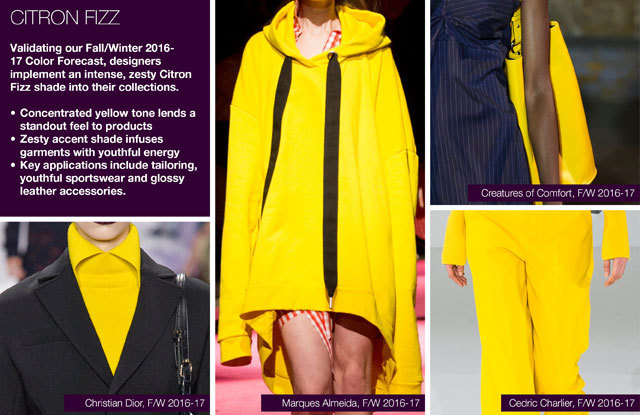 Validating our Fall/Winter 2016-17 Color Forecast, designers implement an intense, zesty Citron Fizz shade into their collections.
Concentrated yellow tone lends a standout feel to products
Zesty accent shade infuses garments with youthful energy
Key applications include tailoring, youthful sportswear and glossy leather accessories.
Images courtesy of Trendstop.com: Marques'Almeida, Creatures of Comfort, Cedric Charlier, Christian Dior, all Fall/Winter 2016-17.

Tastee Tangerine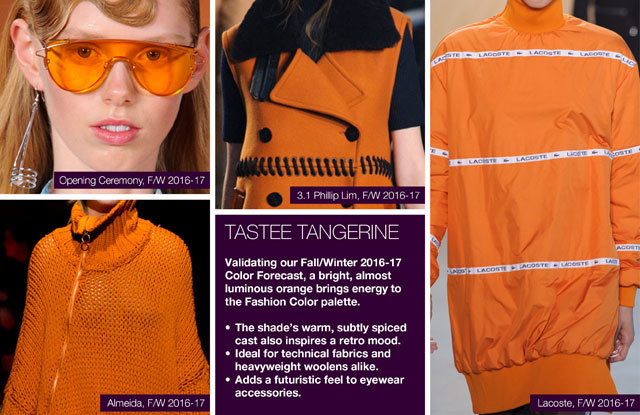 A bright, almost luminous orange brings energy to the Fashion Color palette.
The shade's warm, subtly spiced cast also inspires a retro mood.
Ideal for technical fabrics and heavyweight woolens alike.
Adds a futuristic feel to eyewear accessories.
Images courtesy of Trendstop.com: 3.1 Phillip Lim, Opening Ceremony, Lacoste, Almeida, all Fall/Winter 2016-17.

Raspberry Concentrate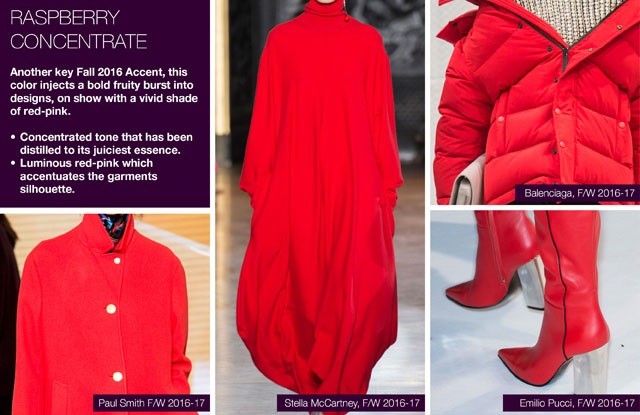 Another key Fall 2016 Accent, this color injects a bold fruity burst into designs, on show with a vivid shade of red-pink.
Concentrated tone that has been distilled to its juiciest essence.
Luminous red-pink which accentuates the garments silhouette.
Shapes make a bold statement with all-over applications, ranging from voluminous dresses and squashy puffa jackets to supple leather boots.
Images courtesy of Trendstop.com: Paul Smith, Stella McCartney, Balenciaga, all Fall/Winter 2016-17.

Exclusive Offer
WCF readers can get 10% off Trendstop's complete Women's Fall 2016-17 Essential Color Forecast, containing an expertly curated mix of fashion-forward tones, core shades and accents to help you plan your Fall 2016 colors with confidence. Simply enter promo code FW16WECF to receive your exclusive discount.


Trendstop.com, is the world's leading trend forecasting agency for fashion forward trend information that is validated through early consumers to give you confidence in your trend decision making. Clients include Forever21, PVH, Ralph Lauren, H&M, Hugo Boss and L'Oreal.
Related Reports