Women's Daywear Elegance, FW 2014-2015
An early indicator, take a first look at a key fashion theme for F/W 2014-15: Dark Daywear Elegance. No longer confined to evening, brooding darks suffuse casual shapes for a moodily romantic take on Fall/Winter daywear, say the trend analysts at Trendstop. Rich textures appeal with a gothic tactility as simple shapes keep ensembles sharp and contemporary, creating an ideal look for the office and beyond.
Dark Daywear. Early Indicator Trend
CATWALK INSPIRATION All-black ensembles appeal to the touch, as seasonal daywear shapes receive interest in luxe material mixes. Gianfranco Ferre finishes a simple dress with patent leather detail, as soft fur lines the bottom of a skirt at Marni. Shaggy shearling adds coziness to leather and cotton separates at Loewe, while laser-cut comes together with knit at Catherine Malandrino.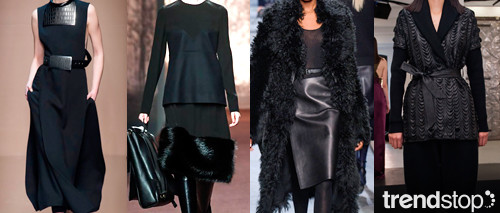 image courtesy Trendstop: Gianfranco Ferre, Marni, Loewe, Catherine Malandrino, all Fall/Winter 2013-14.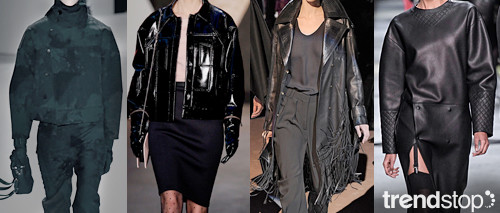 image courtesy Trendstop: Lacoste, Jen Kao, Tom Ford, Loewe, all Fall/Winter 2013-14.
This trend inspires a slick statement in the boardroom or the city streets alike – keep flashy jewelry to a minimum to keep the focus on the dark tones. Lacoste swap black for a brooding, bruised teal hue, as smart separates are topped off with '80s-look leather pieces at Jen Kao and Tom Ford's trench is creates movement with a fringed hem. Quilting appears in panels on a leather dress at Loewe.
STREETSTYLE INSPIRATION Over in street style, we see individuals interpret the trend with a range of layered darks - ideal for frosty Fall/Winter days. In New York, androgynous shapes are set off by statement leather accessories, as inky fur comes together with sequined underlays. Keep accessories simple yet chic in black fedoras, wayfarers and quilted booties.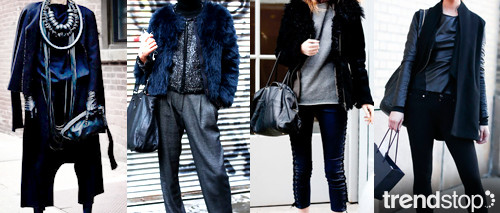 image courtesy Trendstop: New York Street Style Year 2013.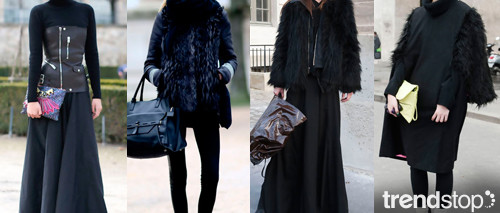 image courtesy Trendstop: Paris Street Style Year 2013.
Paris Street stylers opt for a more dramatic look, as seen in sweeping maxi skirt lengths or plush fur jackets and oversized scarves. Leather jackets are reworked into unusual tops, while ankle boots look punkish with studs – finish with a statement bag or contrast with pulled-up white socks over tights.
Purchase the Full Report
Source: Trendstop The Theme Trend Book Fall/Winter 2014-15, purchase the full report at Trendstop.com. Download the free Trendstop TrendTracker smartphone app or sign up to our new free TrendStream feature for more daily trends.

Trendstop.com is one of the world's leading trend forecasting agencies for fashion and creative professionals, renowned for its insightful trend analysis and forecasts. Clients include Forever21, Ralph Lauren, H&M, Hugo Boss, and L'Oreal.