Women's Color Trends FW 2010-11
Four distinct color themes are offered in this inspirational trend forecast for Fall 2010. Seasonal themes include: Clothes Encounters, Grand Entrance, State of Mind and Royal Statement. The report highlights the moods of the season: eclectic, extravagant, graceful and unfettered.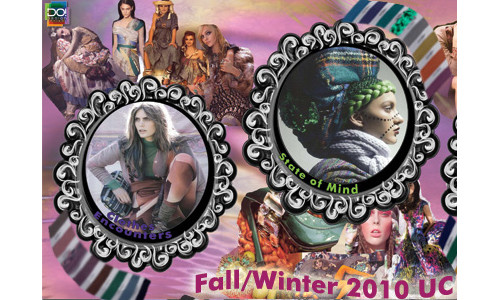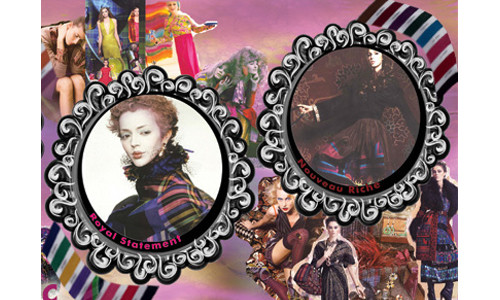 Clothes Encounters
A rendezvous with ensembles of apparel perfection…Clothes Encounters. Slate grey and mauve shades of fixed engagement and frequent affair give ratine yarns and pima cotton a soft, matte finish. Light sea green and indigo tones of venue and faultless attire mingle with tulle and viscose to create an eclectic, timeless atmosphere. An encounter of intrinsic necessity.
Grand Entrance
An ostentatious introduction of supreme beauty… Grand Entrance. Light blue and silvery grey tones of majestic and enchanting appearances highlight delicate style lines and emphasize pearled trim. Dark slate and sienna hues of debut and illustrious accentuate embossed effects and contrasting surfaces on silken faille. An enchanting overture to visual extravagance.
State of Mind
A clear perception focused on an ingenious future… State of mind. Rapturous blue tones of lucidity and remembrance elucidate intricate weaves of fine spun silk. Slate grey and green yellow hues of impulsive conviction and thoughtful recollection imbue soft, alpaca wool with a saturated finish. Green sequin trim adds the perfect touch to articulate weaves of plaid. An unfettered, determined mind.
Royal Statement
Aristocracy refined with a bold touch of eloquence… Royal Statement. Purple and hot pink shades of eminence and supremacy accentuate perfection on a backdrop of angora wool. Yellow and dark violet tones of sovereignty and gentility emphasize subtle nuances on a palette of plaid gingham. A statement of antiquity and grace.
MORE REPORT DETAILS
Design Options, has a golbal client base, filling the color needs of large retailers to small indie design firms. Design Options Inc is dedicated to bringing Southern California's unique aesthetic to the world. Its singular, cutting edge perspective, coupled with a comprehensive knowledge of the current marketplace, fuels the company's imaginative products and high-end consulting services.