Women's Color S/S 2016, Pastel Direction
The Trendstop experts have compiled the best-selling colors of the season. Our Spring/Summer 2016 Color Forecast shows how leading designers are using seasonal color, which we have distilled into 40 essential shades. Here, are two directional shades, Peached Pink and Apple Mint, from the Milky Pastels color group.
Peached Pink
Mood Board
image courtesy Trendstop
An array of milky hues dominates the S/S16 palette, updating the more sugary pastels that impacted in previous seasons. A key shade in the Milky Pastels range, this subtle pink is tinged with a hint of peach for a warmer overall appearance.
Apparel & Accessories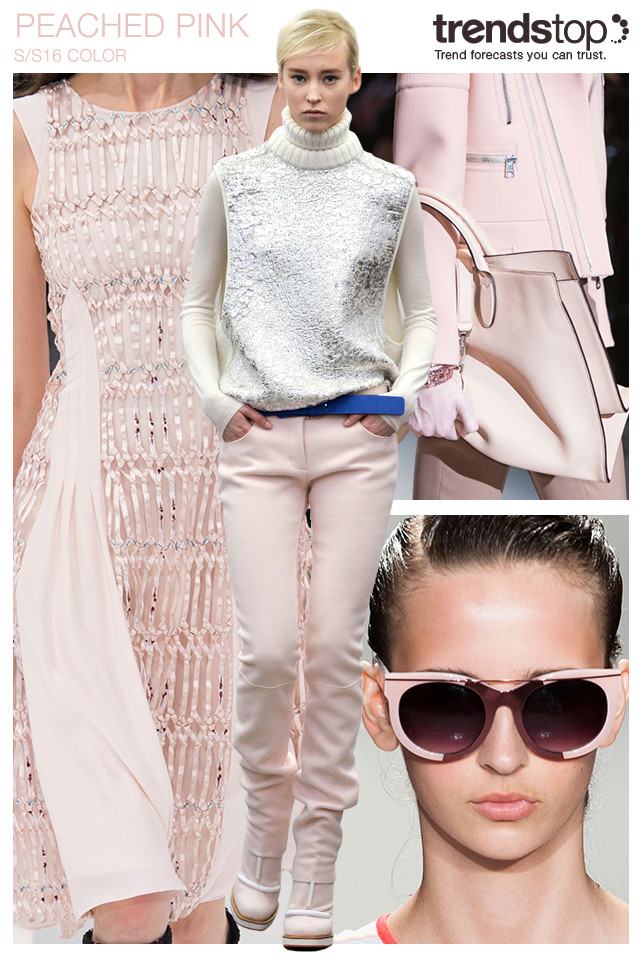 images courtesy Trendstop.com: Iceberg Fall/Winter 2014-15, Christian Dior, Gucci, Suno, all Spring/Summer 2015.
Denim takes on an elegant finish in skinny-fit jean form at Iceberg, while neoprene bikers are styled with supple leather handbags at Gucci and textured dresses express springtime chic at Christian Dior. With accessories, look to add contrast accents, as seen with Suno's statement sunglasses or Dior's primary pop heels.
Apple Mint
Mood Board
image courtesy Trendstop
Soft and feminine, discover how Milky Pastel shades transform styles with a fresh appeal. Here, a delicate pale green works well when applied to lightweight fabrics, as well as coordinated ensembles.
Apparel & Accessories
image courtesy Trendstop: Fashion East Louise Alsop Fall/Winter 2014-15, Prabal Gurung, DKNY, Marc by Marc Jacobs, Fashion East Helen Lawrence, all Spring/Summer 2015.
Louise Alsop demonstrates how feminine suiting can be achieved with the use of layering, as super-soft cropped knits appear on the Helen Lawrence catwalk. Prabal Gurung experiments with sheer/textured contrasts for a modern look. Meanwhile, utility jackets express newness at DKNY and Marc by Marc Jacobs applies the shade to a chunky pair of buckled shoes for a Springtime Seventies statement.
More Report Details

A full range of trend reports are available at Trendstop.com, one of the world's leading trend forecasting agencies for fashion and creative professionals. The agency is renowned for its insightful trend analysis and forecasts. Clients include Forever21, Ralph Lauren, H&M, Hugo Boss, and L'Oreal.