Women's Color S/S 2010 Design Options Trend Report
Color Trend Report Women's, Universal: The women's market will be influenced by a range of cultures, time periods, both ancient and modern, along with a meld of sensibilities. Eco Couture, Detail Orient-ed, Fashionology, Indian Treasure, Pretty in Pink, and Victorian Revival, are featured. Courtesy of Design Options Inc, the color forecasting company who brings Southern California's unique aesthetic to the world.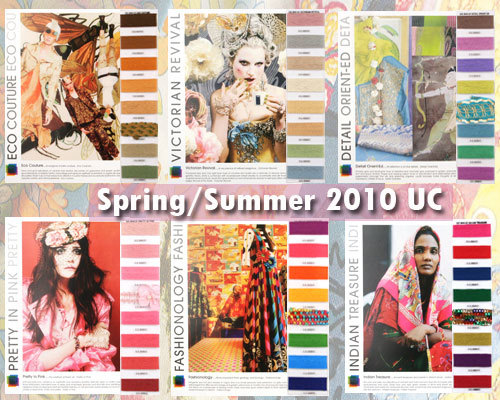 Women's Market Color Report
#### Detail Orient-Ed
All attention is on the details. Detail Orient-Ed. Smokey grey and bluish-pink hues of definitive and chromatic give emphasis to golden embroidered trim and sequin finishes. Purple and dazzling yellow tones of specification and particularize resonate passionately amongst Thai silk and glistening organza. Lavish brocade invites thoughts of ethnic impressions. Details of focus. Detail Oriented.
Eco Couture
Ecological, innate couture. Eco Couture Olive and gold saturations of visceral and intuition are paired on gabardine and poplin, evoking a grounded sense of stability. Earthy, camouflage print gives an aptitude of sensibility to supple silk dupioni silhouettes. Khaki hues of true nature draw attention to subtle finishes and accentuate leather trim. Existing naturally, overtly, and without pretense. Eco Couture.
Fashionology
More important than geology and biology. Fashionology. Magenta and hot pink shades of vogue and a la mode personify total perfection on glitzy satin with extravagant trim. Effervescent orange and golden yellow hues of modish chic and popular rage suggest rich flavor on a landscape of alluring moire. Deep royal blue gives added depth to floral appliques. A world immersed in fashion. Fashionology.
Indian Treasure
Ancient treasures discovered in distant lands. Indian Treasure. Hot pink and pale red saturations of Ganesh and Indra surround delicate Duchesse satin with an air of peacefulness and calm. Deep blue and dark green shades of Shiva and Shakti accentuate gold ornaments and metal trim and purify the soul. Dark orchid hues and sequined edges provide a journey into the unknown. Hidden treasures. Indian Treasure.
Pretty In Pink
The prettiest of them all. Pretty In Pink. Soft and pale pink variations of captivate and adoration breathe delicate sighs on chiffon kissed with floral embroidery. Saturated hues of deep pink emphasize graceful and intricate lace detailing. Dollish raspberry tones of sweet enchantment twinkle festively on net and tulle. Subtle shades of coral on sateen create a sweet finish. Pretty and petite. Pretty In Pink.
Victorian Revival
A recurrence of refined elegance. Victorian Revival. Powdered pink and cool light blue hues of crinoline and bustle are a reminder of demure and prim gentility. Pearly white is combined with incandescent wheat shades to accentuate delicate broderie anglaise boned bodices. Lavish trim gives brilliance and extraordinary beauty to light grey silken ribbon edges. Revival of the finest. Victorian Revival.
Design Options Inc
Design Options Inc, has a golbal client base, filling the color needs of large retailers to small indie design firms. Contact Design Options, and tell them WeConnectionFashion sent you.