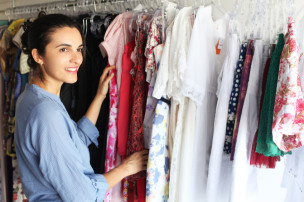 Women's Better Apparel Buyers
Sales are the life-blood of your women's better apparel business. Having a fine-tuned curated list of fashion retail buyers is key. That's what you will find here. Make retail appointments and connect with your target group of buyers throughout the year when open-to-buy dollars are available. It's all about the list!
Researching, building, and verifying a quality list of designer buyer contacts is time consuming. We know, it's what we do. The editors at WeConnectFashion are the trusted go-to source for fashion industry contact lists since 1998.
SAVE TIME
Verified and compiled by WCF editors. Reach a targeted group of contacts with a quality list of women's moderate to better boutiques and retail apparel buyers. You choose 300 or 800 contact names, $350 or $775.
MARKETS
Women's, Missy & Junior, Young Contemporary
PRODUCT LINES
RTW, apparel, activewear, bodywear, blouses, bridal, career wear, casual wear, coats, denim, designer collections, dresses, eveningwear, intimate apparel, jackets, jeans, loungewear, knitwear and sweaters, outerwear, pants and trousers, raincoats, robes, separates, special occasion, sport shirts, sleepwear, sportswear, streetwear, suits, swim suits, t shirts, and urbanwear. . . . some: petite & plus sizes
PRICE POINTS
Retailer price points range from: off price, budget, popular, moderate, moderate contemporary, better, and better contemporary. MOST of the contacts on the list fit in the MODERATE TO BETTER CONTEMPORARY price categories.
RETAIL TYPES
This package includes fashion buyer sales leads at leading department stores, women's boutiques, indie shops, and specialty chain stores, in the USA, as well as online retailers.
SAMPLE COMPANIES
This Sales leads mailing list includes fashion buyer contacts at stores like:
1 Happy Girl Boutique
Adorn
Against All Odds
Clutch, Palmer & Purchase
Garment District
Dillard's
DTLR
Flora-Style
Lester's
No. 109
Olive & Bette's
Rue21
BC Surf and Sport
The Willow Tree
Tyler's
Uniquities
Valleygirl Boutique
Urban Outfitters
Zou Zou Boutique
JOB TITLES
Titles that may be included on your mailing list are: CEO, Owner, Co-Owner, President, VP, Fashion Director, Creative Director, DMM, GMM, Regional Merchandise Manager, Senior Buyer, Buyer, and/or Assistant Buyer.
SAMPLE LISTING
Below is the type of contact list information you'll find on this fashion buyer mailing list.
MODEL CITIZEN
330 A1A North #213
Ponte Verda, FL 328082
PHONE: XXX-XXX-XXXX
EMAIL: abxxxxx@modelcitizen.com
WEB: /www.modelcitizen.com/
INSTAGRAM: www.instagram.com/samplecomp (where available)
CONTACT: XXXXX XXXXXXX
TITLE: Owner & Buyer
DESCRIPTION: Womens, apparel, dresses, sportswear, loungewear, denim, resort, social occasion, swim/beachwear, accessories, jewelry, handbags. 2 locations.
PRICE: Moderate Better Contemporary
THIS LIST IS UPDATED
From the date you order, the majority of contacts on this list will have been verified within the last three months to present date, the oldest verification date being 6 months.
Please understand that information can change rapidly and we do our best to catch as much unforeseen movement as we can. Sometimes list mistakes happen, which is why we also put extra contacts on your order just in case. This list carries our guarantee of your total unlimited use for 1 full year. We understand how important it is for you to meet your goals and providing our clients' with quality contact lists is our top priority.
LIST DELIVERY
The list is emailed in excel format 4 - 8 business days after ordering. This gives us time to clean and freshen the list.

Please note for your records, this list is only sent via email and will not be printed nor shipped. Also because of the online nature of our products - there are no refunds.
An estimated +98% of the contacts listed will have a published email address.
WeConnectFashion is proud to have many leading Fashion Brands, Retailers, Libraries, Trade Shows and Press as repeat clients. For a list of our clients, please read About Us.