Women's Apparel Trends FW 2012-13
This exclusive women's market trend report is a sneak preview from Trendstop's inspirational Seasonal Key Items stories. The key items presented here for the F/W 2012 - 2013 season range from Tailored Biker Jackets, Geometric Statement Dresses and Structured Bell Skirts to edgy Blouse Sweatshirts for a more directional contemporary customer.
Key Items for the Season
Tailored Biker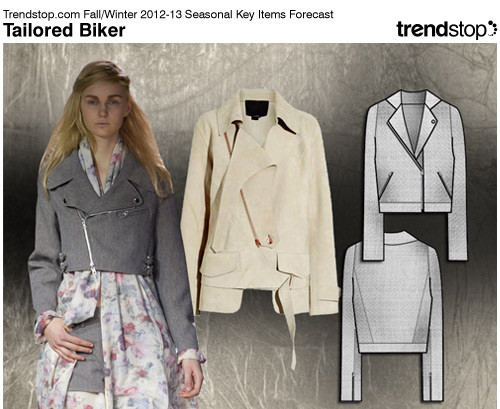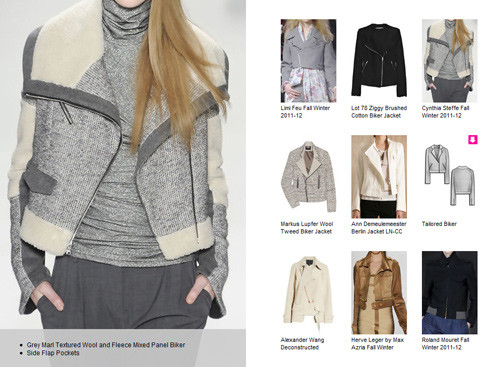 Tailored Biker: Neat tailored biker jackets accentuate the waist and add a rock'n'roll swagger to feminine ensembles. Unexpected, luxurious fabrics add a softness to the look, with jackets coming in navy wool, boucle and tweedy woven fabrics trimmed with white shearling. Designers play with color too, eschewing the biker's traditional black for creamy whites, grays, tan suede and beige. Zips, buckles and swinging belts add interest at the waist and emphasize the swing of the asymmetric fastening. Minimal detailing elsewhere adds an elegance to this rough-edged piece.
Blouse Sweatshirt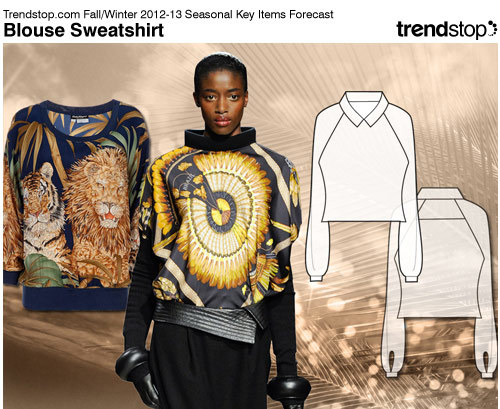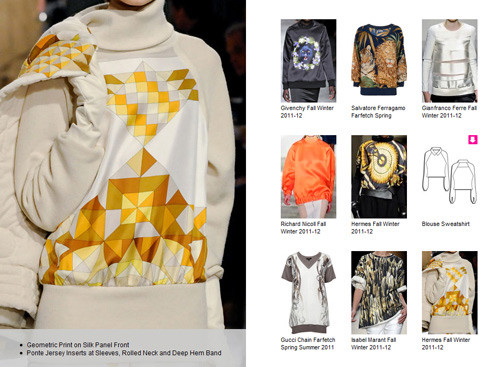 Blouse Sweatshirt: Stretch-cuff sweatshirt shapes are rendered in delicate satin and silk, adding a slouchy, yet feminine feel to a sporty silhouette. Deconstructive details, such as a zipped shoulder seam, or bandage-like layers, add an experimental twist. Cropped sleeves and exotic prints have a ritzy, 90's feel. Exaggerated ribbed collars and waistbands create doll-like proportions.
Geometric Statement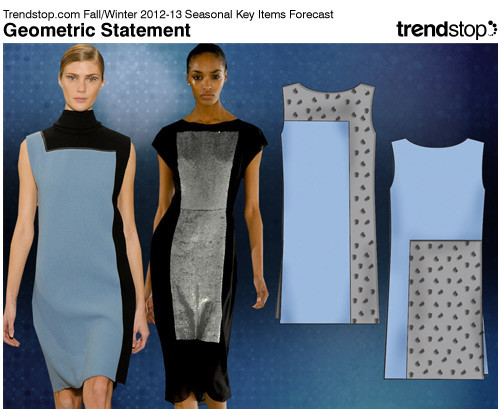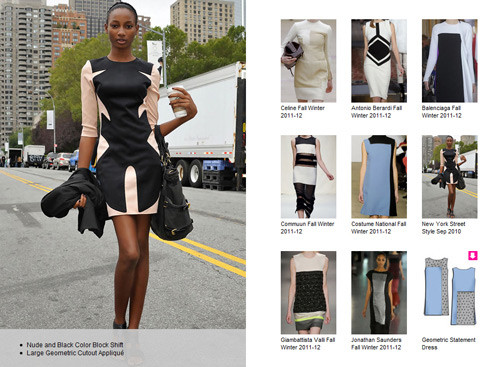 Geometric Statement: Sharp graphic shapes shout to be noticed on bold, statement dresses. Horizontal stripes, play with contrasts of color and texture, drawing on sportswear for a punchy, athletic look. Simple geometric shapes, such as diamonds and rectangles have a more modernist vibe, while leather seam panels draw on military clothing and aviation uniform. A curvy black applique abstracts and exaggerates the shape of the body for a Matisse-like effect. Draped fabrics contrast with simple monochrome panels and severe color blocking.
Structured Bell Skirt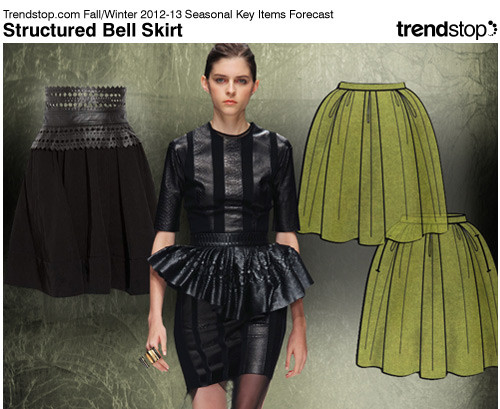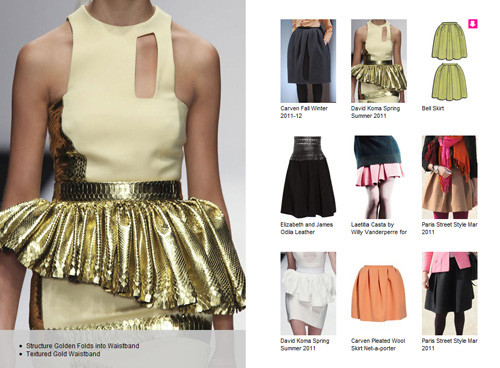 Structured Bell Skirt: Thigh length, bell-shaped skirts add an overstated swing to the hips, given extra wow factor via structural embellishments. Inverted pleats are key, creating a graphic, round silhouette with stiff fabrics and allowing for deep side pockets. Overskirt-like ruffles at the waist add a further flourish, while a high-waisted leather belt extends the exaggerated hourglass silhouette, which can be emphasized with long sweaters or a bright, fringed scarf.
THE FULL REPORT IS AVAILABLE NOW
Full reports are available at Trendstop.com, one of the world's leading trend forecasting agencies for fashion and creative professionals. The agency is renowned for its insightful trend analysis and forecasts. Clients include Forever21, Ralph Lauren, H&M, Hugo Boss, and L'Oreal.