Women's Active Contemporary Lifestyle Color S/S 2019
On view, CAMO-APPEAL, this Active Contemporary lifestyle trend mood direction for the Spring Summer 2019 young women's market is a must-see report, featuring color boards and inspirational write-up. Thanks to Design Options Inc, the color forecasting firm who is dedicated to bringing Southern California's unique aesthetic to the world.

Camo-Appeal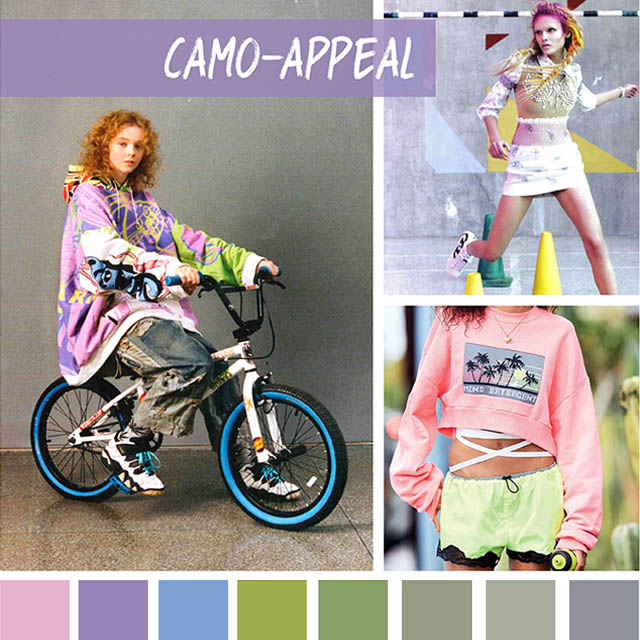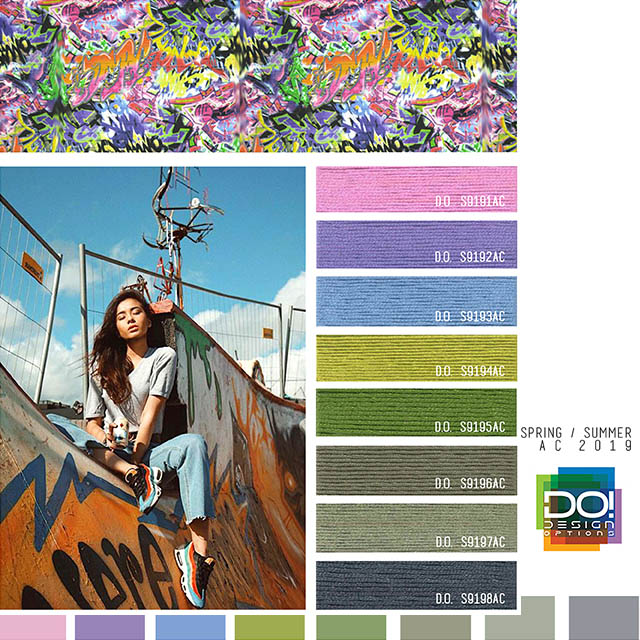 Camo-Appeal
An unusual pairing go graceful obscurity. Delicate and feminine, lilacs and ballet pinks bring soft touches to mossy greens. This balance between muted hues and captinating purples is the essence behind its demand; in such circumstances opposites attract and are attractive to the watchful eye. The darker greens add an air of coolness to the otherwise bashful colors. Dainty blues mingle with the discreet hies, complementing each other perfectly and give a clear understaniding to the Camo-Appeal.

MORE REPORT DETAILS
Camo-Appeal is one of four Active Contemporary color palettes Design Options offers for the Spring Summer 2019 season.
If you are involved in the active contemporary market – a brand, retailer, manufacturer, or fabric convertor – I strongly encourage you to consider Design Options S/S 2019 color products. Their color trend service is inspirational and wildly affordable.
Single Palette for $175 or four palettes for $700, includes:
Mood theme boards, 11" x 17" on card stock
Pantone TCX codes are included on boards
Inspiration pictures along with theme description
Detachable skein card, individually color matched to each Pantone
Separate skeins of each color way on a ring
Design Options, has a global client base, filling the color needs of large retailers to small indie design firms for over 20 years. Design Options Inc is dedicated to bringing Southern California's unique aesthetic to the world. Its singular, cutting edge perspective, coupled with a comprehensive knowledge of the current marketplace, fuels the company's imaginative products and high-end consulting services.

RELATED REPORTS

RELATED CONTACT LISTS PRODUCTS