Women's Accessories Trend Forecast F/W 2016-17, Native Folk
Native Folk opens our souls to a hearty and earthy destination. The Native Folk woman retreats to a log cabin surrounded by towering trees and winding rivers, set in the Smoky Mountains. She leaves the hectic world she knows for a quiet surrender. By day, she may go on a trail ride, while in the evening she is content to knit by the fireplace. She learns about folk through music and handmade crafts and appreciates that the genre is deeply rooted to the native inhabitants of the area. This trend preview is one of a series included in the latest Accessories Trend Stories Series. The full report is available in the WeConnectFashion Trend Shop.
Editor's Top Accessories Trend Theme Pick

Native Folk Mood

Word Bank

Color Combos
A heavy autumnal color palette is accented with cool shades of slate, indigo and forest.

Native Folk Details
Details include fringe, suede appliques, and leather stitching.
Leather Stitching 
Fringe 
Mixed Media Furs 
Bone Toggle 
Whip Stitch 
Fur Trim 
Yarn Fringe 
Fur Heel 
Laser Cut Fur 
Charred Trim 
Metal Plaiting 
Suede Appliques
PATTERNS + GRAPHICS
The key graphics play off the folk inspiration with braids & stitches, sun dyed nature, and felted stripes.
Indigo Dyed 
Braids & Stitches 
Sun Dyed Nature 
Dirt 
Felted Stripes 
Sashiko Embroidery 
Crafted Earth 
Nordic Weave
FOOTWEAR DIRECTION
Key items are fit her simple life in nature with the lace up ankle boot, hand stitched fedora, and bone toggle belts.

HANDBAG DIRECTION

COLD WEATHER ACCESSORIES DIRECTION

STYLE GUIDE


Purchase The Full Report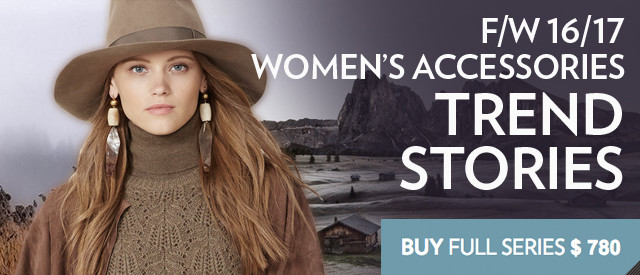 This Womens FW 2016-17 Accessories Forecast seasonal narrative by Fashion Snoops with a focus on a clear, concise product & lifestyle road map for the women's accessories customer. Visit our trend shop today to learn more!
A complete series of forecasts for Spring/Summer 2017 and previous seasons are available now for purchase through the WeConnectFashion digital Trend Shop. Additional comprehensive reports are also available across all markets and incoming seasons.