Women's Accessories Key Items FW 2012-13
This exclusive women's market trend report is a sneak preview from Trendstop's inspirational Seasonal Key Items stories. The key items presented here for the F/W 2012 - 2013 are in the Footwear, Bags & Belts, Jewelry, Hats & Headgear, Neckwear and Gloves accessories' categories. View and take note. The key items are: Blanket Scarfs, Fold-over Bags, Luxe Racer Panel Gloves and Color Pop Python Footwear to edgy Embellished Cuffs for a more directional contemporary customer.
Merchandising Trend Alert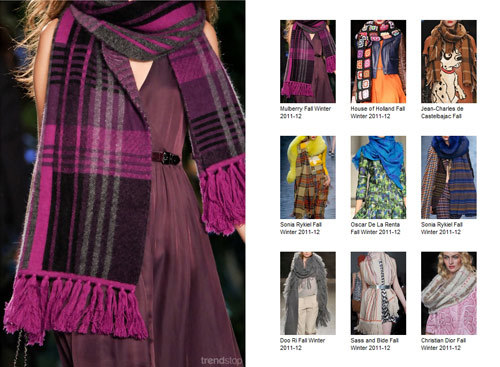 Blanket Scarf
Taking the coziness of creature comforts wherever one may go, the blanket scarf cocoons the wearer like a sensual security blanket. Large, lovingly made crochet Afghans give a colorfully cheeky dose of retro appeal. Bright plaids and checks in the softest cashmere wools are adorned with fringed edges to emblazon somber winter outfits.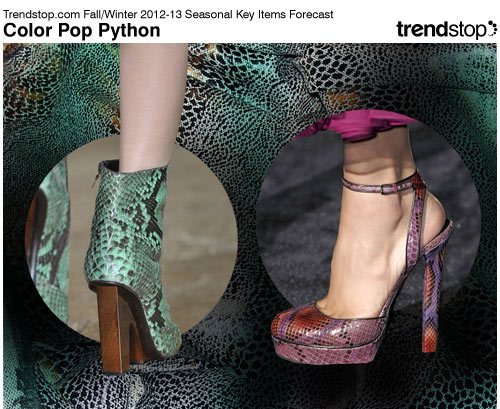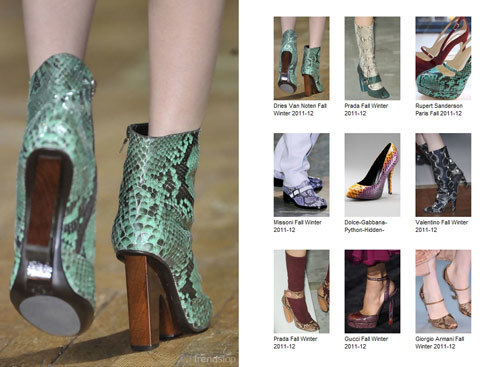 Color Pop Python
An electrifying zap of color jolts snakeskin into a rainbow hued spectrum, adding pizzazz to python patterns in mint green, deep cherry red, sunflower yellow and lilac. Seductive serpentine shoes are treated with lavish python for a slick and sexy rock and roll spin. Python adds sex appeal to tall or ankle-high boots, feminine sandals and grown-up mary-janes. It can be used in multiple colors for rainbow effects.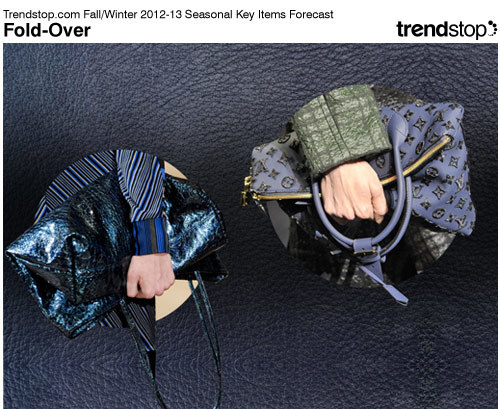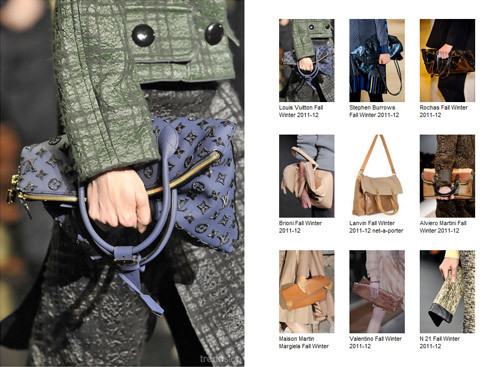 Fold Over Bag
Scrunched fold-over bags bring brazen nonchalance to luxury sacs that are refreshingly contemporary. This can be stylistic as with Brioni's and Rocha's bag or shown as totes with rigid curved handles that fold over into envelope shapes like those seen at Louis Vuitton, Stephen Burrows, Alviero Martini, and the bonded bag from Margiela. A hybrid shopper-shoulder bag appears at Lanvin while malleable flat bags fold and become clutches at Valentino and No.21.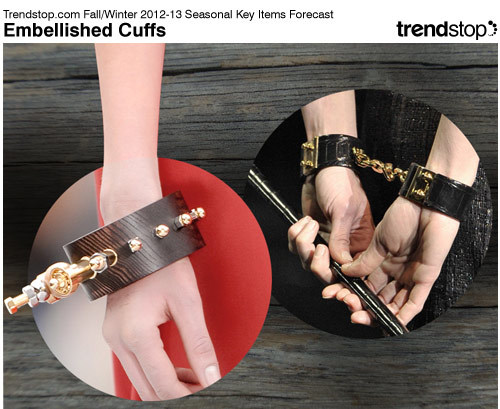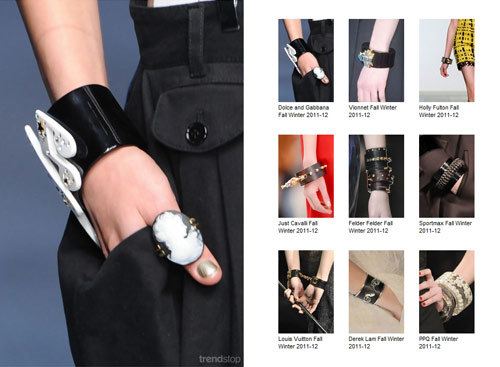 Embellished Cuffs
Acting as either a powerful talisman or a bold symbol of passionate love, the embellished cuff declares an intrepid statement with its decorous detailing. Chunky nuts, bolts and studs decorate a thick wooden cuff in a fusion of the man-made and organic. Chunky hardware like studded lock closures and chain polish off a pair of patent leather cuffs in fetishistic fashion.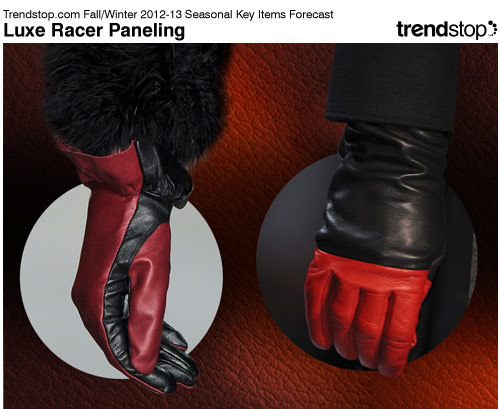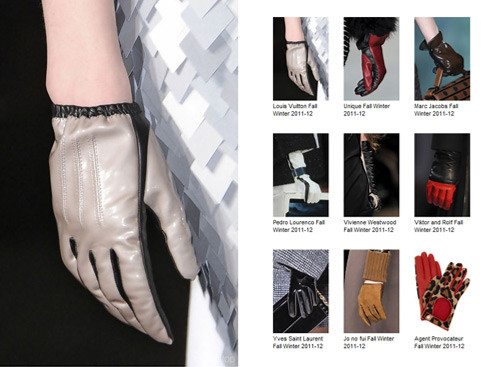 Luxe Racer Paneling
Racy contrast inserts lend athleticism to resolutely unsportsmanlike design. From glovelet to gauntlet, the emphasize is on striking combinations of racy reds, blacks and contrasting tonal textures like that of Jo No Fui's suede and patent wrist glove. Side banding, inseam finger panels, palm contrasts, and horizontal blocking are all essential.
MORE REPORT DETAILS
Full reports are available at Trendstop.com, one of the world's leading trend forecasting agencies for fashion and creative professionals. The agency is renowned for its insightful trend analysis and forecasts. Clients include Forever21, Ralph Lauren, H&M, Hugo Boss, and L'Oreal.