Women's Accessories FW 2011-12 Trend
Here's a peek at key trends from the Pure London February 2011 show: 70's disco glamour continues. The heritage trend gains momentum especially in the footwear and accessory markets with a vintage inspired design ethos. Antique lace, whimsical prints, and florals, herald-in ladylike interest, while Minimal looks are championed by the more directional designers.
Key Trends, Trade Show Report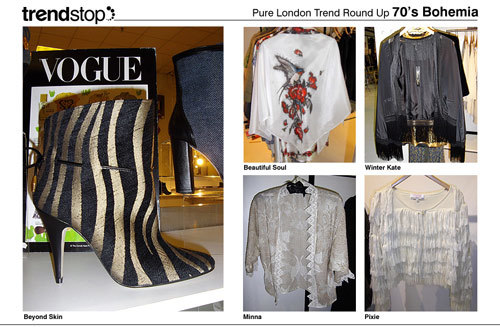 70's Bohemia
A 70's influence continues to gather pace at Pure for the Fall Winter 2011-12 season. Traces of bohemia can be seen in the recycled lace crochet trimmed jackets at Finnish label Minna, which combines the romantic trend with a 20's antiquity. The vintage aesthetic dominated the Winter Kate collection where silk jackets were trimmed in 70s fringing. Gold zebra print boots at Beyond Skin brought a touch of glamour to the look.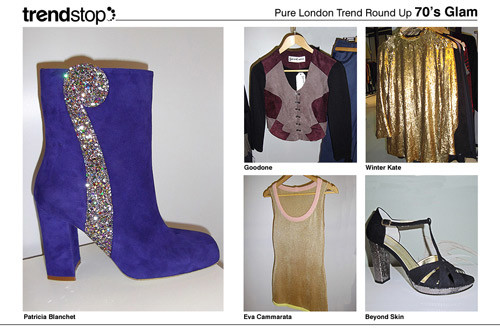 70's Glam
The glamour of the 70's dazzles for the fall season. At Patricia Blanchet a block heel ankle boot in striking cobalt blue is trimmed with a silver glitter swirl up the outside of the ankle. Goodone embrace patchwork, their tonal purple suede jacket was the highlight of the collection, a subtle nod to the Studio 54 references that started on the catwalks for Spring 11 and are slowly trickling down to the mid level high street.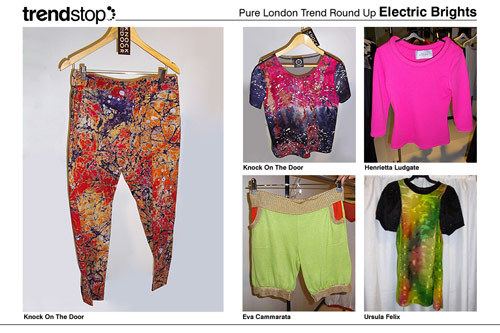 Electric Brights
The influence of the neon brights seen at Christopher Kane and Miu Miu last Spring influence a selection of the designers sponsored by the Ethical Fashion Forum at Pure. Eva Cammerons retro knitwear bloomers where brought to life in citric greens with touches of gold lurex harking back to eras past. At Henrietta Ludgate a futuristic shell top was shown in the brightest of shocking pinks in a technical sportswear fabrication. Elements of the color infiltrated the prints at Knock on the Door where mineral volcanic eruptions where shown in pink and blue combinations across silk shorts.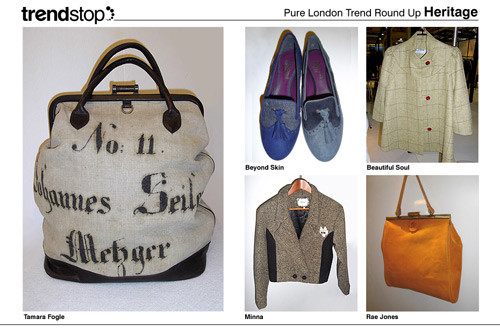 Heritage
Heritage and vintage influences continue to be a dominant influence for accessories and footwear especially. Blown up checks on olive tweeds are reworked into a feminine cape style jacket at ethical label Beautiful Soul. Handcarved buttons add to the vintage feel. Classic investment accessories at Rae Jones are shown in natural veg tan leathers. The simplistic almost minimal style is enhanced with a brushed brass frame and fastening detail. At Tamara Fogle, German antique flower sacks are used in all their glory to create oversized luggage style bags that hark back to the 40's.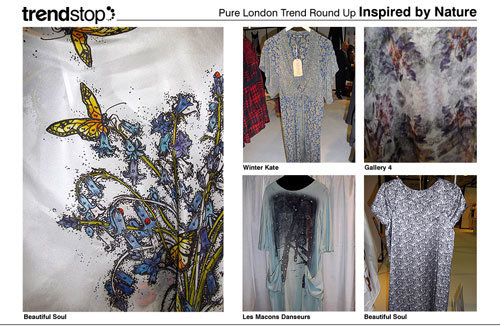 Inspired by Nature
The ever present floral print is still key for the fall season. Seen in a 'paint by numbers' style at Beautiful Soul where English Garden influences bring a romantic angle to fauna. Surreal natural marble prints at Knock on the Door evoke images of browned off blossoms and branches merged together to create a blurred original print onto a simplistic silk shift. The 20's bohemian influences at Winter Kate are applied to an Ossie Clarke inspired dress silhouette, where wallpaper florals are printed in a blue and olive palette.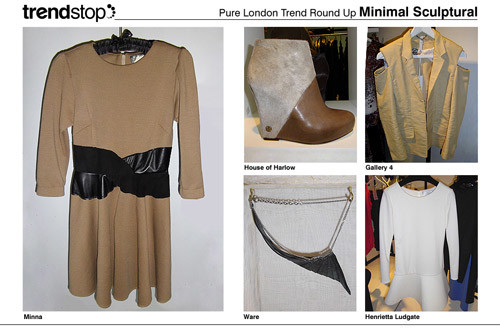 Minimal Sculptural
Veering towards the avant garde, sculptural silhouettes in minimal block color were a trend to watch at Pure, championed by the more directional designers showing in the Premium section of the show. A sophisticated blazer is slashed at the shoulder at Gallery 4, creating a peek-a-boo gap which leaves space for a pop of color or print interest underneath. The minimalist shift takes on a new direction at Henrietta Ludgate with a drop waist flip skirt silhouette, while at Minna a tailored shift is nipped in at the waist with layered reindeer leather detailing.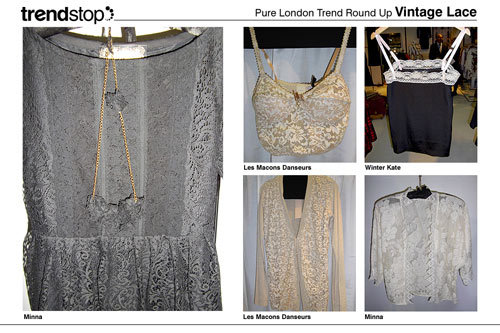 Vintage Lace
Reinforcing the ever growing appeal of vintage, lace in off white is applied as a trim on a slinky camisole and used all over for lingerie and evening outerwear. At Les Macons Danseur, vintage lace is reworked into a 50s boudoir inspired bustier in tea stained cream. At Minna vintage net curtains are transformed into an evening cover up in faded white with a rose and exotic bird pattern and black antique lace is layered to create a pretty panel feature on a vintage style tea dress.
Look out for the full trend report and hundreds of images from Pure London and other global trade shows at Trendstop.com.