Winter Pales, Womens Forecast FW 2014-2015
As soft snow starts to fall, fashion colors gravitate towards pale, delicate options for Fall/Winter 2014-15, as encapsulated in Citron Frost and Meringue Pink tones, say the trend analysts at Trendstop.com. Working well either in coordinated ensembles or as gentle contrasts against seasonal darks, both hues appeal with an effortless elegance for day or night.
Citron Frost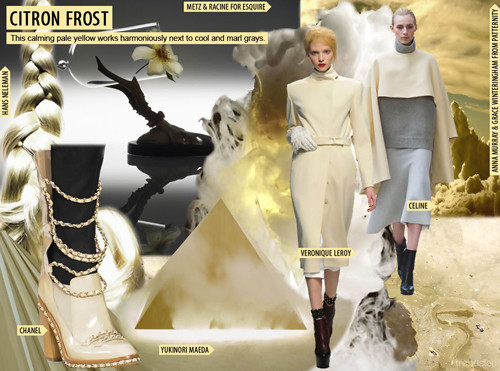 APPAREL
An icy take on lemon yellow, this calming pale hue works harmoniously next to cool and marl grays. Celine utilizes the color for a refined update on minimal outerwear design, as seen in voluminous wool silhouettes (think retro coats and unusual cropped overlayers). Meanwhile, Veronique Leroy opts for a '40s-inspired belted coat, set off by a pure white underlayer and fringed glove.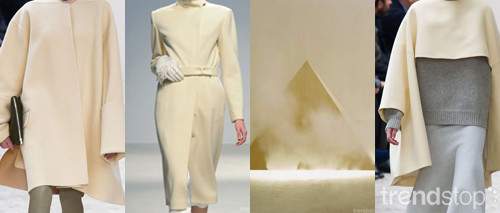 image courtesy Trendstop: Celine, Veronique Leroy, both Fall/Winter 2013-14, Yukinori Maeda, Celine Fall/Winter 2013-14.
ACCESSORIES
Luxe material options make Citron Frost a versatile eveningwear choice too. Veronique Leroy revisits the wool outerwear, this time juxtaposing it with fluid silks. Chanel's patent boot makes a sophisticated statement with metallic chains, as Chloé add interest to a simple shift with bejeweled gold netting.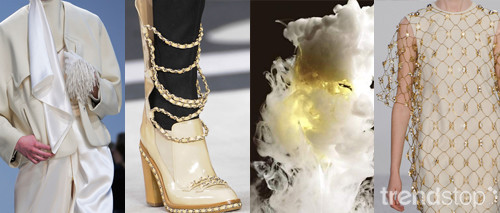 image courtesy Trendstop: Veronique Leroy, Chanel both Fall/Winter 2013-14, Anna Murray & Grace Winteringham, Chloe Fall/Winter 2013-14.
Meringue Pink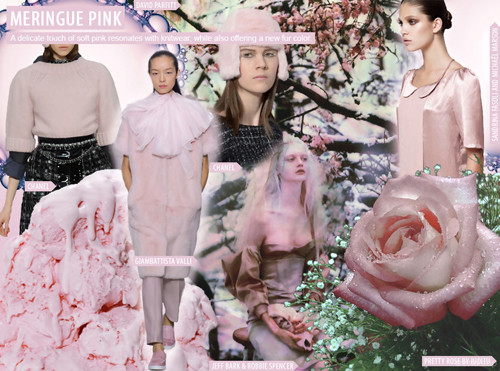 APPAREL
The delicate hue of Meringue Pink resonates with cozy textures, making for a soft, feminine finish for day. Celine pair an wool cocoon coat with a matching clutch, while the color lends a ladylike feel to a cropped knit at Chanel. Christian Dior's pink bag looks chic with a black stiletto placement.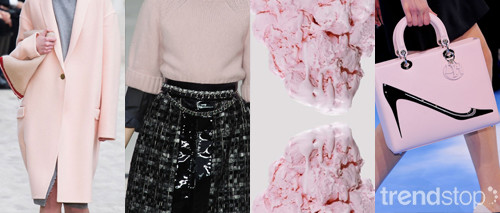 image courtesy Trendstop: Celine, Chanel, both Fall/Winter 2013/14, Strawberry Mountain, Christian Dior F all/Winter 2013-14.
ACCESSORIES
Echoing the adaptability of Citron Frost, sophisticated fabrications update Meringue Pink tones with a sense of luxury. Sandrina Fasoli pairs matte with shine on a demure dress and collar accessory, while soft fur is refreshed with a feminine element on a hat at Chanel and loose-fit coat at Giambattista Valli.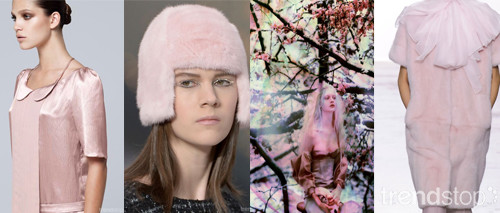 image courtesy Trendstop: Sandrina Fasoli and Michael Marson, Chanel Fall/Winter 2013-14, Jeff Bark & Robbie Spencer, Giambattista Valli Fall/Winter 2013-14.
Purchase the Full Report
Source: Trendstop Color Trend Book Fall/Winter 2014-15 - purchase the full report at Trendstop.com. Download the free Trendstop TrendTracker smartphone app or sign up to our new free TrendStream feature for more daily trends.

Trendstop.com is one of the world's leading trend forecasting agencies for fashion and creative professionals, renowned for its insightful trend analysis and forecasts. Clients include Forever21, Ralph Lauren, H&M, Hugo Boss, and L'Oreal.