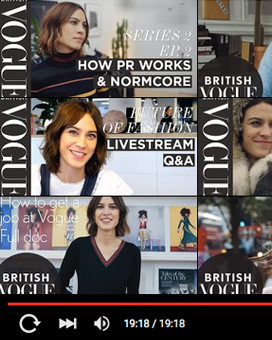 Video Series: How To Run A Fashion Business
Alexa Chung for British Vogue is back investigating the fashion industry in the second series of Vogue's on-going documentary, the Future of Fashion.
This time exploring things from a more business angle, she took the Vogue team to her adopted home city of New York.
In this first episode of Series 2, live March 8, 2016, she talks boundary-pushing retail with Opening Ceremony's Carol Lim and Humberto Leon, and savvy merchandising with Joseph Altuzarra and his CEO Karis Durmer.
The Future of Fashion Series 2 - EP1


Vogue has dispatched contributing editor Alexa Chung to investigate the state of fashion today in her series The Future of Fashion. Alexa Chung will be talking to everyone from current fashion students to the heads of major design houses, via journalists, buyers and all the workers in between. Watch as Alexa Chung try to find out what the future holds for this multi-billion pound fashion industry; how the next generation will get fashion careers using all the tools available to them; and what the fashion landscape looks like in terms of sustainability and technology.
The production and educational value of the British Vogue Future of Fashion video series is tremendous. Do yourself a favor - click in, watch, and subscribe.