Utopia: Women's Sportswear Trend Report
**Spring / Summer 2009 Women's Sportswear Trend Report: **
Optimism resides in the layers of hand touched, organic fabrics. The reinvention of sustainable fabrics liberate us into an idealistic world of urban freshness. Wrapping and layering play a massive role in this spring/summer 2009 trend as is shown clearly by Ken Okada (centre) sending floods of dusky pink around the neck creating an elegant silhouette. Reconstruction is evident throughout, particularly in the garments by TRANSIT par-such (left), whose desert hues and enveloping fabrics are natural and distinct. Obakki (right) also encorporates this with pure white fabric loosely falling accross the body.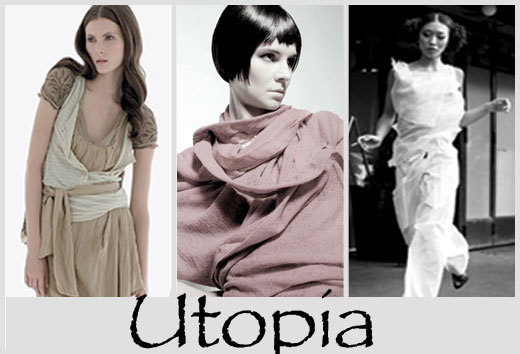 Knitwear is an essential element to this trend ensuring an undercurrent of idealism and promise in the subtle textures and organic yarns. The ensemble created by Skin And Threads combines cream legging with a long knitted cardigan draping accross the contours of the body. Browns and creams are wonderfully combined enwrapping and comforting the body as detailed by Filippa K (centre). Elroy (top right) and !!! INFWB0002257 !!! (bottom right) both use natural creams yet creative silhouettes to manumit the wearer.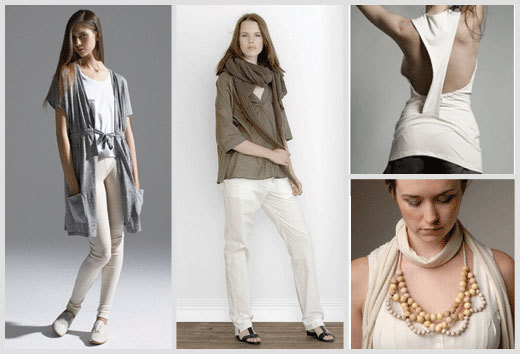 Copious drapes adulate the body in all natural fibres. !!! INFWE0000979 !!! (left) establishes an elegance with the abundace of fabric encompassing the upper body and the dark fabric compliments the utopian trend. Elroy (right) uses panels of darker brown to contrast with the natural creams and creates a stunning drape on the bottom of this dress enhancing and complimenting the body.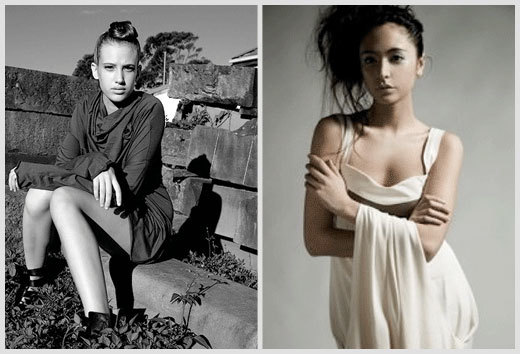 An essence of delicate femininity is recovered this spring/summer with more subtle drapes of finer fabrics. Fin (left) uses natural cottons and drape to create a very feminine dress full of optimism and freedom. Skinny trousers with large pockets directly at the hips are ensuring curves are prominent and the female form is celebrated as shown by Eairth By Melissa Dizon (centre). Amo And Bretti (right) use drape to pour accross the body accenting the female figure. The organic fabrics and stunning silhouettes entirely encompass this utopian world.