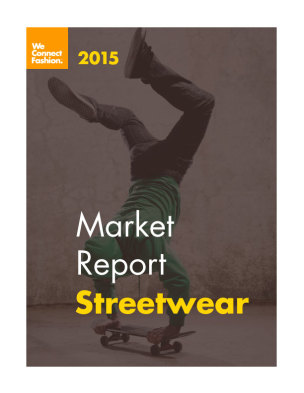 USA Streetwear Market Research Report
In a way, streetwear is like porn - we can't exactly define it, but we know it when we see it. Though, that doesn't necessarily make determining the business numbers of it any easier.
In 2006, accounting firm Grant Thorton pegged urban apparel sales at $58 billion. In 2011, the streetwear market was estimated by Reuters to have a value of $60 billion USD. The streetwear industry valued at over $70 billion USD for FY2012, is likely closer to $75 billion for FY2013. The Global Sportswear Apparel Market, which includes surf and skate apparel, was valued at $150 billion for FY 2013. The luxury goods market, fond of co-opting streetwear (think: Givenchy's Rottweiler), is estimated to be worth $290 billion (EU 230 billion euros) for 2014.
Since the 1968 Paris riots, high-fashion has been inspired by street fashion. Yves Saint Laurent started it, then Vivienne Westwood took the torch by selling high-fashion punk. Raf Simons has been doing "street" menswear with his eponymous brand since 1995–and continues to. Meanwhile, rappers began name-dropping brands as soon as they began to flow. As the prominence and wealth of rappers grew, the brands they mentioned changed: from adidas to Masion Martin Margiela. By doing so, rappers schooled street kids on the finer things in life. It's a logical jump–streetwear has always been obsessed with exclusivity and limited-edition goods–which high fashion (with its high prices) inherently provides. So, in funny twist of events, streetwear (which, at first, inspired high-fashion) is now inspired by high-fashion. And, high fashion is more than happy to take a bite out of the streetwear market.
Because of this, stores are investing in streetwear in a new way. Harvey Nichols, an international luxury lifestyle store in London, now boasts that 63% of its contemporary menswear is steetwear.
Now more than ever, information is key when making any kind of business decision. Our fashion editors have been building reports specific to the fashion industry for over 10 years and this report will give you a strong overview of where the market stands.
WHAT'S INSIDE?
The USA Streetwear Market Research Report provides a comprehensive overview of the entire US streetwear industry in one superb, value-price package. This report is ideal for assisting in business plan development, major business decisions, new product design and launches and for identifying key industry players, marketing vehicles and entry barriers.
HOW IS THE REPORT SENT?
Reports are sent as a PDF attachment to your email address within 1 business day after processed payment. We do not print nor ship.
All research is conducted secondary and from information that can be found in public domain. Our expert fashion editors compile this information into comprehensive market reports, supplying your business with the intelligence it needs.